Magic Cloth Long Exposure
Berserk Lava field Snæfellsnes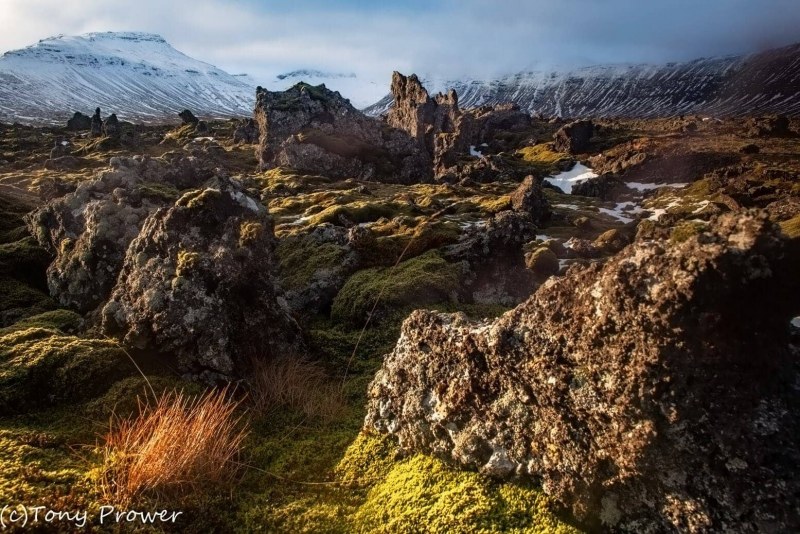 Snæfellsnes Peninsula
This fabulous light was the nature of things on this 2 day photo tour of Snæfellsnes. We had been so disappointed to have lost the February snow, but the February light is not to be underestimated in any weather. Here we took some time away from the general tourists and got lost in this Snæfellsnes lava field named "Berserkur Hraun".
'Berserker' means 'Bear Shirt' and was the name given to the fiercest warrior Vikings. I read that they went into battle high on magic mushrooms. This made them fearless, which created the impression that they were fire-proof and invincible. So you can imaging what sort of volcanic eruption would bear the name of the fierce bearskin Vikings that would occasionally terrorise regular Vikings as they shopped on Laugarvegur (on Saturdays).
Sponsored
Private Northern Lights Tours
Long exposure
This was a Magic Cloth Long exposure photograph. 16 seconds @ f/14 iso50 and a 6 stop ND filter. The 16 seconds was far too long as most of the foreground was a little over-exposed. However, this was easily brought back in Lightroom with the graduated filter. This adjustment doesn't harm the image quality at all, but there is a danger of losing highlights. Thinking back, this could have been better with just 10 seconds or less – just for the sake of less post processing and more Natural bright spots.
Lava Composition
I have difficulty composing a landscape photograph in a lava field and it is not because of the elves. I like to make sense of a scene, show a beginning and ending and arrange things in an orderly fashion. But lava fields have nothing orderly about them. They have no beginning or end in sight. My trick was to shoot a bunch of scenes in the hope that the compositions wont be too bad in a couple of them. But actually there is a lot that can work if you can forgive the chaos when composing.
Visit Snæfellsnes
Find an experienced Icelandic guide or do it on a self drive. The Snæfellsnes peninsular is for you if you like to get away from the crowds.