From a hole in the ground great volumes of boiling hot water suddenly gush upwards with a lot of force. This is Strokkur at Geysir in the Haukadalur region of South Iceland.
Back-lighting
This vertical photograph is one of my most successful Iceland photos and has been published internationally. This is a Contre Jour photograph because I am shooting directly into the sun, although technically, because the Geyser blocks out the sun, this is more of a back-lit photo than a Contre-jour photo. (Anyone, feel free to correct me on this if you know better!)
This photo was taken in December (Mid-Winter), so the Icelandic sun is low in the sky, this is important because the stronger light of the sun should be back-lighting the thickest part of the eruption – at the base. If the sun was higher, the bulk of water would be too dark and the top of the Geyser would be too bright. So the position of the sun allows a better balance of light through the different thicknesses of water.
Tripod Work
Tripods are normally brought in to photography when the shutter speed gets too low for hand-held. This shutter speed was 2000th sec (very fast). The tripod was used for a different purpose – to hold the camera for me. There can be several minutes wait between eruptions and your tired arm is very likely to drop just before an eruption.
| | |
| --- | --- |
| CAMERA | Canon EOS 5D Mark II |
| LENS | Canon EF 24mm f/1.4L USM |
| ISO | 400 |
| FOCAL LENGTH | 24.0 mm (23.4 mm in 35mm) |
| APERTURE | f/4 |
| SHUTTER | 1/2000 |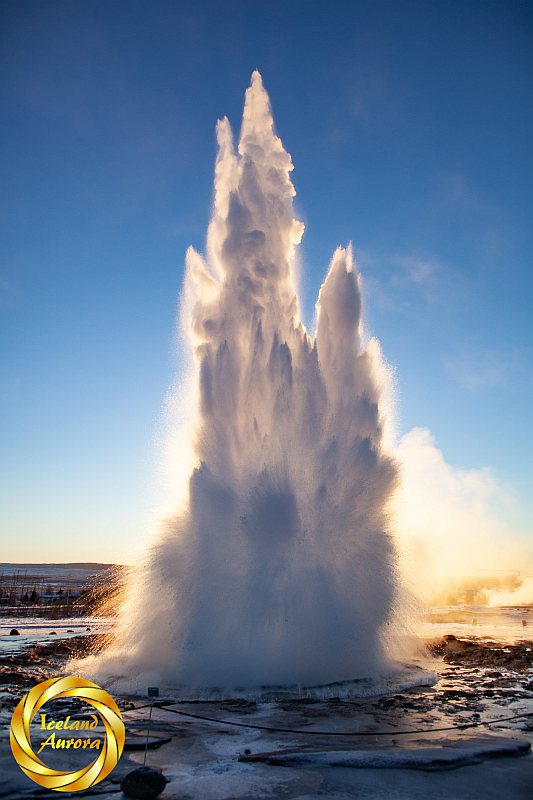 Small Compromise
My shutter speed was set very high because I wanted to freeze the water action. The freezing of the tiny droplets communicates the eruption in a way that lets you see more of what is going on, much like high speed videography. To achieve such a fast shutter, I used f/4 aperture and iso400. The aperture is not too bad and is actually the sweet spot on my 24mm prime lens. Ideally I could have done with f/6.3 to cover the depth of the Geyser more comfortably, but this would have compromised the iso further and might have introduced a grain. I was compensating by + 0.7 stops. This is because the geyser eruption will darken the scene quickly.
Photo Prints
This Geyser photograph is available in the Gallery.
Machine gun
My final consideration was to use continuous burst mode, so that took several shots during a single eruption.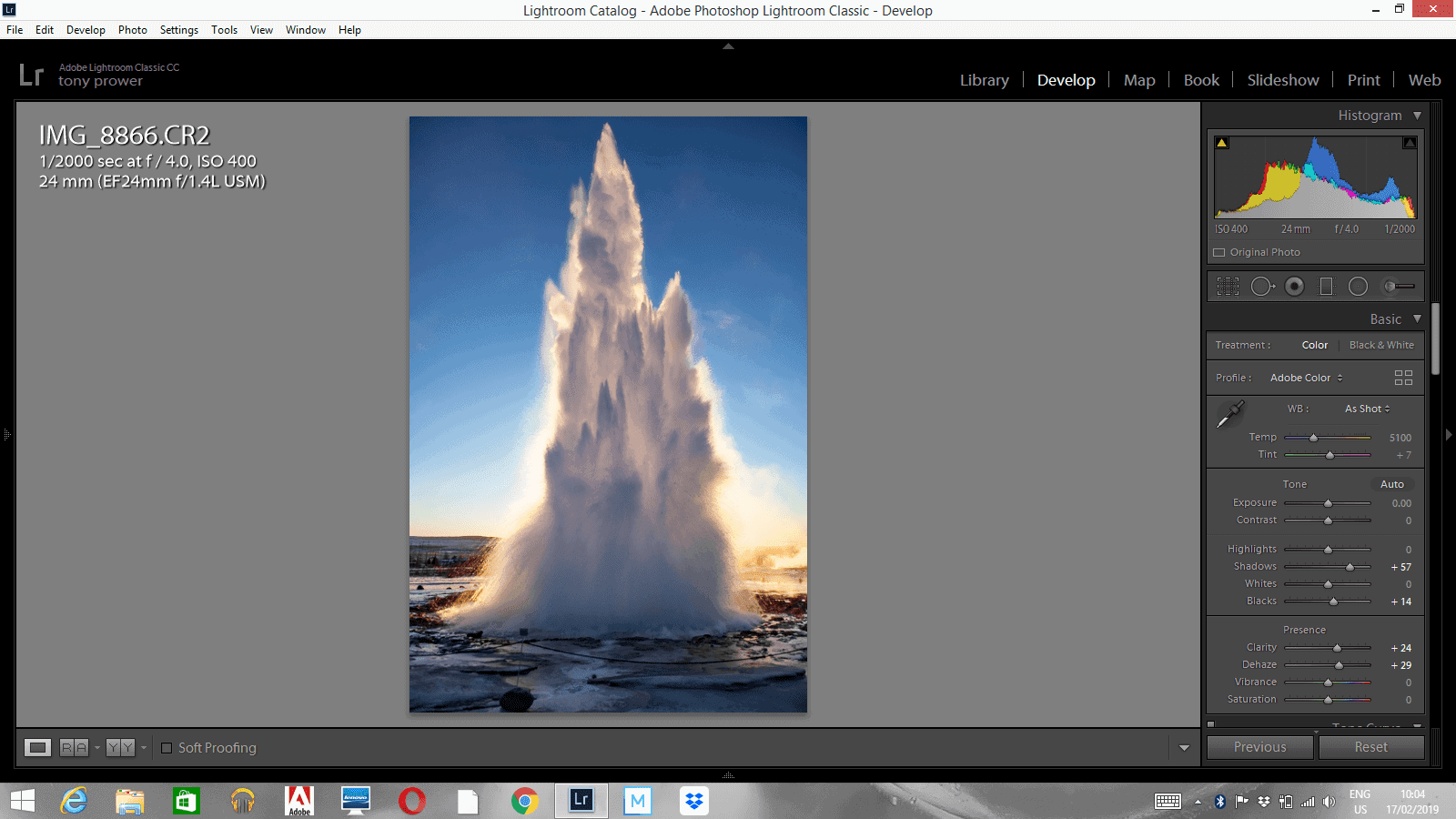 This erupting Geyser is one of the main features of Iceland's famous Golden Circle Tour. This is an easy day trip from Reykjavik. The tour also features Thinvellir National Park and Gullfoss waterfall.