I returned from this trip wearing only one sock. It was a rough trip with obstacles which might have ended the trip (if we had not been a bunch of optimistic campers).
---
The main idea of the trip was to spend 3 days in the North of Iceland among the big waterfalls and geothermal stuff. This worked nicely with the weather reports so we visited some Golden Circle locations and the guys got some great shots at Geysir, but only a limited stop at Gullfoss. Then we headed up kjölur vegur. Although we let air out of the tyres, kjölur vegur was tough on Betty (my Patrol). She broke a brake pipe.
We managed to get to the first of our main Northerly locations before sunrise. We reached Goðafoss around 03.00 and waited for a little more light before heading down to the banks of the mighty river. There were promising clouds in promising positions when we arrived, but as the sun rose, the clouds shifted. I managed to capture a lone cloud with a poor composition.
Goðafoss Sunrise
…And I was able to pull some colour from the cloudless sky in this shot…

Goðafoss Sunrise – max processing!!
Did you know that Iceland is #1 on the Landsape photographer's bucket list – as published at Photodoto.com
Dettifoss Waterfall

Europe's most powerful waterfall proved to be our next prime location. Although it works best mid-Summer as a sunrise shot,we decided to make the most of the sunset and double back to Goðafoss for the sunrise.
The weather was quite cloudy, but as we approached the mighty falls, a beautiful mono cloud appeared with great textures. I had an idea to match the textures in the rocks with the great textures in the sky.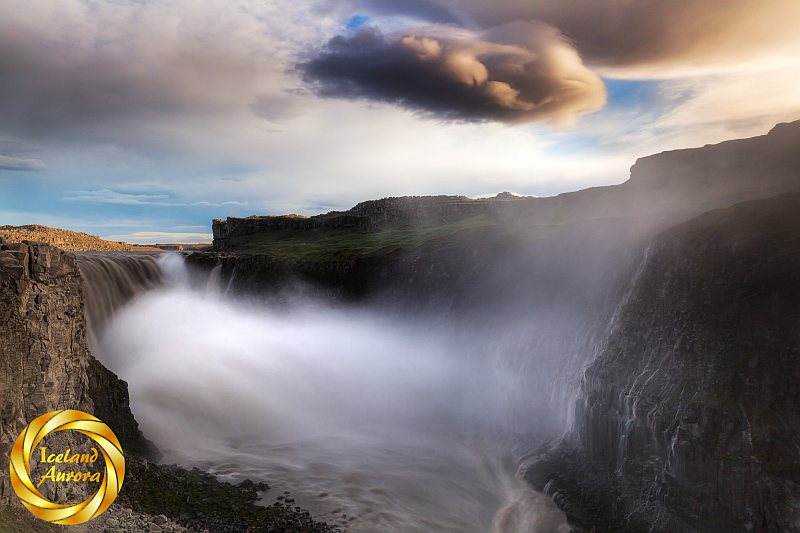 Whale Watching
The next day we took a drive north to Husavik for some Whale-watching. We found a company who runs Whale-watching tours and a restaurant… They were very accommodating. As we ordered our meal, we discovered that their whale watching tour was just about to leave. They delayed the boat and prepared meals for my customers to take away.
Dettifoss Sunset sky
The following evening the sky had potential so we headed back to Dettifoss. My customers opted to hike to the nearby Selfoss Waterfall to catch some great shots, but I stood my ground and waited here with my composition until the sky caught fire.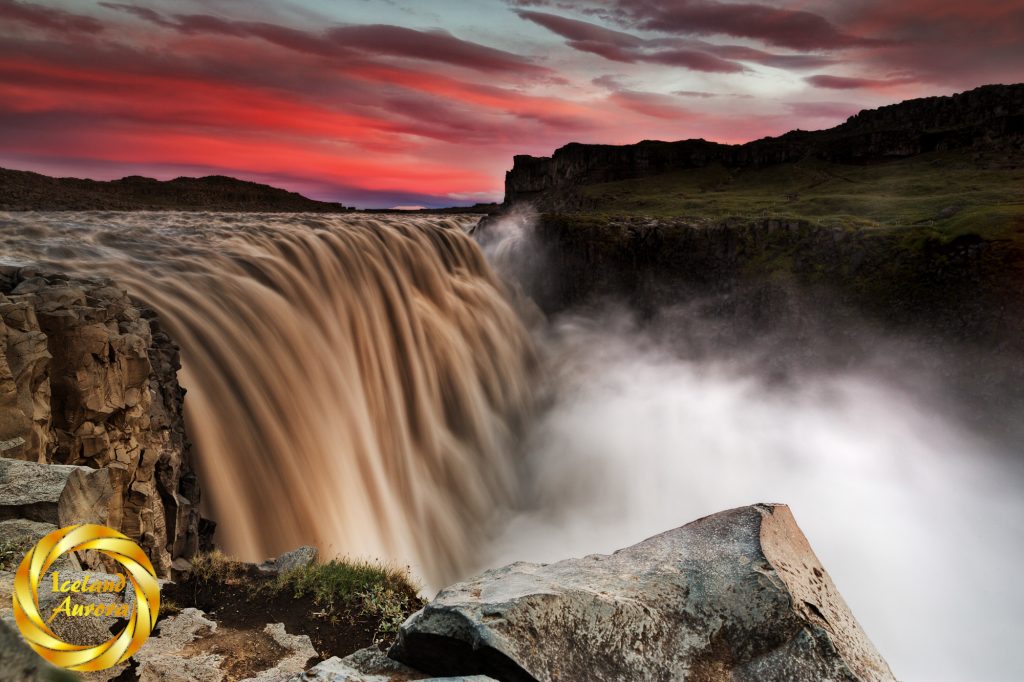 Vestrahorn Mountain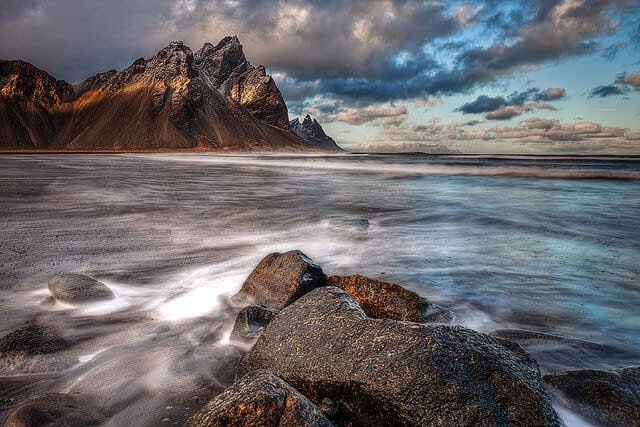 My love for Vesturhorn brought us to a strange clearing of sand and grass tussocks to wait for the cloud to miraculously lift just in time for sunset. This was after a long rainy drive through the Eastfjords with only a stop for dinner at a beautiful German restaurant. I was a complete pain in the arse, checking the ingredients of menu features. The Restaurant was Cafe Margret in Breiðdalsvik. The menu really was excellent.
We sat for about 20 minutes at Vesturhorn, I knew it was becoming an unpopular decision, so we departed to shoot a waterfall before it became too dark.
Photoshop at the Campsite
We found a great campsite near Höfn. We were the only campers, so we were free to relax during the dark hours and even did a bit of photoshop work. I wonder if my Customer ever managed to find out how to select pixel ranges on the apple mac. I couldn't figure it out at the time because I am a Windows user.
I did find out that if you go into the channels palette, you should be able to select the channels by ctrl and clicking on the channel. On the pc, I press Ctrl-Alt-1, Ctrl-Alt-2 and Ctrl-Alt-3 to select different ranges of pixels (according to the Red, Blue and Green channels.
A very simple processing trick for a well exposed image (I mean not too dark) is to duplicate the layer and put it in 'Multiply' blending mode. Then hit Ctrl-Alt-1 to select the top 50 pixels on the red channel… then simply create a mask with this selection (don't forget to give a big Gaussian blur to the mask afterwards).
Jökulsárlón & Diamond Beach

On our final day, we headed off to Jökulsárlón for some pre-sunrise shooting on the glacier lagoon. Although the lagoon was disappointing and almost empty of ice, we did get some rewarding photos on the Diamond Beach.