Icelandic Ring Road
Travelling around Iceland is the best way to see and photograph the huge variety of Icelandic landscapes. I have circumnavigated Iceland many times. I drove around the ring road three times in one summer. Iceland's Ring Road is also called the #1 highway. It is almost 800 miles and would take 16 hours to drive non-stop around Iceland.
Adventure Detours
Although locations dotted along the ring road are spectacular, like Jökulsárlón Glacier Lagoon, Vestrahorn Mountain, and Goðafoss waterfall, it is well worth deviating from Highway 1 to double your adventure. The Snæfellsness Peninsula or the golden circle are detours that can be covered in a day. Iceland's Westfjords is a serious detour which requires a couple of days.
Travel Guide
This Iceland travel guide will help you decide the duration and any detours for anyone planning to self-drive around Iceland. If you are not keen to drive yourself or manage your own hotel bookings, this guide will help you choose a minibus tour with local guides and onboard facilities. If you are a small group or you want to invest in your photography, then a private tour around Iceland could be the best travel option.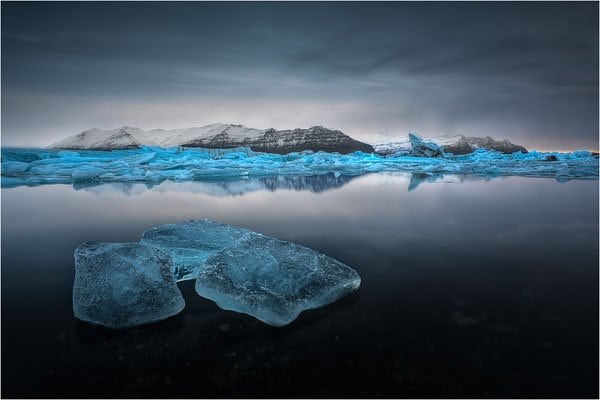 Tours Around Iceland
In the summer, you can enjoy long days and easy access to many top locations. These multi-day tours leave from Reykjavik and spread the journey around Iceland over several days, with overnight stays in different parts of Iceland. The recommended minimum would be a 6-day trip with 5 nights in different hotels around Iceland.
Small Group Tours
These small group tours are more flexible than the larger bus tours. The small number of fellow passengers is unlikely to get in the way of your photography. Drivers will have to follow the itinerary, so spontaneous hiking is not likely to happen.
Six Days Around Iceland
These tours go around Iceland in six days. They include the Golden Circle as well as the Ring Road. This is a really tight schedule, so it will mean seeing all the sites one time only. With good weather, this can be an amazing trip.
These tours have slightly different routes and activities. They all have a small group policy and wi-fi on board. The tours have whale watching and nature baths as optional extras. The tours include a different hotel every night.
Around Iceland in a Week
These 7-day tours also have a small group policy and wi-fi on board. The extra day allows the tour to visit the Snæfellsness Peninsula and Golden Circle as well as all the top locations around the the ring road.
Eight Days a Week
Eight days is what I would recommend as the ideal tour to enjoy all the locations around Iceland comfortably. These tours will have time for extra activities and will settle into some hotels for a couple of nights. It's good to have a break from packing and unpacking every day!
Nine Days and More
Nine-Day Group Tours
Some of these tours are fully inclusive. The extra days are spent doing glacier activities or exploring Iceland's Westfjords and Snæfellsness Peninsula.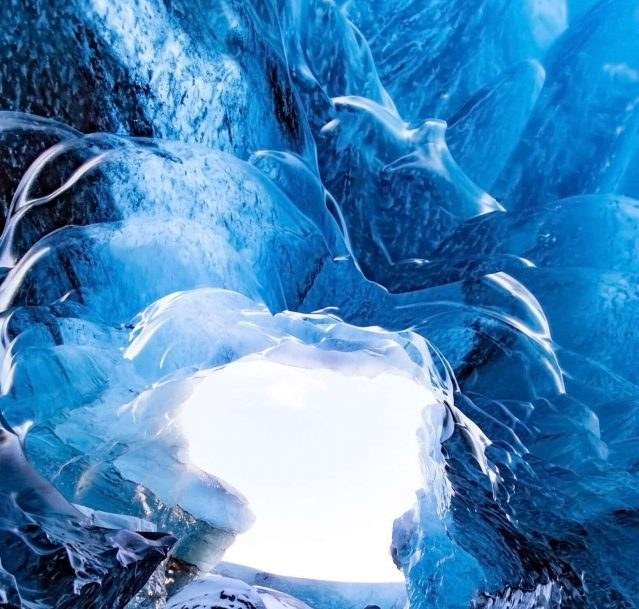 Private Tours Around Iceland
A private tour is probably the most expensive way to travel around Iceland, but the advantages of custom itinerary will make this Iceland trip the adventure of a lifetime.
Eight Day Private Tour
A private tour around Iceland will allow you to plan your trip to spend more time at your favourite locations.
Nine Days Private Tour
This multi-day luxury tour around Iceland's Ring Road is with a local driver or guide. The guide will take you to well-known locations as well as some hidden secrets known only to local Icelanders. The tour includes luxury hotels around Iceland for your comfort and convenience.
Cancel up to 7 days for a full refund.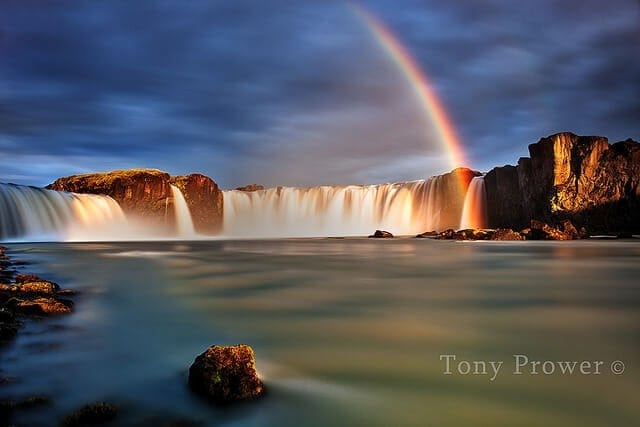 Self Drive Around Iceland
Sample Itinerary
If you plan to drive around Iceland yourself, this guide offers a suggested itinerary to help you plan your hotels and the duration at each location. This itinerary follows the ring road around Iceland closely, with 2–3 nights at the richest locations. Extra days could be used exploring the Westfjords or Snæfellsness Peninsula.
Ring Road Around Iceland
Arrival Day Reykjavik
Arrive at Keflavík International Airport and get a transfer to your hotel in Reykjavík. If you arrive early, you can enjoy the Blue Lagoon or photograph Reykjavik landmarks such as Harpa Concert Hall, Hallgrimskirkja, Sun Voyager, and Perlan. If your arrival is late, then it could be wise to book a hotel near the airport in Keflavik.
Day two: Þingvellir – Vík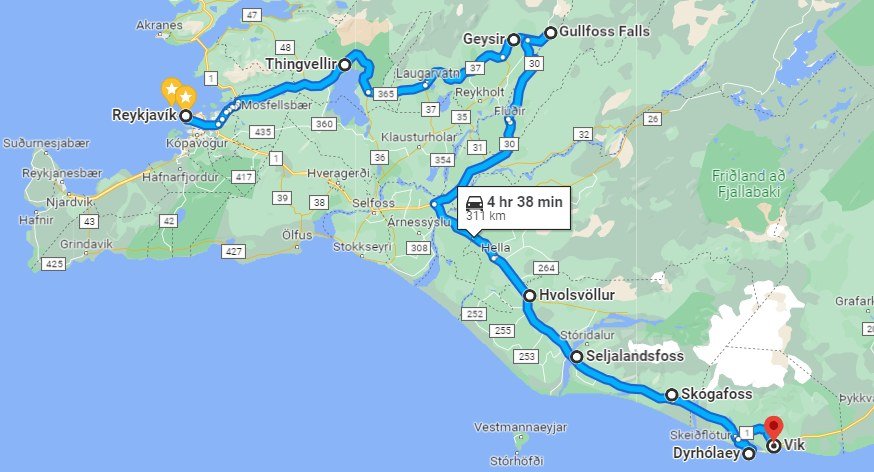 Start early with a one-hour drive to Thingvellir National Park. Here you can witness the tectonic drift and photograph Oxararfoss waterfall. You could spend the rest of the day exploring the Geysir and Gullfoss waterfalls on the Golden Circle. Instead of circling back to Reykjavik, rejoin the ring road between Selfoss and Hvolsvollur, and then head to the south coast for the evening.
The drive along Iceland's south coast has many famous waterfalls and dramatic seascapes in the country, such as Seljalandsfoss & Skogafoss.  Explore the black beach of Reynisfjara with great opportunities for seascape photography, including the sea stacks (Reynisdrangar) and Dyrholaey rock arch.
Stay overnight in the old village of Vik or close to the South Coast waterfalls, like Skogafoss.
Sponsored
Skogafoss Hotels
These sponsored links will help you check availability and book a hotel near Skogafoss Waterfall.
Day three and four: Vatnajokull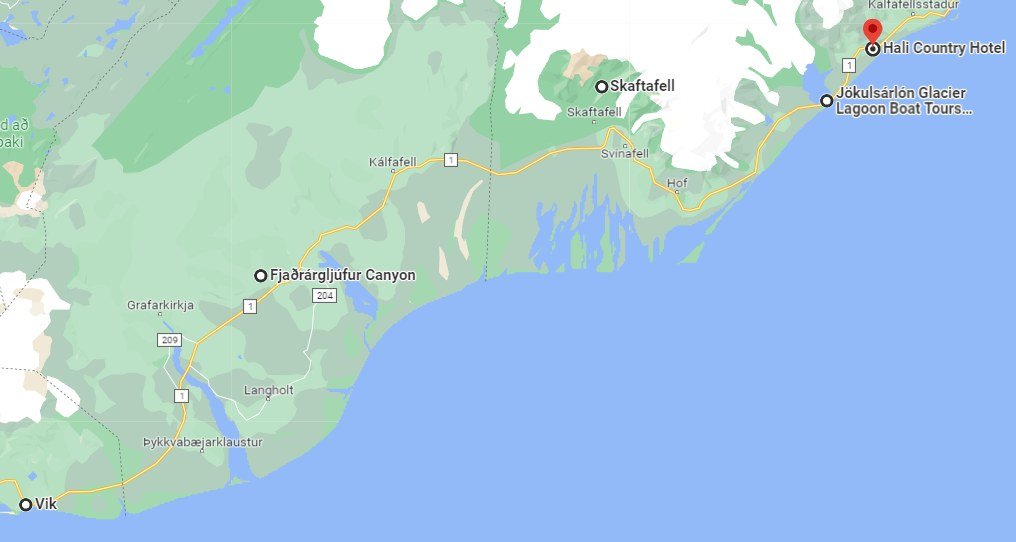 On the third day, head east to the glacier area of Vatnajökull after a morning shoot from the black sand beach in Vik. This is mostly the ring road with small detours at places like Fjaðrárgljúfur Canyon, Skaftafell National Park, and Fjallsarlon Glacier Lagoon. This is around 2.5 hours of driving, so you can spend quality time at the main locations.
Have an overnight stay at Hali Country Hotel with glacier views, just about 10 miles from the Jökulsárlón Glacier lagoon and Diamond Beach. It will be convenient to continue exploring the glacier lagoons or doing a glacier activity on the fourth day.
Sponsored
Hotels Near Jökulsárlón
Use the sponsored links below to find and book hotels close to the Jökulsárlón and Fjallsárlón Glacier Lagoons My strong recommendation is Hotel Hali.
Hotel Map
Over the next couple of days, you can explore and photograph glaciers from all angles. You could even travel under the glacier to a crystal ice cave in the winter. We visit other glacial lagoons in the area, such as Fjallsárlón. Visit Vestrahorn Mountain and a variety of photo locations. The abundance of high-quality locations enables you to follow the better weather. In every direction, you will find many excellent photography subjects.
If Aurora decides to make an appearance, your choice of landscapes is endless.
Day five: East Fjords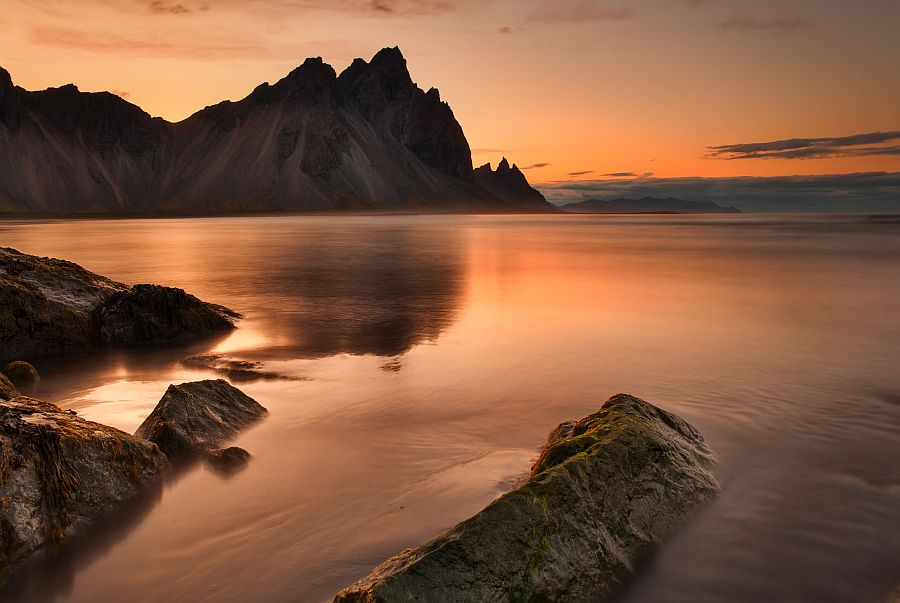 After stopping at Stokknes to photograph Vestrahorn Mountain, continue along the inviting East Coast and stop at another coastal mountain, Eystrahorn. Driving deeper into the East Fjords, you can visit lesser-known locations. Stay at a charming fishing village such as Stöðvarfjörður, the home of Petra's Stone Museum.
On this part of the journey, you can stop to photograph the roads winding around the steep terraced mountains. Countless waterfalls dot the landscape. The East Fjords are quiet in winter, so you might feel like we are alone on the island, except for meeting a few reindeer and some farmers.
Day six-eight: Mývatn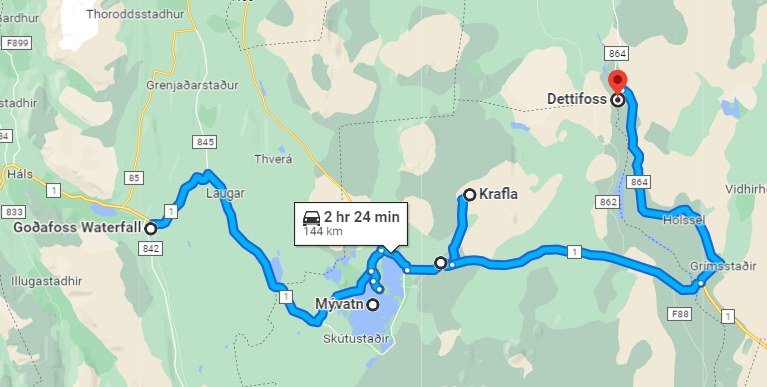 From the East Coast, drive the ring road west to Lake Myvatn, which is a winter paradise in North Iceland. Photograph amazing winter features such as horses and turf houses on your way to Myvatn. Take a detour to the powerful waterfall at Dettifoss along the way. After photographing Dettifoss waterfall, you can check in at your hotel in Myvatn.
The Myvatn lake rests firmly on the Mid-Atlantic Ridge, so most of the photogenic sights are volcanic or geothermal in nature. The last eruption in the Myvatn area was in September 1984 at Krafla volcano. It is worth staying at one of the many Myvatn hotels for 2 or 3 nights. Each day or night, you could explore a new location. If you have spare time in the Myvatn area, you can soak in the Myvatn Nature Baths to charge your batteries for the next photo location.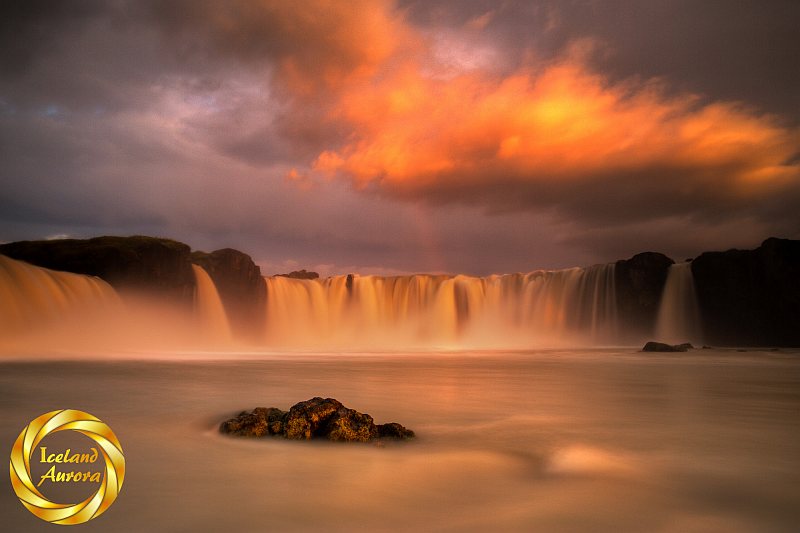 In the Myvatn area, you could visit the most beautiful waterfalls in Iceland, including Goðafoss, Aldeyjarfoss, and Hrafnabjargafoss. These waterfalls are amazing in the winter light or on summer nights. Goðafoss is right next to the ring road, but Aldeyjarfoss and Hrafnabjargafoss can be difficult to get to without a modified jeep.
Myvatn Lake in the north of Iceland is great for the Northern Lights (Aurora Borealis) and night photography as there is no light pollution. There are good reflections on the lake and interesting volcanic shapes.
Sponsored
Myvatn Hotels
Use the sponsored links below to find and book hotels close to Lake Myvatn. My recommendation is Hótel Laxá on the south side of the lake.
Day nine: Myvatn, North Coast
Depart from your Myvatn hotel and head to the North Coast, where you will drive to the second-largest city in Iceland, Akureyri. This capital of the North is home to 20.000 people. Then return to the road and photograph Hraundrangi, a picturesque mountain peak just 20 minutes from Akureyri.
Continue west on the ring road through Blönduós, and then head south to the Kolugljúfur Canyon, with its stunning waterfall. A 30-kilometer detour will take you to Hvítserkur, the Drinking Dragon on the Vatnsnes peninsula.
It is possible to find reasonable guesthouses about 30 minutes from the drinking dragon at Hvítserkur, which is also a well-known seal area.
Day Ten: Hvitarnes to Reykjavik
Grasp the opportunity to photograph the sunrise at Hvítserkur, a 40-foot-high sea stack. Legends say that Hvítserkur is a troll turned to stone, although geologists say that is a volcanic plug from a long time ago. It is an amazing photo opportunity, regardless of the truth.
When you drive south towards Reykjavik, you can make a few interesting stops at waterfalls. West Iceland is famous for beautiful waterfalls, salmon fishing, and Norse Sagas. There are opportunities to stop to photograph Icelandic horses before getting back to Reykjavik.
How much will a self-drive Around Iceland cost?
The Ring Road is a popular route that takes visitors through some of the best natural locations around Iceland's coastline. The cost of a self-drive around Iceland will depend on the duration of the tour, the detours from the ring road, and the type of transport used.

If you plan on renting a car, prices start at around $55-$110 per day for a small economy car, which includes basic insurance. If you choose a more luxury model, such as an SUV, the price may be closer to $100–$200 per day. Most of the Iceland car rentals will have big discounts for a 7-day hire or more.
Tips for a Successful Self-Drive Around Iceland
One of the finest ways to appreciate Iceland's breathtaking beauty is to drive all the way around it. You'll need some advice for a successful self-drive tour of Iceland, whether you're an expert driver or a novice. These are some crucial points to remember:
Prior to beginning your journey, be sure to plan your route. Consider the type of vehicle you're driving and do some research on the best routes to take (small cars may be limited in certain off-road areas). Moreover, keep in mind that, although the ring road is always open, the weather and driving conditions might change suddenly.
Always check the forecasts and alerts before you set out. Make sure to visit the Icelandic Roads website before every drive to check the road conditions. The Icelandic Weather Website also issues storm warnings, which should be taken seriously. I ran several tours around Iceland, but I would never start driving if the roads were very slippery or a storm was forecast.
Last but not least, budget for a dependable onboard navigation system. The majority of rental firms do this. This will enable you to traverse any uncharted roads or detours and locate the best paths. In case of an emergency, it's also a good idea to have additional drinking water, snacks, and a spare tire with you.
Generally, careful planning and preparation are necessary for a successful self-drive tour of Iceland. You'll be sure to have an excellent and unforgettable experience by paying attention to these suggestions and a few extra safety warnings.
Sponsored
Hostels Around Iceland
Hostelling will help you save money as you travel around Iceland.
Goða Ferð – Have a Good Trip
Whether you decide to travel around Iceland with a small group, a private guide, or a self-driver, the trip is going to be a amazing adventure. Sometimes it will feel like you are visiting another planet. Hopefully, your photos will reflect the dramatic beauty of this North Atlantic island.
I hope this travel guide has helped you research and plan your trip. Above all, stay safe, and remember that the weather is the boss.