Snæfellsnes & West
Capture the epic combination of Mount Kirkjufell and Kirkjufellsfoss waterfall. Hike over some volcanic landscapes. Take a deep breath on Iceland's most dramatic coastline. Then stay in a fishing village waiting for Northern Lights with a good meal and steam bath. Not to mention the craziest lava field in Iceland. This Iceland travel guide to Snæfellsnes will help you choose the right Snæfellsnes tour for your budget.
Contents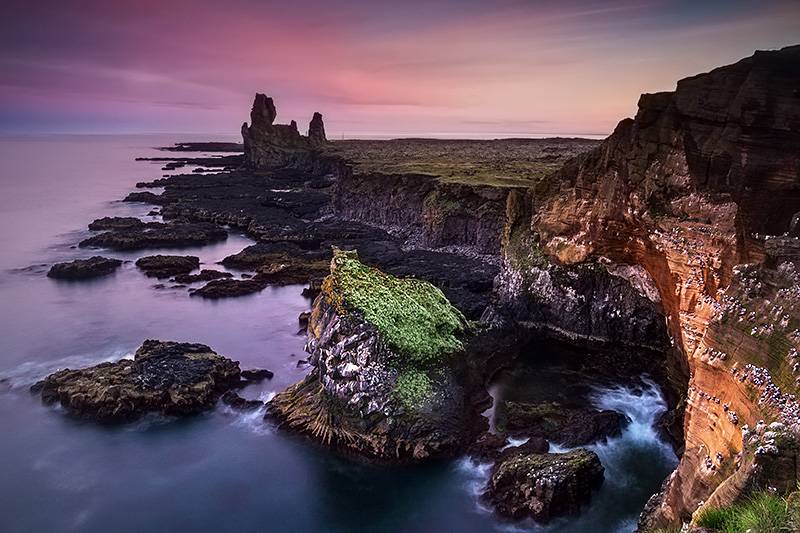 Multi-day Group Tours
These multi-day guided tours combines all he best locations in West Iceland. The Snæfellsnes Peninsular can be explored in a single day tour, but having an overnight in the Icelandic country-side helps you to relax and enjoy Snæfellsnes even more.
2 Day Snæfellsnes Tours
These two day tours include all the highlights of the Snæfellsnes Peninsula on the first day. They include an overnight stay in west Iceland. The second day explores west Iceland up to the Hraunfossar waterfall.
Tours Include
Hotel Pick-up
Accommodation
Breakfast
Wi-fi on board
4 Day Snæfellsnes Tours
These multi-day turs will include the highlights of the Snæfellsnes Peninsula. They also explore Iceland's National Treasures on the Golden Circle & all the drama of the South Coast at Glacier Lagoons.
5 Day South Coast & Snæfellsnes
This Small-group tour includes Snæfellsnes Peninsula, Golden Circle, South Coast, Jokulsarlon & Ice Caves (Winter only).
Snæfellsnes Peninsula
Golden Circle
South Coast
Ice Caves
Glacier hike
7 days full cancellation.
West Iceland Highlights
Snæfellsnes Peninsular
Londrangar – colourful bird cliffs and view of Snæfellsjökull
Arnarstapi – seastacks and arches – quirky lunch cafe
Grundarfjörður – Kirkjufell – the famous Church Mountain
Djuparlon – a cove with a ship wreck and heavy lifting stones for strong men (and ladies)
Olafsvík – fishing village with whale watching opportunities
Buðir – the black church
West Iceland Highlights
Borgarnes – beautiful views across Borgarfjörður – Walter Mitty scene
Deildartunguhver Thermal Spring
Snorralaug – Historical bathing pool
Hraunfossar Waterfall
Golden Circle
Þingvellir – the Icelandic parliament and tectonic plates
Öxarafoss – the black waterfall at Þingvellir
Faxi – a beautiful salmon waterfall
Geysir – erupting hot-springs
Gullfoss – the largest waterfall in Europe