Exploring Iceland in the comfort of your own car is a great way to take in the captivating scenery and traverse some of the most interesting spots in the country in just a few hours.
With the help of my travel guide, you can explore popular sites like Thingvellir National Park, Gullfoss, and Geysir without worrying about getting lost or missing out on the highlights. You'll gain insight into some of the top photo locations in Iceland as you make your way around the route.
The Golden Circle is the most famous tour in Iceland. Although the route is probably best described as West Iceland, it deserves a place among South Iceland routes because it can join the South Coast road (#1 ring road) without sacrificing any top locations. This means that the Golden Circle day tour route can form part of a longer tour, including South Iceland. It also connects well with routes into the highlands and to the Snaefellsnes peninsula.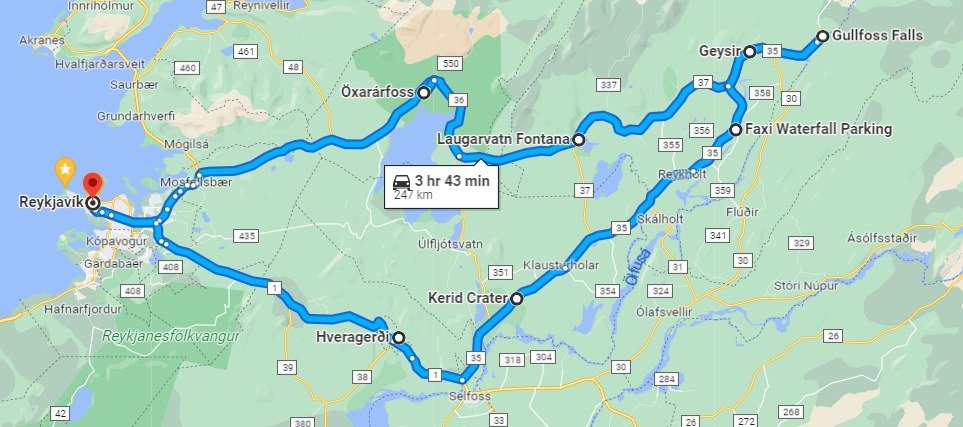 What to Expect on a Golden Circle Self-Drive
The Golden Circle Route is a classic Icelandic self-driving experience that takes you to some of the most stunning landscapes in the country. From geysers and hot springs to volcanic craters and powerful waterfalls, this tour offers something for everyone. So if you're looking to explore Iceland in style, here's what you can expect from the Golden Circle Tour.
Thingvellir National Park
Thingvellir National Park is one of the most popular attractions on any self-drive Golden Circle Tour. Located in the Southwestern corner of Iceland, it stands as an awe-inspiring natural monument to the geological history of this rugged island. This UNESCO World Heritage Site boasts incredible landscapes, including hot springs, canyons, fissures, and flowing streams.
There is deep historical significance at Thingvellir. The first parliament was formed here as well as the official adoption of Christianity. Thingvellir National Park is a jewel in Iceland's cultural crown.
Öxararfoss waterfall is the best attraction for photographers with it's dark rock and boulder strewn river, it is worth the small hike from the carparks on the lower level.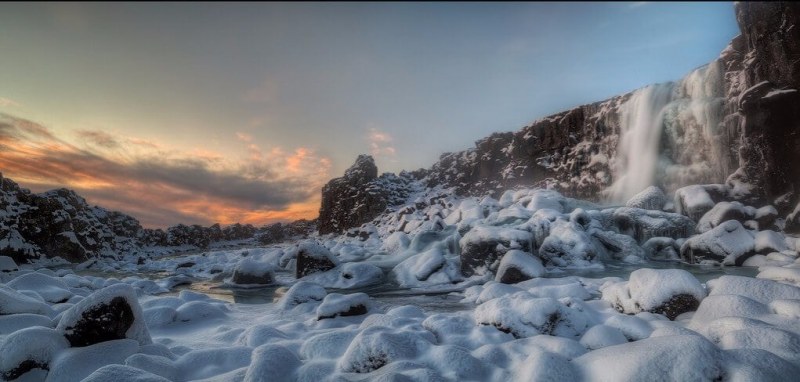 Visitors can also explore the park's many hiking trails, which provide amazing views of the surrounding area. As an important place of Icelandic cultural heritage, Thingvellir National Park is a must-see for anyone touring the Golden Circle.
Silfra Fissure Diving
Quite close to Öxararfoss waterfall, on the banks of Thingvallavatn Lake, there are diving tours on offer. The Silfra fissure is one of the world's top ten freshwater diving sites. Both novices and qualified divers can dive along the fissure between tectonic plates.
There is no entrance fee to Thingvellir National Park, but there is a $5 daily parking fee.
Brúarfoss
In West Iceland near Laugarvatn is a hidden, but popular waterfall called 'Brúarfoss'. BrúarfossWaterfall is an almost symmetrical complex of delicate cascades which lead into a blue river. The famous waterfall only works after rainfall. It is pointless visiting Bruarfoss Waterfall when it hasn't rained for a while.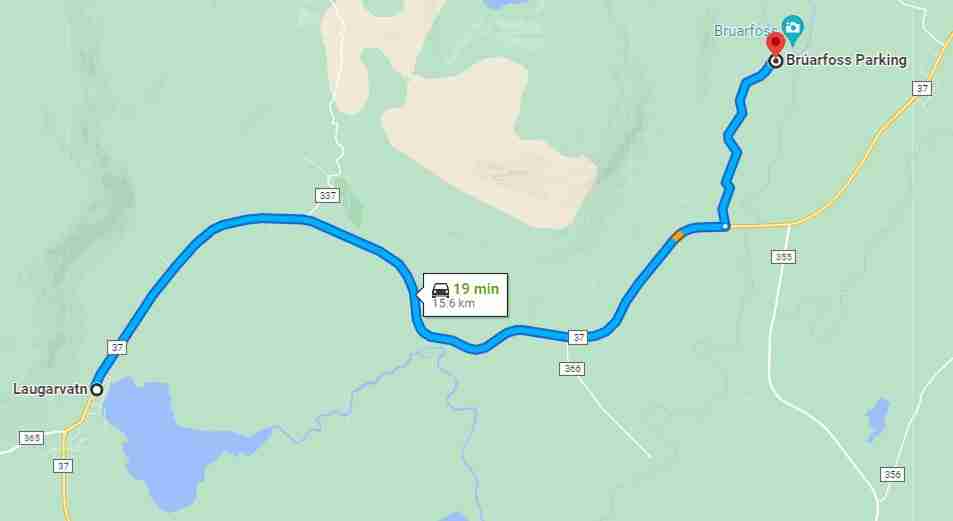 'Bruarfoss' means 'Bridge Falls'. Indeed there is a bridge at Brúarfoss Waterfall. This view point is common for most photographers. Despite being advise to take my photo from the bridge, I wanted a natural foreground, so took this just to the right of the bridge.
Wet Feet
As mentioned above, the waterfall is best after rain. The surrounding area can be very wet after rain. I strongly recommend high boot or Wellingtons.
Kerið Crater Lake
Kerið Crater Lake is a striking volcanic lake located in Grímsnes, Iceland. The lake sits within a 3,000-year-old caldera, a cauldron shaped depression created by the collapse of the magma chamber after a volcanic eruption. As one of the most popular attractions in the country, Kerið offers a stunning display of colors, ranging from blues and greens to oranges and reds.

The lake is 160 feet wide, 270 feet long and up to 55 feet deep. There is a walking path that surrounds the lake, allowing visitors to take in the breathtaking scenery. Numerous other geological features can be seen on the lake's rocky edge, including basalt columns. These columns were formed by the cooling of molten lava, and they create a surreal canopy around the lake.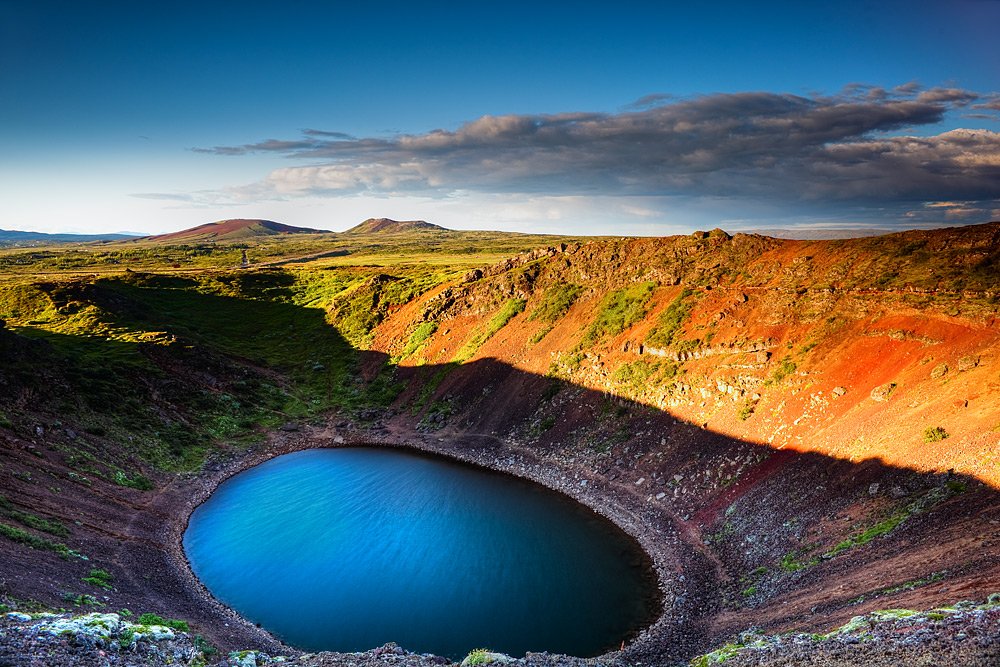 Kerið has been used as a filming location for numerous movies and television shows, making it a popular tourist spot. In addition to its natural beauty, the lake has cultural significance; legend has it that the area was once a favorite haunt of the Alfar (elves). Visitors to Kerið Crater Lake can now explore its mystical history while taking in the gorgeous views.
Kerið Crater Lake is one of the only nature spots along the Golden Circle route to have an entrance fee. They charge around $3 per person.
Geysir geothermal area
Geysir geothermal area is one of the most popular attractions in Iceland and a must-see stop on any self-drive Golden Circle tour. This unique area is home to the original geyser, Geysir, which may not be erupting as frequently as it once did, but it is still an impressive sight! The area is filled with hot springs, bubbling mud pools, and various other thermal features, making it a truly magical experience. Visitors can explore the area on foot and experience the beauty of this geothermal wonderland for themselves. After the eruption of Geysir, the area was named after it and the name was adopted from the Icelandic verb 'geysa', meaning 'to gush'.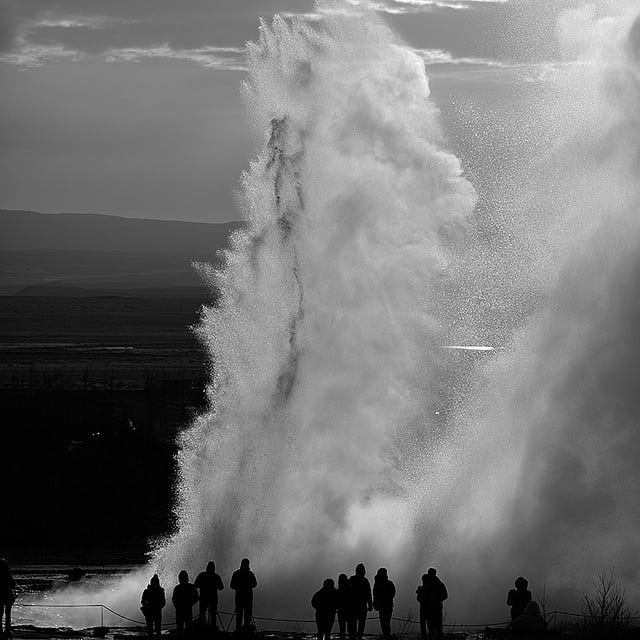 The Geysir geothermal area is a great place to take stunning photographs, with bright blue springs and vivid green moss-covered rocks. It is also home to a variety of wildlife, and visitors are likely to see birds, foxes, and even arctic hares as they explore the area. The ground may be very hot in some areas, so be sure to take care when walking around and always heed the warning signs.

Other attractions in the area include the Strokkur geyser, which erupts every five to ten minutes and is a real highlight of the Geysir geothermal area. There is also the Blesi crater lake, which is fed by the heated groundwaters and is a beautiful body of water surrounded by rocky hills. The Smidur and Litli-Strokkur hot springs are also worthy of exploration and provide a great way to relax and observe the area.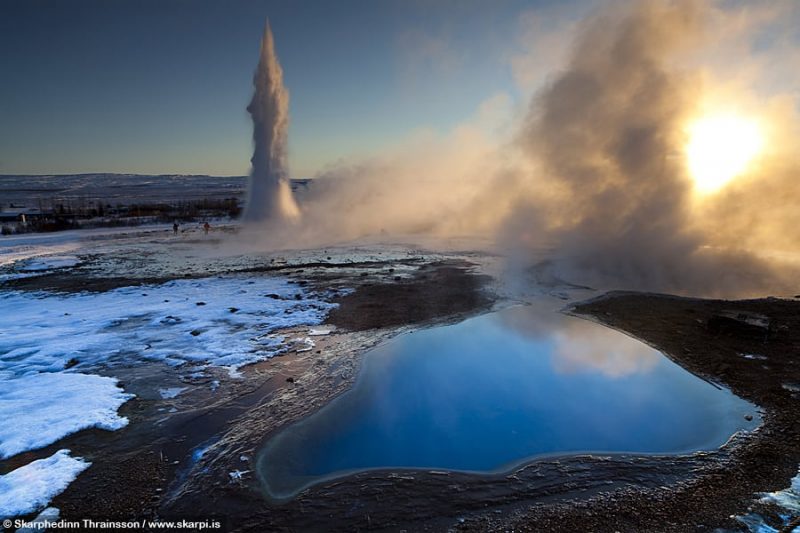 Visiting the Geysir geothermal area is a great way to experience the natural beauty of Iceland up close. It's a must-see during a self-drive Golden Circle tour, and it's a part of the country that anyone wanting to explore Iceland"s fascinating nature should not miss!
Gullfoss Waterfall
Gullfoss, which translates to "Golden Falls" in the Icelandic language, is the stunning centerpiece of Iceland's Golden Circle. It is one of the most iconic and photographed waterfalls in the world—and for good reason!

This massive, multi-tiered waterfall reaches a height of 32 meters (105 feet) and drops into a deep canyon below. Even when it's raining, Gullfoss' mist rises high into the sky, creating a magical display of rainbows and clouds. You can get up close and personal with the waterfall from several viewing points or even take a short boat trip to get a unique perspective.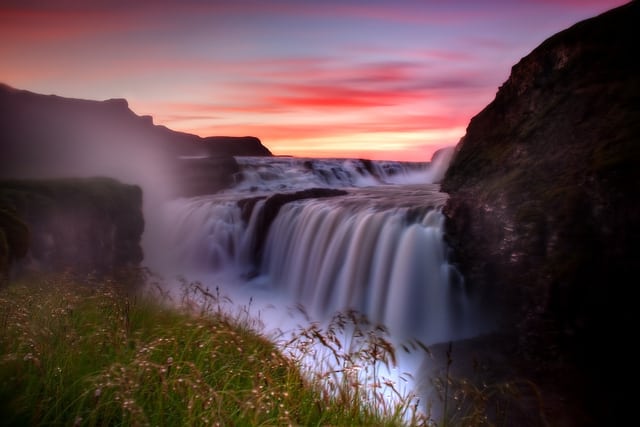 When visiting Gullfoss, it's important to dress appropriately. It's usually much cooler near the waterfall than the surrounding area, and there is usually a lot of wind and mist. Also, bring waterproof shoes if you plan on getting close to the edge. For best results, try to visit during the summer months when the water is crystal clear and the sunsets are beautiful.

The Gullfoss area is also popular for activities like hiking and biking, making it a great spot to explore and appreciate Icelandic nature. This beautiful waterfall can be enjoyed year-round and is the perfect addition to any self-drive Golden Circle tour!
At Geysir and Gullfoss, you could get very wet while you are taking great photos, so always pack waterproof gear whatever the weather.
In addition to these main highlights, you'll also have numerous opportunities to explore the rugged Icelandic countryside and take in the breathtaking views of mountains, glaciers, and rivers. Visit the geothermal greenhouses in Hveragerdi or bathe in luxury at Laugarvatn Fontana geothermal baths. The Golden Circle Tour is a must-do experience for any traveler looking to explore the wonders of Iceland in style.
Faxifoss Waterfall
Faxi is a smaller waterfall than Gullfoss, but it is still impressive. The salmon waterfall can be seen from the upper car park viewpoint, or you can drive or hike down to get really close.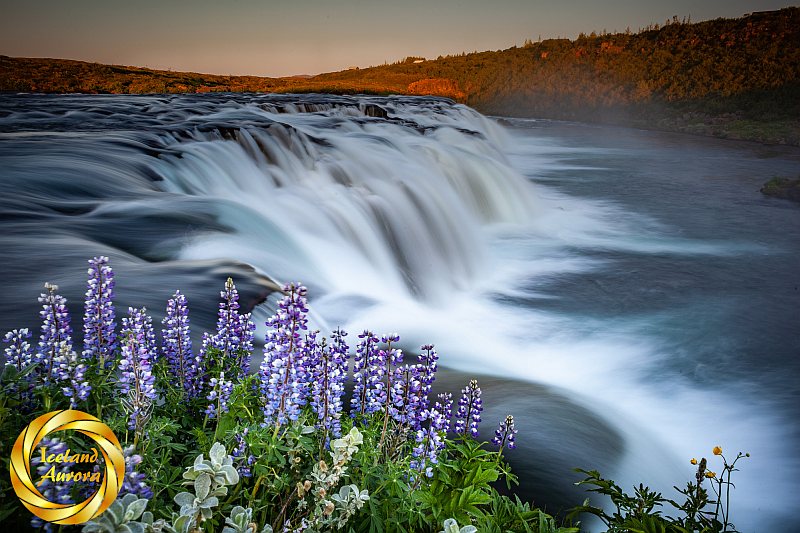 Tips for a Successful Golden Circle Self-Drive
Exploring Iceland's Golden Circle by car is one of the best ways to experience its stunning beauty. Whether you're an experienced driver or a beginner, you'll need some tips for a successful self-drive tour of the Golden Circle. Here are some essential tips to keep in mind:

First, make sure to plan your route before you start your journey. Research the best roads to travel on and consider the type of vehicle you're using (small cars may be limited in certain off-road areas). Also, remember that most roads on the Golden Circle are open year-round, but weather and road conditions can change quickly.
Make sure to check the forecasts and alerts before you set out. Always visit the Icelandic Roads website before every trip to check real-time road conditions. The Icelandic Weather Website also publishes storm warnings, which must be taken seriously. I ran hundreds of Golden Circle tours but would never set off if the roads were very slippery or a storm was forecast.

Another important tip is to take the time to stop often along the way. The route is fairly short, so you can take your time. The Golden Circle is home to many stunning landmarks like Gullfoss Waterfall, Geysir Hot Springs, and Thingvellir National Park, to name a few. Stop to admire the beautiful landscapes and get some amazing photos. Just make sure you park off the main road, especially if it's icy.

Finally, consider budgeting for a reliable onboard navigation system. This will allow you to find the best routes and navigate any unknown roads or detours. It's also a great idea to carry extra drinking water, snacks, and a spare tire in case of emergency.

Overall, a successful Golden Circle self-drive tour requires proper planning and preparation. By following these tips and keeping a few other safety considerations in mind, you'll be sure to have an amazing and memorable experience.
What is the cost of a Golden Circle Self-Drive?
The Golden Circle is a popular route that takes visitors through some of the best attractions and experiences Iceland has to offer. The cost of a self-drive Golden Circle tour will depend on the duration of the tour as well as the type of transport used.

If you plan on renting a car, prices start at around $55-$110 per day for a small economy car, which includes basic insurance. If you choose a more luxury model, such as an SUV, the price may be closer to $100–$200 per day.


You may also need to factor in other costs such as fuel, food, and entrance fees to attractions like Kerið Crater Lake. Usually, though, these expenses don't add up to much unless you intend on doing a lot of sightseeing. All in all, a self-drive Golden Circle tour is an affordable way to explore Iceland and its many attractions.
Where to Eat on the Golden Circle
There are places offering cafe services at most of the main attractions. In Thingvellir National Park, there is coffee and tea available at the visitors center and a cafe near the main road on the lower plateau. Geysir has two food providers in the souvenir shop complex. There is a fried food cafe offering cheap snacks and a restaurant offering hearty Icelandic meals. Gullfoss waterfall has a cafe with light food and a large seating area on the upper level.
Where To Stay on the Golden Circle
There are high-end hotels at Geysir and Gullfoss, and there is more affordable accommodation in Flúðir. If you are keen to photograph the Northern Lights, then Flúðir is not a great choice because there is a lot of light pollution from their geothermal greenhouses. Most people who drive the Golden Circle route stay in Reykjavik because it is easily completed in 6–8 hours.
Sponsored
Geysir Hotels
Use the sponsored links below to book a hotel close to Geysir and Gullfoss.
Golden Circle as part of a multi-day tour
The Golden Circle route could form the start (or finish) of a longer tour. This works well if you complete the Golden Circle in a clockwise direction, visiting Thingvellir first.
From road #35 at Geysir, head South towards Selfoss until you reach the #1 Ring Road. Alternatively, you can take a short cut through Flúðir by turning left on road #359 on the same road. There is a road #30 between Geysir and Gullfoss. This road has a few kilometers of rough track. Once you are in Flúðir, follow the road #30 South until you join the #1 Ring Road.
Flúðir is also in a good position to explore the highlands and Landmannalaugar (in the summer).
My advice would be to find accommodation near the Selfoss or Skogafoss waterfalls. This would be plenty of driving for one day and put you in a great location for the next day.