North Iceland Tours
Plough through some serious winter snow to get to some of Iceland's most beautiful photo spots in the north. Or shooting the midnight sun in mid-summer. Stay just a few minutes from Goðafoss waterfall and Lake Mývatn. North Iceland is the place to capture the stunning Goðafoss waterfall with a whole load of ice and snow.
Contents
Seasons: Most attractions can be seen all year. Daylight in mid-winter will be limited to 3–4 hours.
Private Tours
These private tours depart from Akureyri. They are a good choice if you want to get to some lesser-known places in North Iceland. As they are private, you can explore each location at your own pace.
Private tours allow you to take your time to explore the best locations in the North. Visit ancient geological wonders such as Asbyrgi and then take the mountain road to the east side of Dettifoss waterfall, which is nearly impossible in the winter.
Group Tours
Here is a selection of reasonably priced group tours that depart from Akureyri.  Spend a day on the Diamond Circle to see Godafoss waterfall, Dettifoss, Namaskard, and more!
Locations
Day tours from Akureyri could include Goðafoss, Dettifoss, Lake Myvatn, and low light at Námaskarð Hverir or Krafla Volcano. The private tours are great for photographers who want to catch Goðafoss and Mývatn in a variety of light and weather conditions.  Book a local Super Jeep to get to remote waterfalls such as Aldeyjarfoss (Winter).
On a self-drive, there are also options to watch whales from Húsavik. Photograph the sunrise at Goðafoss if you plan carefully.
Goðafoss Waterfall
One of Iceland's most stunning waterfalls, Godafoss is situated in the north of the island. The Myvatn Natural Reserve and Lake Myvatn, two of Iceland's most stunning volcanic landscapes, are sandwiched together by the waterfall. The waterfall, commonly referred to as the "Waterfall of the Gods," has long been a well-liked tourist destination. The waterfall is approximately 30 meters broad and 12 meters high, with the water tumbling from that height. One of Iceland's most popular waterfalls for photography, the waterfall is absolutely magnificent. The beautiful greenery surrounding the waterfall creates a very attractive setting. Godafoss is suitable for photo shooting in both the summer and the winter.
Photography at Goðafoss Waterfall is hard to beat.  Auroras over Goðafoss in the evening will make your Iceland trip worthwhile.  Don't miss the opportunity to photograph the sunset, sunrise, and northern lights (winter only) at Goðafoss.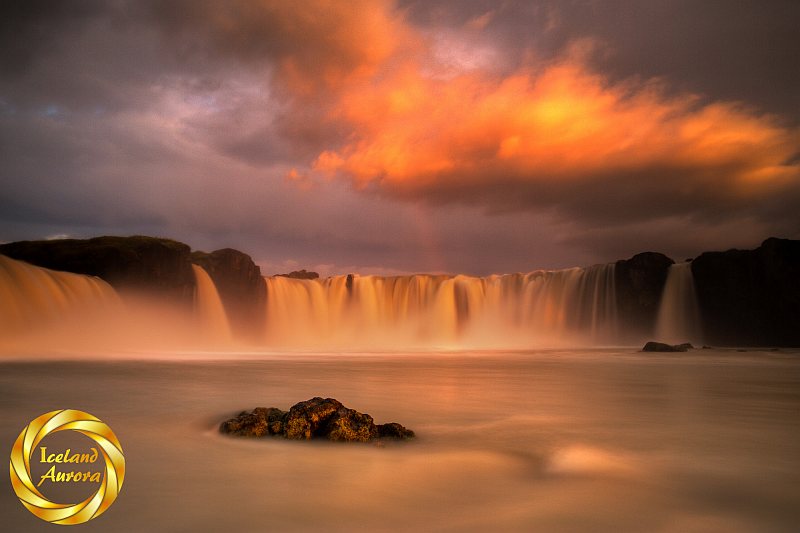 Dettifoss Waterfall
Note: Access to Dettifoss is subject to road conditions.  Most of the tours listed on this page can take you to the east side of the waterfall for most of the year. The west side of Dettifoss becomes accessible late in June unless you have a helicopter, skidoo, or superjeep.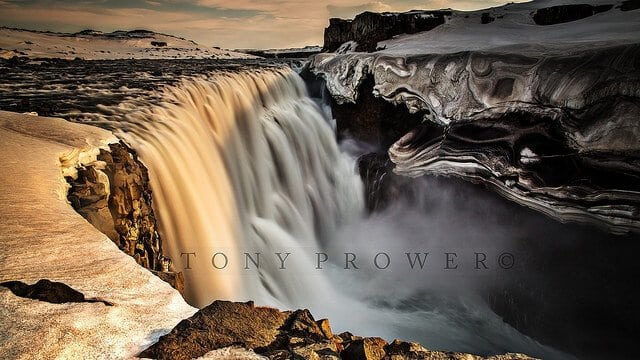 Námaskarð Hverir
The hot springs of Námaskarð Hverir are close to Lake Myvatn and directly between Godafoss and Dettifoss.  This geothermal landscape has steaming fumaroles and boiling mud pits.  If you have a dramatic sky over the alien landscape of Námaskarð Hverir, then you can produce some extraordinary photographs.
Myvatn Lake
Lake Myvatn also offers some photography, although I could never see it.  There is a view of the whole lake from Námafjall Mountain.  In good conditions, it can be worth stopping for photos.  From the Námafjall road, you will also see the Nature Baths, which offer a similar experience to the Blue Lagoon but at a fraction of the cost.
North Iceland in the Summer
In the summer, the mountain roads open and allow access to many more great locations in North Iceland.  With a Jeep tour, you could experience vast, stony deserts with mountain tracks designed by whisky drinkers leading to Iceland's wildest geothermal hot-spots. Don't forget your bathing costume because there are opportunities to soak in geothermal pools. Feel the earth tremble next to Europe's most powerful waterfall. Cast your material possessions into the waterfall of the gods and experience the best whale watching in Iceland from the fabulous Husavik (original home of the Penis Museum).
Hveravellir Hot-Springs
Some jeep tours might be able to visit the geothermal mountains of Kelingarfjöll and the hot-spring oasis of Hveravellir.  The rough mountain roads are heavy going, but in good condition, it is totally worth it. These locations can also be accessed from the south of Iceland.
Experiencing sunsets and sunrises at these places can be hugely inspiring. Camping trips can follow the best of the midnight sun and give you lots of flexibility. If you are staying in Akureyri, you could do a series of day tours to capture all these unique and exciting locations in North Iceland.
Around Iceland
This is a collection of multi-day tours that go all the way around Iceland. Most of these tours will follow the Ring Road and will always include Godofoss waterfall, Myvatn and Námaskarð Hverir.