A successful Northern Lights tour in Iceland is something you will never forget. Aurora Hunting Tours are like the ultimate mystery tour through an alien landscape in the dark. These evening tours are full of anticipation. Seeing the Northern Lights on your trip to Iceland will give you a dizzying feeling inside, like riding a Ferris wheel or your first kiss. There is something romantic about the experience. Photographing them will take your friendship with the Aurora Borealis to another level. The magic of the Aurora will leave you spellbound and in a state of mild shock for a couple of hours.
Contents
Tours from Reykjavik
These are weather-dependent evening tours. The tours and activities below include pickup from your Reykjavik hotel. These can be booked through Viator. A small commission helps to support this website.
Photo Tours
If you are passionate about photography and want to capture something special, I would strongly recommend this photo-infused Northern Lights tour. The tours are run by a team of pro-photographers who can guide your photography or photograph you with the aurora borealis.
These photo guides know Iceland very well and can run your tour away from the crowds. The tour is with a small group of a maximum of 8 guests.
Includes

2 high res photos
Pick-up from 8PM to 11.30PM
Photo Instruction
Four Hour Tour
8 person maximum

Cancellation Policy

24 hour cancellation for a full refund
Tours with Photos
These tours offer photographs of you with the northern lights. These tours can also be suitable for people wanting to take their own photos.
Private Tours
These private Northern Lights tours will give you more time at better locations, and you won't have to worry about the crowds that are inevitable on a Northern Lights bus tour. Private tours are more flexible regarding pick-up times and duration.
Small Group Tours
These tours are hand-selected for their small group policy. These are much cheaper than a private Northern Lights tour but include some of the advantages of avoiding crowds. This can be a big advantage if you want to take photos of the aurora borealis.
Bus Tours
This selection of aurora bus tours runs from Reykjavik, the capital of Iceland. These buses will take you away from Reykjavik, usually north of the city, by as much as an hour's drive, or it could be a five-minute drive. Sometimes the stops will include a few other buses. You can take good photos, but they will be from a car park. I have seen Northern Lights bus tours go out in blizzards, so it's wise to check the weather forecast yourself. Learn how to do this below.
When is the best time to come?
Northern lights can be seen from the end of August to the beginning of April in Iceland. There is no way to see them in the Icelandic summer because the sky doesn't get dark. During the winter, the northern lights can appear anytime after dark. The strongest northern light shows are usually between 10 p.m. and 2 a.m. Sometimes they go on all night and can be seen in the morning.
Auroras can only be seen in Iceland between late August and Early April.
Other Areas
Hofn East Iceland
This tour works well if you are staying near the glacier lagoons in East Iceland. These Northern Lights tours are run in a private jeep away from the crowds. They will take you to beautiful locations around Vatnajokull National Park, which could include glacier lagoons and diamond beach.
Includes

Pick-up from Hofn Hotel or Airport at 8.30PM
Private transport
Three Hour Tour
Expert aurora guide

Cancellation Policy

24 hour cancellation for a full refund
Akureyri – North Iceland
These Northern lights tours run from the capital of North Iceland. Akureyri Northern Lights Tours could include Godafoss waterfall which is a top location for aurora photography. Otherwise they will take you to beauty spots around the Akureyri area.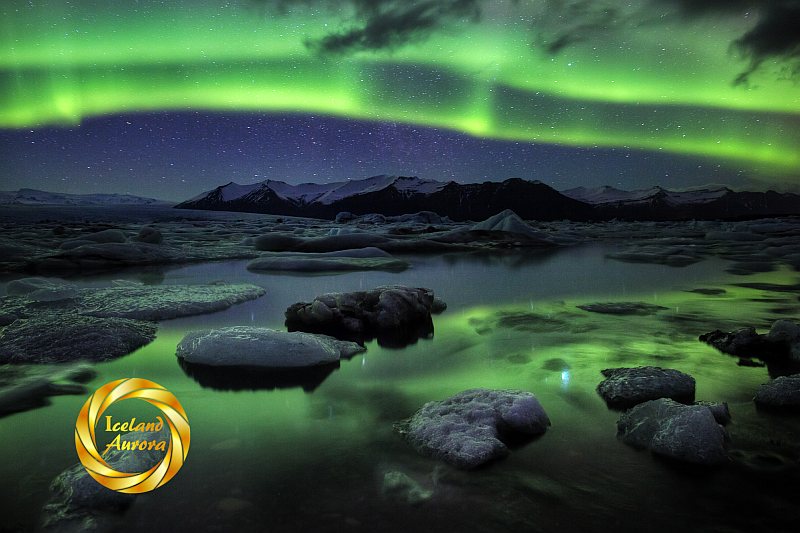 Northern lights Weather
The perfect weather for Northern Lights is a clear sky. In the mid-winter, a clear sky usually means that it is colder. This leads to the mistaken view that the Northern Lights are caused by coldness. They are just more likely to be seen when it is cold because the skies are clearer. During the colder periods, the roads can be icy. This is more likely to happen on less busy roads, so if you are out self driving, you GPS could be leading you into a difficult situation. It is essential to check Icelandic Road Conditions. And also the Local Weather.
Aurora Forecast
It is wise to check the Aurora Forecast before going out or booking a tour. The National Icelandic weather website has a GREAT RESOURCE for checking the Northern lights and weather over the next three days. The example below is during an active period. This can help you plan a short, impulsive trip to Iceland and get your tours already booked.
Live Measurements
This gets a bit technical, but you don't really have to understand the physics behind a geomagnetic measurement for it to be useful for you.
The graph below shows three measurements of geomagnetic energy. The top (Z) shows vertical movement. H shows Horizontal movement & D shows the direction.
The left side of the graph is what we call 'Flat-line'. Around 20.00 you can see movement on Z & H. After 21.00 (9 o'clock) it goes wild until about 09.00. If you went out at 20.00 you would have started to see Northern lights in the Northern sky.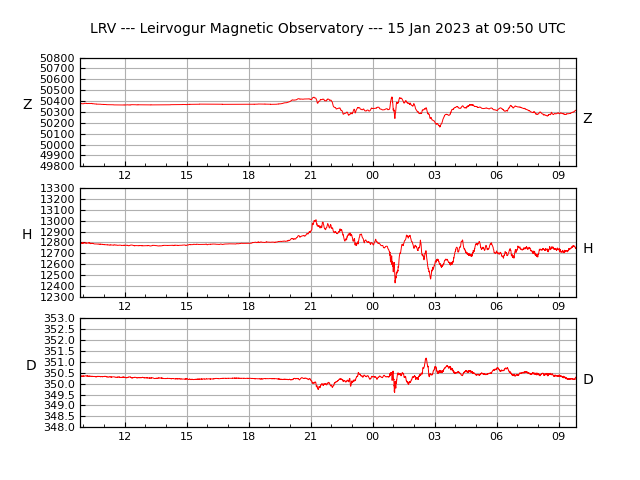 As a general rule, if there is any movement on the top two (Z&H), then it is worth going out. If you only see a flat-line, do something else.
Live Aurora Map
This LINK will show you the live Aurora Activity on a map. This is useful if you are in Iceland, near a great location and ready to go. With a very clear sky to the Northern Horizon, you can photograph weak auroras (1 or 2) with a good camera.
Aurora Reykjavik
If the weather forecast goes against you, there is always the Aurora Reykjavik exhibition. This is a warm, indoor Northern Lights experience close to Central Reykjavik.
Colours of the Northern Lights
The colours of the Aurora Spectrum are an ionic phenomenon that occurs when energy from the sun entering our atmosphere. Solar energy causes Electrons to collide with different gases in the ionosphere. This give us the impression of different colours. Oxygen shows a green/yellow colour. Nitrogen makes the Reds, Blues and violets (the most abundant gas).
Northern Lights Superstition
The Vikings believed that the dancing lights were the souls of the war dead on their journey to Valhalla.  Many other cultures have seen them as omens of war.  In medieval Iceland, pregnant women were banned from whistling for fear of being abducted by the aurora. The Greenlandic Inuit thought the Northern Lights were a giant sky walrus.