This was a tour which took us around Iceland at a time of the year when Winter turns into Summer, the deep snows melt gently revealing colourful herbs and mosses. Waterfalls are fresh and sparkling with the anticipation of Summer and the newly arrived migratory birds sing well into the long evenings.
Reykjanes Penninsula
Pick up was from Hotel Keflavik and we drove the back roads through the lava field to escape the main highway. The weather was cloudy to begin with which suited the rough terrain of the Reykjaness Volcanic ridge, but as we joined the #1 highway on the South Coast, the sky started to clear and we were blessed with occasional sunshine.
South Coast Waterfalls
After short stops at Urriðafoss and Seljalandsfoss waterfalls, we made the most of the afternoon light at Skogafoss Waterfall.The best winter light at Skogafoss waterfall is early afternoon between 1 pm and 3 pm. These are the times when the light actually hit the full cascade.
Hali Country Hotel
We stayed the first 3 nights at Hali country hotel, which was a good opportunity to enjoy the restaurant and exhibition as well as being in a great location to explore the Ice Lagoons and glacial landscapes.
From here we explored areas around Höfn and spent some time near Kirkjubærklaustur. There are so many rich, photogenic locations with a 90 minute drive.
Sunset at Jökulsarlon
Eventually we got what we were really here for, a nice sunset at Jökulsarlon glacier lagoon, with beautiful reflections. Sunsets last a long time in May, so we had time to shoot from 2 different locations.
Iceland's East Coast
After our comfortable stay at Hali, we drove to Egilstaðir for the 4th night. This gave us a chance to explore the East Coast of Iceland for a day. It was a relaxing drive with very little traffic and some interesting coastal lighthouses offering interesting views of Eystrahorn Mountain.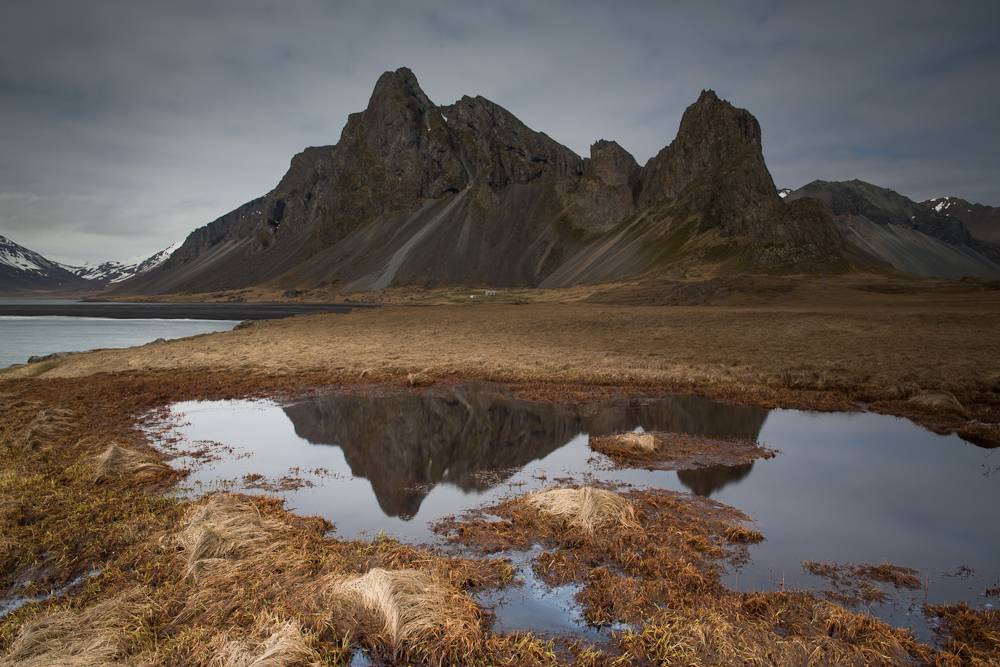 We stopped at Djúpivogur for soup and salad before getting the chance to see Búlandstindur, the East fjords most beautiful mountain. She sits like a great pyramid. What a shame the light was too harsh for a reasonable photo. Búlandstindur looks best from the other side of Berufjörður. This is a shot from mid-summer evening a few years back.
Petra's Stone Museum
We stopped in Stöðvarfjörður and for a little break from driving and photography, my customers were pleased to explore the amazing collection of stones at Petra's Stone museum. It was difficult balancing the timings for Sunset because we also had to get to the hotel at a reasonable time and find a good place to eat.
Cafe Sumarlina in Fáskrúðsfjörður came to the rescue with good pizza and chicken salad. Not to mention a prize winning photo of a captured cod fish on the restaurant wall. After dinner we invaded my favourite location in the Eastfjords, the coastline at Vatarnes at the tip of Reyðarfjorður.
This is what Reyðarfjorður looks like late June!!
Stora Laugar
We stayed in Egilstaðir for the night before heading North and West as we followed the ring road round to the Mývatn area. I had arranged a night at Stora-Laugar guest house so we were able to take our time in the area and wait for the good light while we enjoyed a surprisingly good meal in Laugar. The village of Laugar also offer a heated outdoor pool, which is a good place to recover from the travelling.
Goðafoss Waterfall
The main reason for staying at Stora Laugar is that it is directly between Lake Myvatn and Goðafoss waterfall. The good light at Godafoss is late in the summer evening, so it makes sense to arrange accommodation nearby.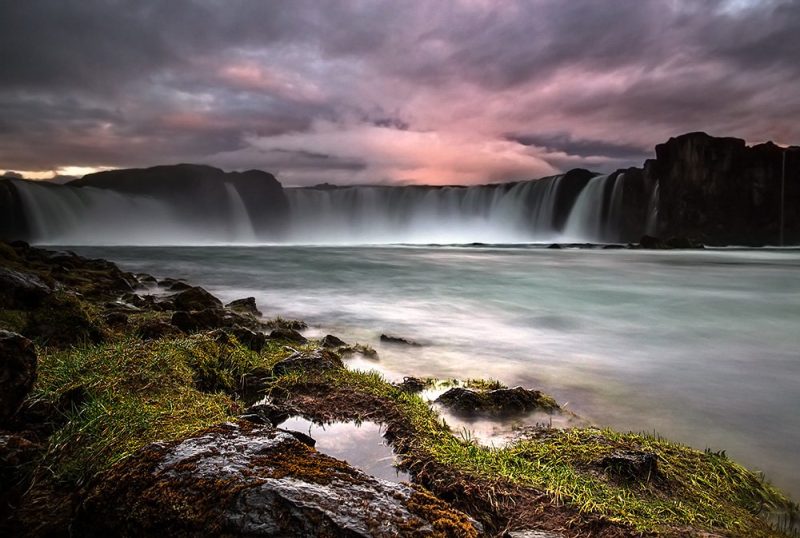 Goðafoss Hotels
These guesthouses and hotels are the closest to Goðafoss waterfall. The closest is Fosshóll Guesthouse, which is just a 5 minute walk to the falls.
Sponsored
Goðafoss Hotels
These hotels are so close to Goðafoss waterfall that you wont miss the summer sunrise. If you want a high standard of accommodation, I would recommend the following because they are really close to the waterfall.