Mountain Waterfall
Dynjandi is a mountain waterfall in the Westfjords of Iceland. Dynjandi waterfall is the mother of all waterfalls, because you will find almost every type of waterfall in the massive complex. There is a path on both sides of the waterfall that starts from the campsite and goes right to the feet of the main waterfall. Dynjandi waterfall is also known as Fjallfoss, which means 'Mountain Waterfall'.
Many believe this is the most beautiful waterfall in Iceland, which is difficult to deny.
Sponsored
Airport to Reykjavik and back
Challenging Photography
Photos rarely do the main cascade at Dynjandi justice because it is not an easy waterfall to photograph. The falls are so large and up a hill, so to get level with them, you have to stand right in front of it and deal with the spray.  It can be effective to include a person in your shot to show the scale. It is also worthwhile to take some telephoto shots from the bottom of the falls; I find this gives a truer representation of the waterfall's shape.  The waterfall becomes distorted when you get up in front of it, because you need a wide angle (17-21-mm) to include the whole cascade.
Find Hotels Near Dynjandi
The Dynjandi waterfall is in a beautiful setting and there are many missed shots where photographers get distracted by the waterfall. It is always a good idea to turn around a check out the view behind you. The waters in the surrounding fjords are well sheltered and can give fantastic reflections.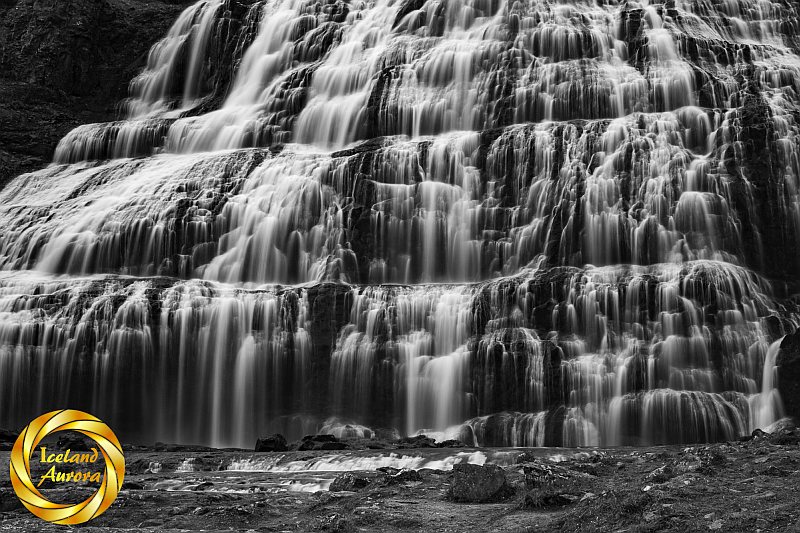 Variety of Cascades
Despite the challenges of the main waterfall, there is a great variety of cascades at Dynjandi Waterfall. These can all be viewed easily along the route to the top. There are heavy spouts of water, delicate cascades, dramatic flumes and more. This picture tries to capture a few waterfalls with the main waterfall at the head. From a distance, the truer shape of the Dynjandi waterfall is captured.
It can be worthwhile to explore the base of the larger falls for some nice water features and an impressive background. The lower falls have incredible moss in the Summer. It can be good to explore these in overcast conditions. The wide angle prime lenses are difficult to compose down here because you have to be creative placing your tripod. You could spend a lot of time at the lower waterfalls with a telephoto zoom. Pick out interesting areas and experiment with shutter speeds and you are guaranteed to get something to print.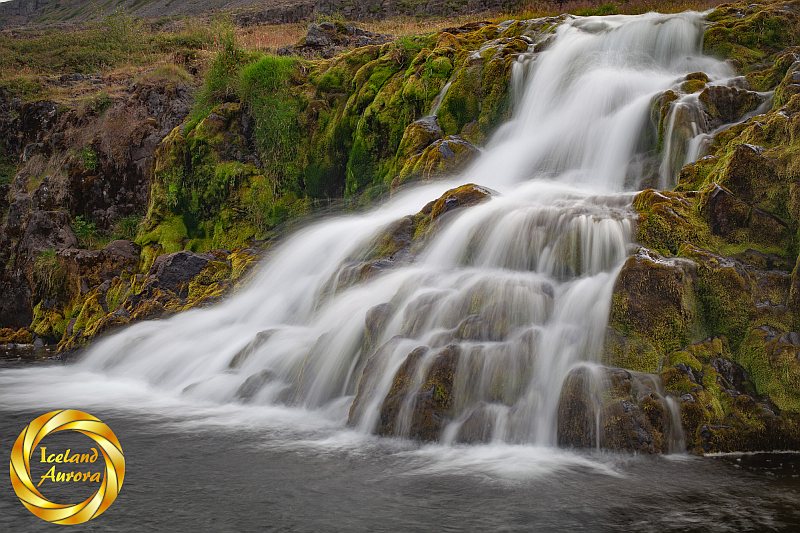 Camping
Sleeping near a waterfall is very restful. The sound of the falls covers every frequency that our ears can hear. Dynjandi waterfall provides perfect white noise during the night. The campsite is simple, but well designed and well maintained. There are toilet facilities and a washing up sink.