This was a 5 day workshop which started and ended with a storm and yet we seemed to be in the eye of the storm for 3 whole days in a fantastic location.
Super Jeep Start
For starters, we were lucky to get out of Reykjavik.  We left Reykjavik in 2 jeeps with extra size wheels and met at the Ólis gas station to discuss the journey and to explain that we were unlikely to see anything on our first day.  
Owen and I warned the participants that this was going to be a very tough trip, but mostly for us – as drivers.  This warning turned out to be true as we encountered one of the toughest drives of our careers.  
We were the last vehicles to leave Reykjavik that day as they closed the roads in and out of Reykjavik.  We had the South Coast to ourselves, unfortunately this was not a day to enjoy the South Coast, we saw absolutely nothing, but snow. It got lighter, then it got darker.  We arrived at Hali 8 hours later, safe but exhausted by the drive.
Sponsored
Pro-photographer Sessions
Better Weather
A beautiful sunrise greeted us the following morning and our 4 participants suddenly realised exactly why we suffered the weather the day before.  Hali is a beautiful place to wake up in good weather.  The mountain towers over the farm from beyond the national highway and the ocean roars across a broad lagoon on the south side of the estate.  
After a comfortable breakfast we drove to the diamond beach at Jökulsarlon, we ploughed through the snow and drove a couple of hundred yards up the beach to the thickest of the ice.  We assumed we would be alone, but after some quick long exposure lessons, we were invaded by a group of tourists.  
This scene greeted us on the beach at Breiðamerkursandur as we managed to have a full hour of uninterrupted photography.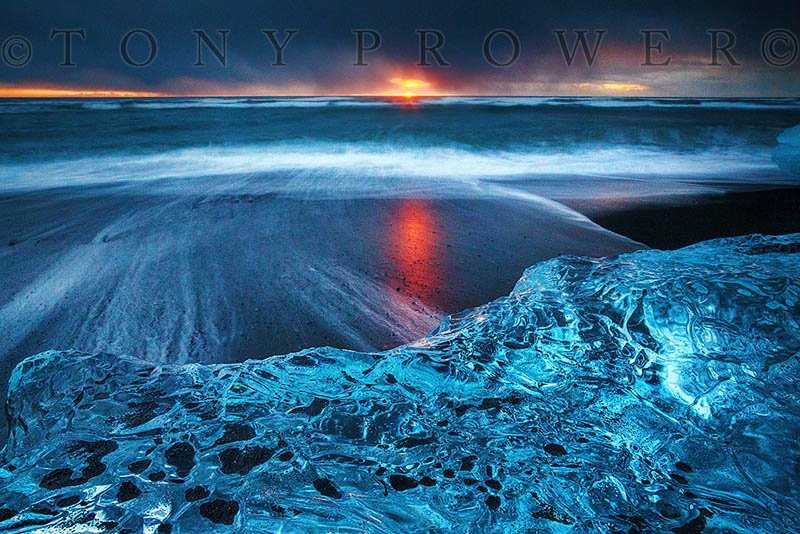 For the following 2 mornings we decided to drive much further up the beach to avoid further invasions.  For the time being it was a bit distracting, but we worked the beach for a couple of hours and everyone got some great shots.
Ice Cave Adventure
We met the Ice-cave guide at Jökulsarlon and we followed a deep snow moraine track to a parking area close to the ice-caves. We entered a sizeable ice-cave following the safety advice of our guide. It was quite a long cave with an opening at both ends.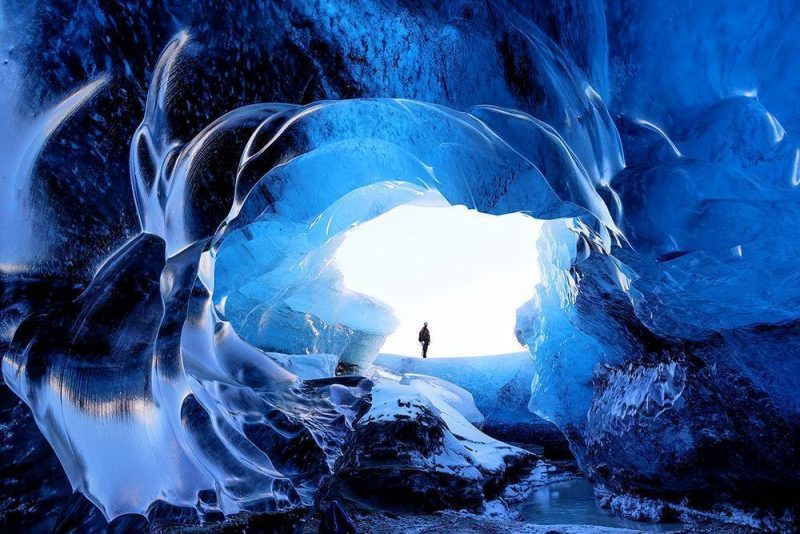 Clear night at Hali
That night we had a beautiful clear sky, but no Aurora. It can be frustrating when that happens. Lovely clear skies can yield amazing northern lights displays, so when the aurora is inactive on a clear night that we all wished for, it can be disappointing on many levels.
Brunahorn Mountain
We headed to the east coast that afternoon and stopped for some horses in great light and also the abandoned farmhouse, but the highlight was Brunahorn with some nice light behind it.
We enjoyed a meal at the Horny cafe and with the strong hope of Auroras, we headed back to Hali to get some rest and charge batteries.
Iceland Aurora
After two and half hours rest, the Aurora came out, we loaded the jeeps and headed out immediately. At Jökulsarlon, we found a coach, 2 mini-buses and half a dozen cars in the car park, so we crossed the bridge and breached a snow barrier to a car park which no other car or bus could access (the occasional benefits we get from using jeeps).
We had a whole view to ourselves and although we were occasionally disturbed by the lights from the other car park, we had a fairly undisturbed session.
One of the main disappointments I had anticipated from shooting this workshop with just 50mm was the Aurora shoot. But actually, it was a chance to get closer to the volcanic glow of the Holuhraun fissure eruption.
Multi-day tours
This page is a guide to multi-day photo tours that include Jökulsarlon glacier lagoon. If conditions are good these tours can include Ice caves and Northern lights photography.