Hornstrandir is a nature reserve in the northern part of the West Fjords. Hornstrandir nature reserve is, perhaps, the most remote part of Iceland, and because there are no roads, it is not easily accessible. There are boat services from Ísafjörður, light aircraft services from Ísafjörður Airport, and hiking routes for more adventurous travelers.
Remote Nature
Hornstrandir is so remote that the only option for travelers is camping. There are very decent camp sites. Some of them have very basic services, such as toilets and cold water taps. Although there are camping facilities in most of the old harbour areas, Don't expect warm showers, and don't expect to have a phone signal. It is essential to visit these areas well prepared for every eventuality. I enjoyed a cold shower under a waterfall in the totally unspoiled wilderness.
Hornvik
For wildlife lovers and travelers who don't mind roughing it, Hornstrandir is an ultimate escape.  Due to the lack of roads, the main mode of transport is hiking.  Having a boat works well, and you can charter one from Isafjordur. If you are unable to hike, then you won't get a lot of landscape photography done.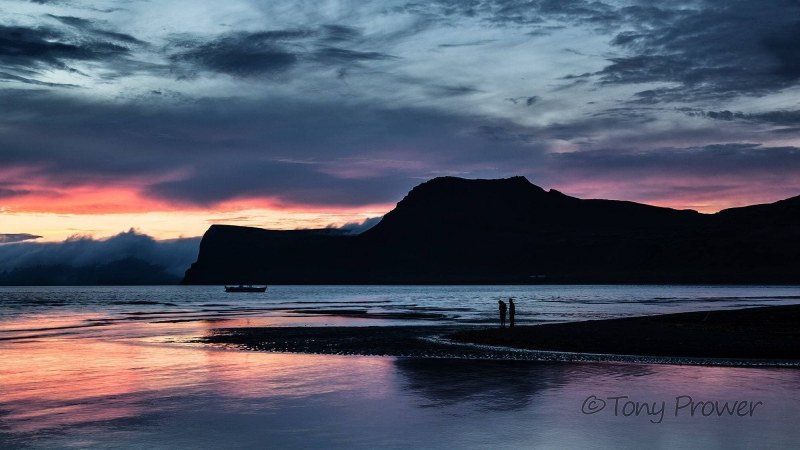 Hornvik can be overwhelmed by sea mist. On my trip, we were stranded for a few days because the plane couldn't fly to us. In thick sea mist, there is not a lot to see or do. There is an interesting coastline that, sort of, works in the mist.
Make sure you have a comfortable tent and a good supply of cuppa soups.  Realistically, you are limited to what you can carry if you are flying.  You can take luggage on the plane, but it is still a mile to the campsite from the runway.
Horstrandir Tourist Boom
Although the sudden increase in tourism was helpful for the economy, it was devastating for the area. Local tour companies were transporting hundreds of poorly equipped bac-packers here. The used the rescue hut for accommodation which is illegal.
Photography tips:
Be prepared to hike and to be able to carry your gear in a backpack. Hornstrandir nature reserve has plenty of wildlife such as arctic fox and sea fowl. A long lens could be useful, although, the foxes get so close you can capture them with 50mm. Because of luggage restraints and the need to hike, I would probably recommend a good walk-about-lens. I think 24-70mm would be a good choice. There is plenty of coast line to explore, but don't always expect path ways and be prepared to wade occasionally.
Hornstrandir is quite mountainous, so it is easy to find an elevated viewpoint to open out the coastline. As well as the coast, there are plenty of waterfalls inland for you to enjoy some long exposure photography.
Sponsored
Ísafjörður Hotels
These sponsored links feature hotels and guesthouses in Ísafjörður with quick links to Hornstrandir travel.
Hornstrandir FAQs
1. What species of fauna and flora can be found in Hornstrandir Nature Reserve?
Hornstrandir Nature Reserve is home to a variety of wildlife, including arctic foxes, reindeer, seal colonies, many species of birds such as puffins, ptarmigans, and skuas, as well as some rare flora species like Arctic willow, forget-me-not, and tufted poppies.

2. How long is the hiking trail that leads through the Hornstrandir Nature Reserve?
The hiking trail that leads through the Hornstrandir Nature Reserve is approximately 175 kilometers (109 miles) long.

3. What is the best time to visit Hornstrandir Nature Reserve?
Access would be extremely tough in the winter and you could encounter a polar bear! Summer is the best time to visit Hornstrandir Nature Reserve.

4. What kind of activities can be done in Hornstrandir Nature Reserve?
Activities that can be done in Hornstrandir Nature Reserve include hiking, camping, bird-watching, seal-watching, and whale-watching.

5. Are there any special rules or regulations when visiting Hornstrandir Nature Reserve?
Yes, there are special rules and regulations for visiting Hornstrandir Nature Reserve. These rules and regulations include restrictions on where visitors can and cannot go, limits on campfires and other activities, and wildlife protection regulations.
6. Are there any guided tours available at Hornstrandir Nature Reserve?
Yes, there are guided tours available at Hornstrandir Nature Reserve. Tours are organized by various local tour operators.
The nature on the Hornstrandir Nature Reserve is outstanding and worth the hardships of camping and hiking. Arctic foxes roam freely throughout the camping areas, unafraid of humans. The nature here is untouched and if you are keen on conservation and hiking, you will meet like-minded people here. Looking out into the Greenlandic Sea, you can suddenly realise that there is no civilization for thousands of miles.