These guided tours take you to Landmannalaugar in the Southern Highlands of Iceland. The mountain roads requires a modified 4×4 to cross some of the rivers to take you right to the heart of the Icelandic highlands.
Here you can book a summer tour online. The road in usually opens around mid-June.
Day Tours
There & back in a day from Reykjavik.
Private Tours
Hiking Tours
Multi-Day Tours
Landmannalaugar Mountains
The clay, painterly mountains and valleys of shale and streams at Landmannalaugar greet the visitor, gently at first, and then all at once in a magnificent panorama. The route in is littered with red or grey tinder cones and their weirdly veins of moss winding to their summits.
The campsite at Landmannalaugar is more like a rock concert than base camp with tents, jeeps, bicycles and hardy hiking folk – so many in such a remote location. The area is a perfect hiking zone. A hot spot for hiking photography and camping, Landmannalaugar is a Geothermal hot spot with fantastic rhyolite rocks with colourful painterly appearance.
Landmannalaugar Crater Lakes
The road in to the park is rich with lava fields, volcanic landscapes and craters. Many of the craters have lakes with rich geothermal colours.
An hour hike will get you to the top of one of the hiking trails.
---
Seasons:
Running only from mid June to mid September (and can be subject to change). Landmannalaugar can be included on a multi-day South Iceland Self Drive Tour with a good 4×4 vehicle.
Timings: The private guided tour could start late afternoon mid Summer. The group tours would mostly have a regular start time around 09.00.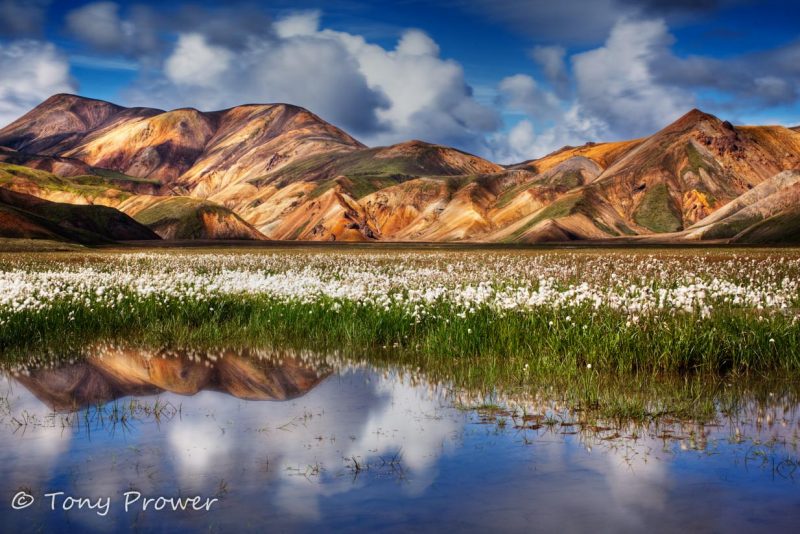 Locations and activities:
Getting to the park requires a lot of driving on rough mountain roads. Although a lot can be seen from a car, passengers will be encouraged to hike through lava fields and up mountain paths to conquer stunning scenery. Most tours will take you in on one road and out on another to give you a continuing sense of movement. The route may include standing on Mount Hekla – one of Iceland's most famous volcanoes. Experienced local guides are familiar with the area and know the best places to catch the best light and the best views. Other activities may include bathing in the geothermal pool at the base camp.
A short hike will put you into a foreground rich lava field.