To Gush or not to Gush
Geysir is a hot location in South Iceland with many active hot-springs and geysers. The name of this location actually gave us the word 'Geyser'. In Icelandic, 'Geysir' means 'to gush'… and indeed that is what they do. This compelling attraction is only a couple of hours drive from Reykjavik, so Geysir is a great choice for a day trip. Geysers are formed when ground water seeps into cracks and tubes that run deep in rhyolitic rocks. If Magma is close to the surface, the water in the deeper tubes gets super heated until it has to release energy.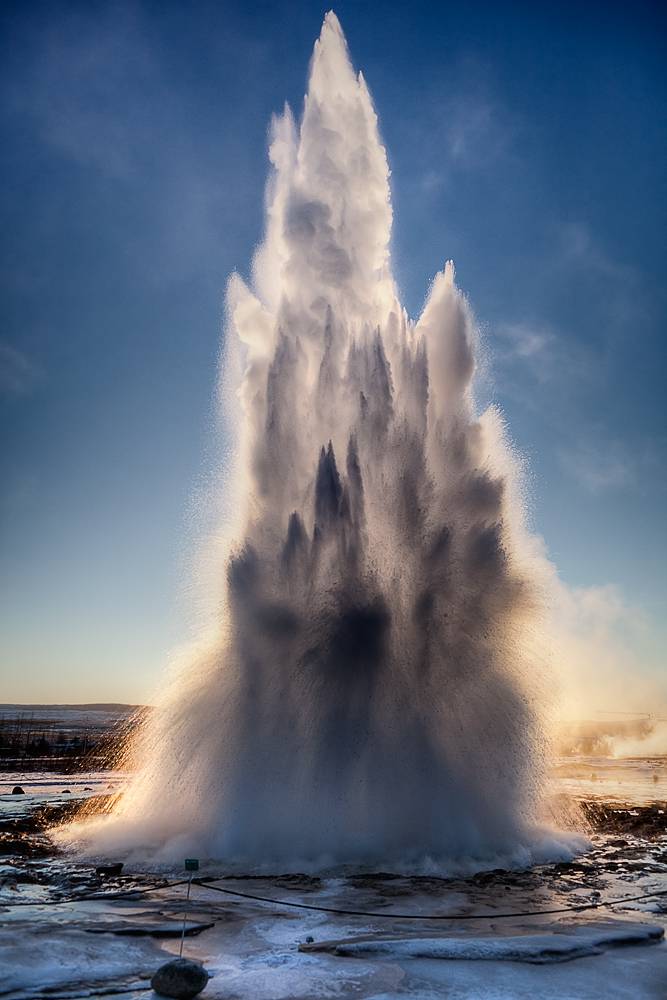 The Great Geysir
Geysir the Geyser used to be the star attraction .The "Great Geysir' rarely spouts these days. When it does, it is among the largest Geyser eruption in the world. It now happens less than once a year and you would be extremely lucky to see it. The eruption of Geysir used to be a regular show. Soap powder was able to wake the Geyser. This meant you could trigger an eruption at will. This practice was reserved for important visitors until Geysir finally quit.
It was believed that a local earthquake could have changed the shape of the geyser and that another earthquake could bring it back to life. There is a story, more than 100 years old, that once a cow fell into the large geyser and was ejected 10 minutes later, fully cooked. This legendary incident is reported in Sabine Baring-Gould's book 'Iceland' (1863).
Blue Bubble
Strökkur is considered to be the Great Geysir's little brother. Strökkur eruptions are frequent and occur around every 15 minutes. The photo challenge is to either capture the blue bubble which occurs just before eruption or to capture the full height of a large eruption. Strökkur eruptions are very brief, lasting just a second or so. The scene just after eruption is just a misty veil of steam. Camera settings to capture and freeze the movement are usually very fast shutter speeds of at least 1/125, but sometimes I have experimented with slower shutters to achieve slightly more original shots.
Geysir is often the coldest spot in Iceland as Arctic winds blow straight over the glaciers in Iceland's interior. The area is very close to Gullfoss and has a hotel, restaurant and gift shop (selling dead animal fur – ugh!) which are open during regular hours.
Photo tips
Photo tips: Use a wide lens (17-24mm) to shoot the full Geysir eruption. Use a short lens (70-100mm) to shoot the pre-eruption blue bubble. Adjust iso to 200-400 to get a fast shutter. Capture the action. Try shooting into the sun to get a dramatic back lighting – don't forget to compensate because the eruption will introduce a lot more white into the scene. On the other hand it will block out the sun, it that is in your frame. Don't worry about the crowds, you wont see them when Strökkur erupts.
Geysir Safety
Don't try to test the temperature of the water in the hot-springs. The tiny streams usually have cold water in them, but the water in the hot-springs can scold or even cook your skin. Don't stand down-wind of the Geyser. The steams tells you the wind direction, so if the steam is coming at you, make sure you are not too close to Strökkur. An eruption will give you a lovely warm shower. This sounds nice, but in freezing temperatures your wet clothes could give you hypothermia.
Where to stay
There is a campsite right next to Geysir, but this will be heavily booked. There is another campsite just 15 minutes away near Faxifoss waterfall.
Sponsored
Geysir Hotels
Use the sponsored links below to book a hotel close to Geysir & Gullfoss.
Tours Including Geysir
All Golden Circle tours include Geysir.
Private Golden Circle
These private tours will allow you the best opportunity for capturing a full Strokkur Eruption.
Golden Circle minibus
These minibus tours will spend time at Geysir & the souvenir shop.
Geysir Facts
The Great Geysir hasn't erupted regular since 1950.
Stokkur Geyser erupts every 4 – 10 minutes
The Great Geysir is the largest geyser in Iceland (3rd in the World)
There are 16 geysers in Iceland.
Strokkur is 998 years old
Strokkur eruptions are 80 meters tall.
Strokkur was first observed 250 years ago.
Activities Close to Geysir
There are many farms in the area which offer horse riding tours and more. Two significant waterfalls are just a short drive from Geyser. Faxifoss is about 15 minute drive on the Selfoss road south. Iceland's largest waterfall, Gullfoss is just a 10 minute drive to the east of Geysir. At Gullfoss waterfall it is possible to connect with skidoo tours which will take you up onto the Langijokull glacier.