Photograph the midnight sun from behind a mighty waterfall, then get up close to the puffins as you look down onto Iceland's biggest icon on the south coast. Along the south shore of Iceland, you will discover landscapes as diverse as massive sea cliffs, flood plains, glacier valleys, and black sand beaches, all in one trip. Iceland's South Coast may cause your memory cards to fill up quickly and drain your camera batteries. This self-drive guide will help you capture more.
One Day Self Drive
On a one-day self-drive of South Iceland, you could comfortably drive as far as the black sand and sea stacks at Vik and Reynisfjara and back to Reykjavik.   This would involve about 5 hours of driving. You might be able to push further if you have an abundance of driving energy or if you are sharing the drive. 
Vik takes just over two hours to drive from Reykjavik.  If you stop to photograph Skogafoss waterfall, Sólheimajökull Glacier, Dyrholaey cliffs, two black beaches, the town of Vik and Seljalandsfoss waterfall, this will be as much as 10 hours before you are back in Reykjavik.  In mid-winter, a single-day trip along the South Coast has to planned carefully.  The limited daylight is incredible quality, but it doesn't give you a lot of time.  Ideally, you would want to be at Seljalandsfoss waterfall just before sunrise at 11 a.m. and get to Vik in time for the sunset at 15.30 (3.30 p.m.).  This way, you will have four and a half hours to explore a couple of locations.
Hellisheiði Power Station
Leaving Reykjavik on the Ring Road East, you will enter a volcanic landscape immediately to the right. You will follow various lava fields on the way up to Hellisheiði, a notorious Moore with a volcano heart. On a cold, clear morning, you might be lucky enough to witness the huge plumes of steam coming from the geothermal power station near the summit.
The majority of the time, the road is foggy, rainy, or snowy, so you won't see the steam. The road can be very challenging, especially during the winter, so always check the conditions before leaving Reykjavik.
The Ring Road then winds down to sea level, which often gives a feeling of relief. The landscape remains fairly flat for a while as it passes through a couple of towns before getting to an interesting waterfall.
Urriðafoss Waterfall
There is a large waterfall, which most tours miss. The waterfall is between Selfoss and Hekla. The waterfall is called Urriðafoss Waterfall. The name refers to a salmon waterfall, and this Icelandic waterfall is just one of many that salmon travel through in the autumn. It is difficult to see the turning on the right with it's small signpost and rough track. Shortly after the turning, the #1 road goes over a large bridge with an old suspension bridge on the left. So, you need to get ready to turn as soon as you see the bridge ahead.
Urriðafoss Waterfall is among many noteworthy waterfalls of the Þjórsá River, which is the longest river in Iceland (230 km), Urriðafoss Waterfall both the largest water volume in Iceland, and covers a surface area equivalent to a football field. A couple levels have little rapids and cascades. It can feel dangerous beside the river.
Seljalandsfoss waterfall
Seljalandsfoss waterfall is clearly visible from the #1 Ring Road. It requires a left turn, which is clearly marked and leads to two car parks.
Although it is not as big and impressive as Skogafoss waterfall, Seljalandsfoss waterfall is famous because it is possible to walk behind it. For the landscape photographer this means an infinity of possible compositions, but be prepared to shoot in very wet conditions.
Gljúfrabúi
A true hidden gem close to Seljalandsfoss Waterfall is Gljúfrabúi Waterfall. Gljúfrabúi is rather easy to access if you have decent waterproof footwear, good balance, and waterproof clothing.
Gljúfrabúi Waterfall is walking distance from Seljalandsfoss, or you can drive a little further to the campsite. Visitor parking is easy at Gljúfrabúi, where there is also a campsite.
Only by wading up the river into the canyon at ground level or ascending to the top of the canyon, it's possible to witness this breathtaking spectacle. When I refer to wading, I mean jumping over partially submerged rocks. It resembles having steppingstones in your shower.
Leave it until last
As a photographer, I usually visited Seljalandsfoss and Gljúfrabúi Waterfall last, (on the way back to Reykjavik) for two reasons. The first is that you are very likely to get wet and it's not a good idea to start the day soaking wet. The second reason, is that there is never any light on the falls until after about 3 P.M. In fact there is no sunlight on the waterfall during the Winter.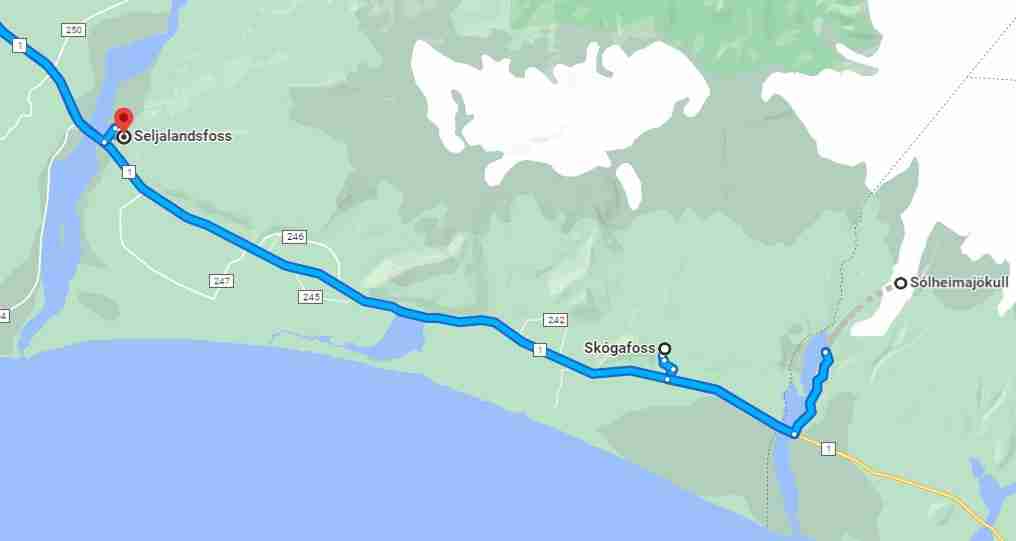 Skogafoss Waterfall
Just 20 minutes after Seljalandsfoss, you will see Skogafoss waterfall which is also clearly visible from the Ring Road. Skogafoss waterfall has plenty of hotels and restaurants and a campsite, which makes it a possible overnight location on longer trips.
It is difficult not to stop at Skogafoss waterfall. This impressive location has opportunities to explore views from both the ground level and the upper floor. There are a wide varieties of photos to take on the ground just by following the river towards the falls.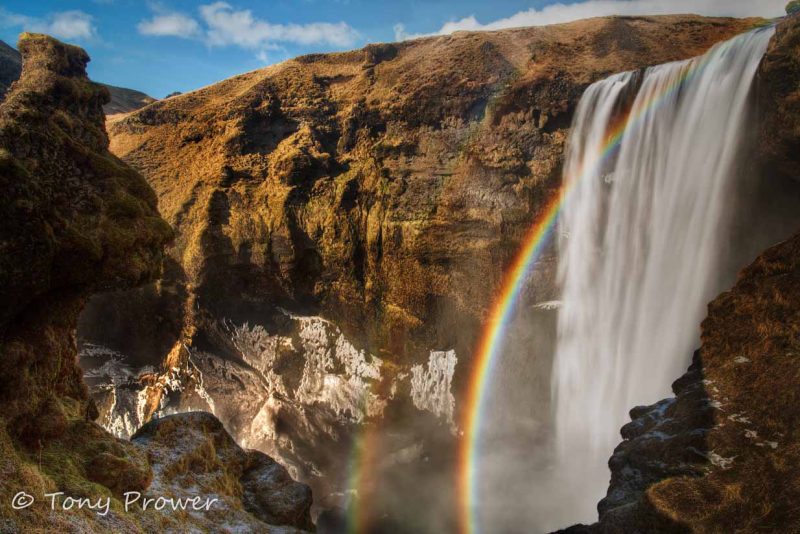 Hvernafoss Waterfall
Hiking distance separates Skogafoss waterfall from the lesser-known Hvernafoss waterfall. If conditions are suitable, hiking can be done from the museums at Skogafoss. For a brief moment, Hiking is available in the deep river gorge where the waterfall is located. Hvernafoss is also visible from the ring road, but only very briefly.
Single Spout
The Hvernafoss waterfall features a single, free-falling water spout. One can venture behind the falls. Wide angle lenses are ideal for this, but you must shield your camera from the persistent spray. Winter light is ideal for the waterfall. The sun peeks through the river gorge at about eleven in the morning.
Solheimajokull Glacier
Just a few miles away from Skogafoss is the Sólheimajökull glacier tongue. This is part of Myrdalsjokull glacier. Is it possible to take a hiking or ice climbing activities at this location. Snowmobile riding is also available close to this location. On the other side of the road is the popular plane wreck (which requires hours of hiking).
Coastline
It is about another 20 minutes drive from Skogafoss to Dyrholaey, a huge sea arch with massive cliffs and lighthouse. It is well worth getting up to the lighthouse to enjoy great views in every direction. In the summer, you will probably see puffins in the cliffs.
The famous black sand beaches at Vik can be easily found, and the town is directly on the Ring Road. Before Vik, there is a right turn down to Reynisfjara beach where you will have great views of the Reynisdrangar sea-stacks.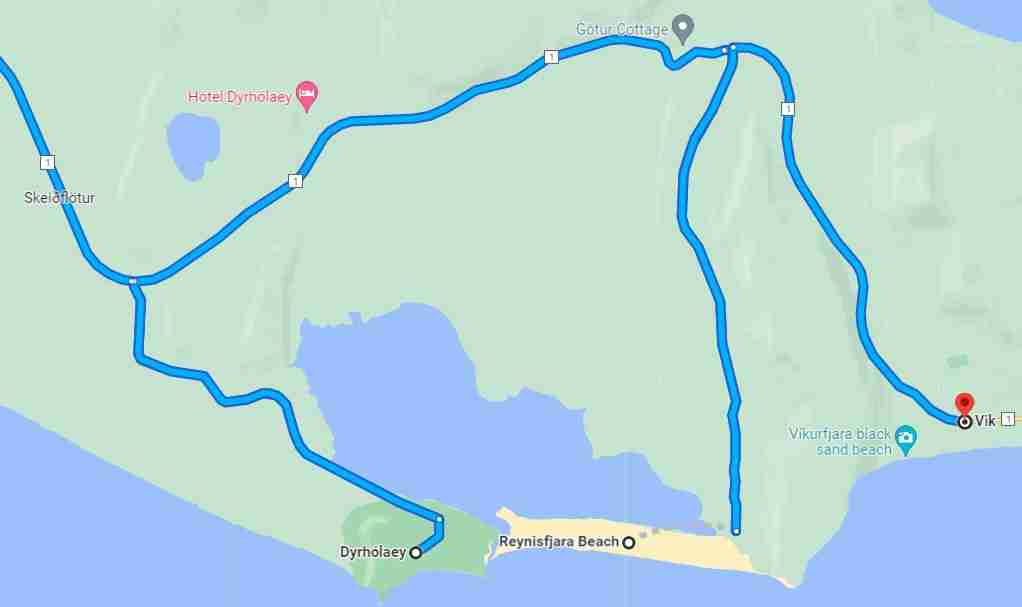 Vik
The Vik area offers several key areas for exploring and taking photos. The South Iceland beaches have black sand and rock formations. The south coast beaches offer fantastic opportunities to photographers who are there at the right time. Most South Coast day tours from Reykjavik will go as far as Vik.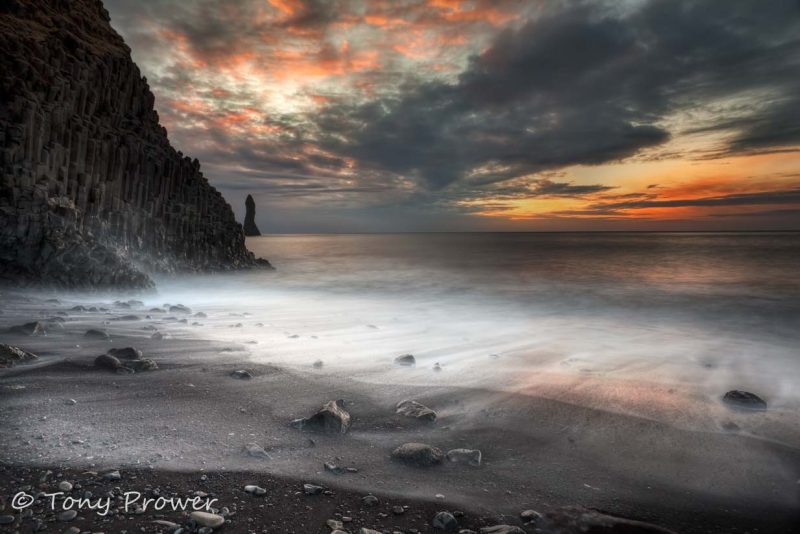 You are never far from a black sand beach on the South Coast of Iceland.
Seasons
In mid-winter a single day trip along the South Coast has to planned carefully. The limited daylight is incredible quality, but doesn't give you a lot of time. Ideally, you would want to be at Seljalandsfoss waterfall just before Sunrise at 11.00 and get to Vik in time for the sunset at 15.30 (3.30 p.m.). This way you will have four and a half hours to explore a couple of locations.
In the summer, there is time to explore the south coast fully. You can enjoy glacier activities and explore some of the hidden waterfalls. Sunset from behind Seljalandsfoss waterfall is a real treat.
The South coast day tour is a popular adventure for photographers. Diverse Icelandic landscapes and exciting features make the South Coast Tour a high quality self-drive tour.