Vestrahorn is a beautiful mountain on the South East coast of Iceland. It is a 15 minute drive from the fishing town of Höfn and the Höfn airport. The town is a 6.4 hour drive from Reykjavik, but the airport can be reached by plane in an hour. The majority of great photographs of Vesturhorn are taken from the beach at Stokksnes where the N.A.T.O. base is.
Stokksnes Winter
During the winter in Iceland, the light is never harsh. Even at true midday (13.00) the light is soft and rich in colour. The sunlight hits the Vestrahorn Mountain in the afternoon, but be aware that your shadow will be in your photo at around 3 p.m. on the Stokksnes sand dunes. The light will continue to hit the side of Vesturhorn until about 4.p.m. During mid-winter, close to the solstice, the sun will be setting at 3.pm, so be sure to be there in good time.

Vestrahorn looks great with a layer of snow. This Iceland landscape photo was taken on a December afternoon from the sand dunes at Stokksnes.  There is a huge variety of foreground textures here.  If you are lucky you will fine some undisturbed sand without all the tourist foot-prints.
Cloudy conditions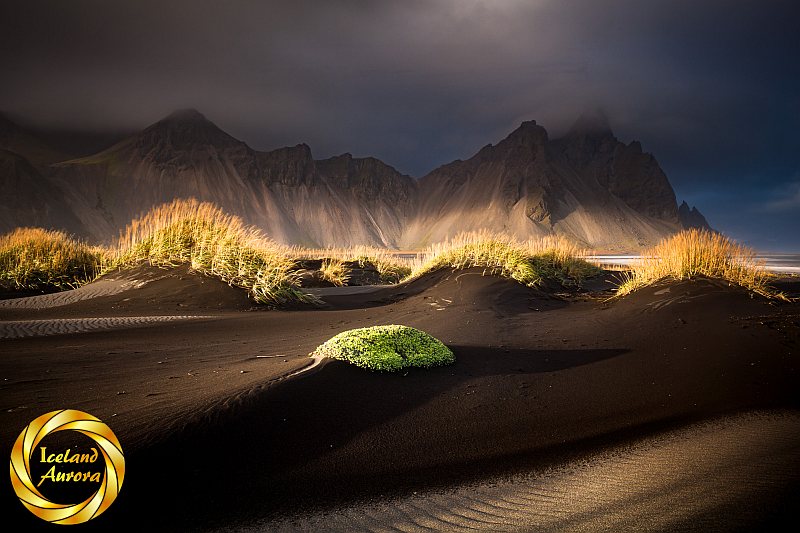 This photo was taken in October before the snow. The volcanic sand tussocks provide the landscape photographer with plenty of rich foreground and the mountain is a highly dependable background, even in cloudy conditions. We also visited Vesturhorn the day before when the cloud cover was so low that we couldn't see the mountain. In low cloud conditions, there is little reason to even visit Vestrahorn Mountain.
Northern Lights
Vestrahorn can be a great location for Northern lights photography. Facing Vestrahorn mountain from Stokksnes is facing North East with is a good direction for Aurora displays.