Puffin Cliffs
One word comes to mind when you mention Latrabjarg … "Puffins". although Latrabjarg is not the spot with the largest puffin colony, Latrabjarg has the tamest puffins. They are tame to the point where you can almost touch them. Naturally getting a good photograph of them is fairly easy, you don't even need a long lens.
A tourist died a few years ago after falling off the cliffs, so please be very careful and remember – it is only a photograph. The challenge with Latrabjarg is getting there. It takes a whole day to drive through the West Fjords to get to the spot and that includes a variety of road surfaces that maybe should be reserved for jeeps. The drive from isafjordur to Latrabjarg is 180 km each way.
Sponsored
Pro-photographer Sessions
Baldur Ferry
Reykjavik to Latrabjarg is 425 km. There is a way of reducing the drive. You can get the ferry from Stykkisholmur on the Snæfellsness peninsular. This crosses Breiðafjörður (the broad fjord) and costs about the same as the petrol would if you drove. It doesn't cut the time or make your trip any shorter though. The ferry is often very calm as it crosses the fjord stopping only once at a small island – Flatey. It is possible to see puffins at sea on the ferry ride. Baldur is
Puffins can be seen at Latrabjarg from May though to August, but the prime time to see the puffins is June-July. As there is midnight sun at this time of the year, it would be wise for the photographer to avoid the tourists and midday sun. There is a hotel near Latrabjarg, but I recommend staying in a more central town like Patreksfjordur.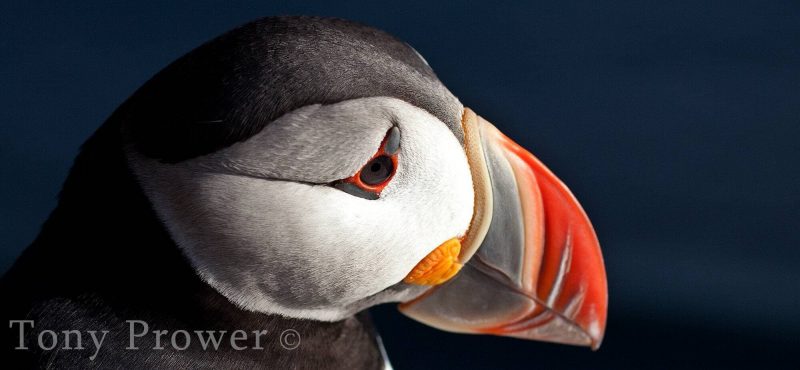 Photo Tips
You don't need a long lens, but anything longer than 50mm would be beneficial. Be patient, the puffins will get used to you if you lay still and quiet. Beware there may be bird ticks in the grass – be properly dressed.
Endangered Species
I do believe that the increase in tourism may have affected Puffin numbers. Puffins are considered endangered in Iceland, so it seems a shame to eat them. The meat is dark and oily and not to my taste. Here is a project to save the puffins in Iceland by children.