Spend a day or 2 among the Vatnjökull Glacier Landscapes of Iceland. This Iceland Fly Drive puts you right in the heart of Iceland's stunning scenery after a one hour flight from Reykjavik. Fast track your east Iceland self drive adventure with this travel guide. Local information about flights, access, distances and accommodation, will give your self drive plans a head start.
The South East Corner of Iceland is the richest part of Iceland for serious photography. The famous Vestrahorn Mountain is minutes away from the local airport, and Jokulsarlon is an hour drive. These Fly Drive Tours can be booked on the fly depending on availability.  If you can arrange your trip at the last minute when there is a good weather forecast, you can really streamline your Iceland self-drive.
It is easy to connect your hire car to your flight to have your rental car waiting at Höfn Airport. This will put the most stunning part of Iceland within easy reach. All of this can be boked online fairly easily. This page will help you make your Iceland Fly Drive a reality.
One Day Self Drive
Flying from Reykjavik Domestic Airport to Höfn in the morning is possible on Mondays, Wednesdays and Fridays. A day return will give you 8 hours (7 hours on Fridays). Be aware that Eagle Air flights depart on the opposite side of the domestic airport to the Icelandair terminal. The Eagle Air terminal is closer to the Perlan museum and restaurant.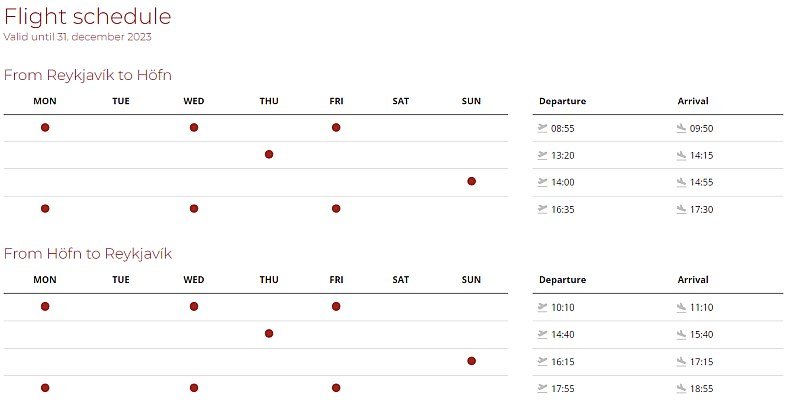 Höfn í Hornafirði
Höfn is pronounced like an abrupt HUPn. The fishing town is home to 2,056 people. There are three restaurants, a supermarket and a couple of hotel/guesthouses. The town has an interesting fishing dock with a mountain backdrop.
There is an excellent swimming pool in Höfn with water-slides, hot-tubs and ice baths (as well as a steam room). There is a campsite in the town, but I would recommend the campsite at Raudaberg instead if you prefer peace and quiet. If you have a morning flight back to Reykjavik, I would recommend staying in Höfn í Hornafirði.
Höfn Airport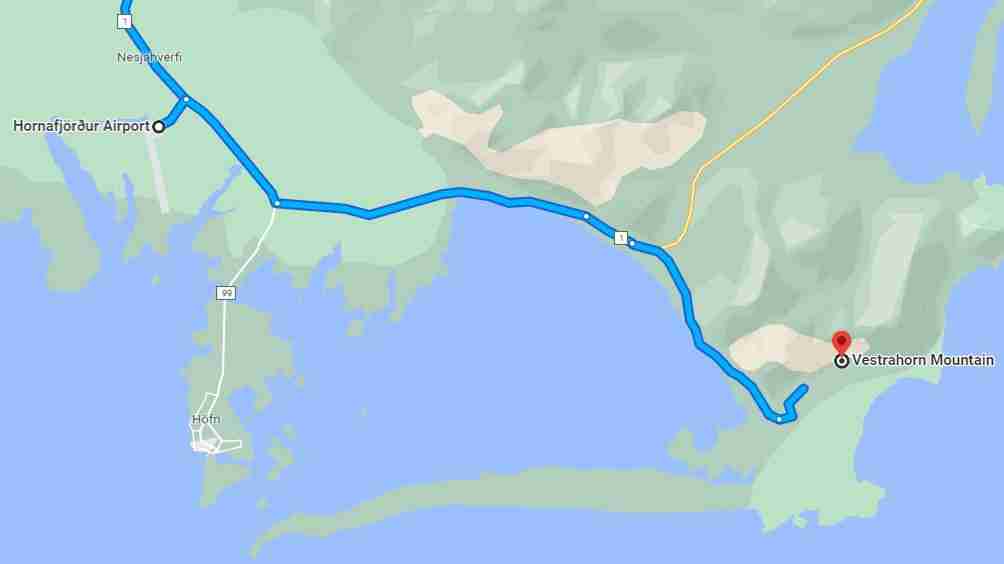 Hornafjörður Airport – 1 hour flight from Reykjavik domestic airport
Vestrahorn Mountain and Stokksnes – 19 minute drive from the airport
Road-side photo stops with lakes and mountains
Jokulsarlon Glacier Lagoon and Ice Beach – just under one hour drive from Hornafjörður Airport
Fjallsarlon Gacier Lagoon – another glacier lagoon worth visiting
Skaftafell National Park – Glacier hikes and hikes up to Svartifoss waterfall and view-points (one hour from Jokulsarlon).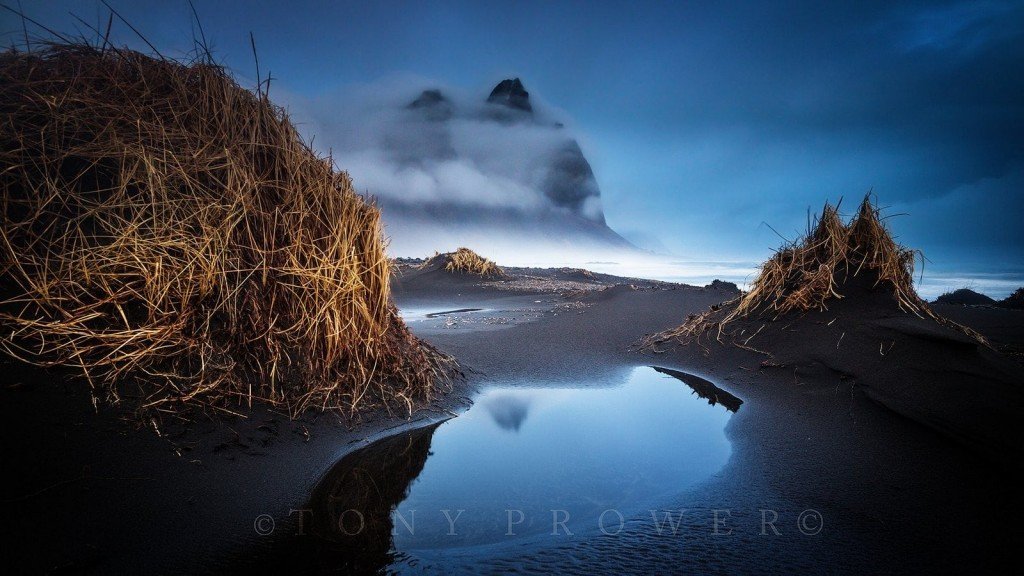 Jökulsarlon Glacier Lagoon
From the tiny airport at Höfn, Jökulsarlon Glacier Lagoon is just over an hour drive at a steady speed. You will have time for photography and Nature Activities at Jökulsarlon, such as easy ice caves in the Winter. In the Summer you can book an amphibious boat ride. You could include Fjallsarlon lagoon for a great Zodiac trip.
Multi-Day Self Drive
With an overnight stay in Höfn or Hali, you can increase your chances of good photography with a lot more time at locations. In the winter you could photograph Northern Lights at Jökulsárlón lagoon, or Vesturhorn Mountain. You could choose your sunset and sunrise locations. Additionally, you could use the extra time to do an ice Cave adventure where you can hike to hard to reach ice caves.
If you have a couple of days, I would HIGHLY recommend flying out and driving back (or vice versa) because there are so many interesting photo locations along the south coast between Jökulsárlón and Seljalandsfoss waterfall.
Hotels Near Höfn Airport
Sponsored
Höfn Hotels
These hotels and guesthouses are a short drive from Höfn Airport.
Mid-Summer Night
Description: Fly across South Iceland, Staying up all night photographing the Glacier lagoon at sunset, driving back along Iceland's South Coast with Sunrise at Vik.
Start: 18:45 Reykjavík Airport (1 hour flight)
Finish: 06:00 Reykjavík Hotel
Total 1 hour flying, 7 hours driving!
Sponsored
Check car hire rates for EuropCar Rental at Keflavik Airport, which is the most convenient way to start your Iceland self-drive.
Winter Over Night
Start: 08:55 Reykjavík Airport (1 hour flight)
Finish: 20:00 Reykjavík Hotel
Total 1 hour flying, 6-7 hours driving!
Sponsored
Hotels Near Jökulsárlón
Use the sponsored links below to find and book hotels close to the Jökulsárlón and Fjallsárlón Glacier Lagoons My strong recommendation is Hotel Hali.
Hotel Map
Nature Activities
Some Nature Activities in the Höfn area.
Ice Cave Adventures
These hand selected Ice Cave adventures will take you to a remote ice cave away from the tourists. They require a level of fitness and good hiking boots. These ice cave tours are too long for a single day return flight. I would recommend an overnight stay at Hali to get best ice cave experience.
Other Glacier Activities