South Coast and Jökulsarlon
This was a photo trip with 3 lovely Japanese people. They had come a long way – to see auroras mostly, but also for the ice caves and the glacier landscapes. This was a 3 day Jökulsarlon tour which started their week long visit. It was an attempt to squeeze about 3 bucket list items in this tiny window of 3 days (2 of which are driving).
The first day had a slow start with fog on Hellisheiði and ice on the road for most of the journey. We arrived at Seljalandsfoss for some introductory waterfall photography. I always encourage people to try a shutter mode with around 15th second (1/15), this shutter speed should involve a monopod or tripod. Even if they ignore my suggestions, it gets photographers thinking about shutter speeds. This is a chance to see what my guests can do and a chance to help out with those unused to tripods. Often the path behind the falls is closed in mid-Winter, but this was a very mild Winter and the temperatures were above freezing. The groups went behind the waterfall fully prepared for a soaking.
Seljalandsfoss works well in almost any weather.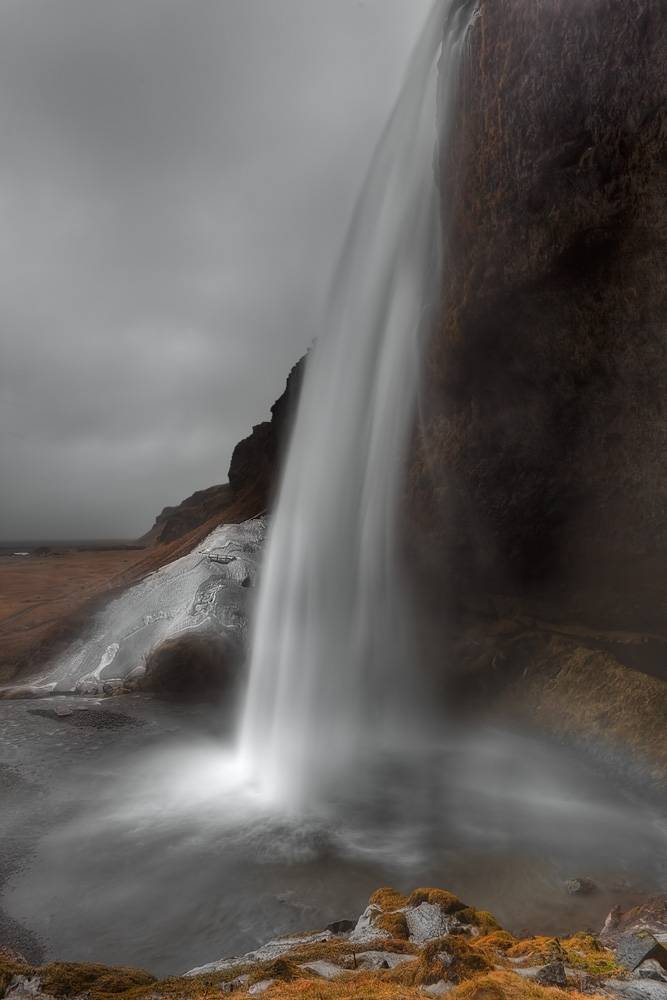 Sponsored
Small Group Ice Caving
South Coast
We made other stops at Skogafoss Waterfall and the Black sand at Vik for the non-starter sunset. Then headed onward in the second half of our journey towards Jökulsarlon. Onward towards Jökulsarlon with one thing on our minds… Auroras.
We reached the hotel just before 7 pm and went straight to the restaurant to refuel and recover. Aurora forecasts were low and the weather looked like partial cloud. They had a fish meal and I had meatballs.
Northern Lights
Later, the sky cleared significantly, so I suggested that we go out to some local spots to the East of the Hotel. As we approached a small lake, I could see a feint Aurora over the glacier and mountains to the North. We stopped and set up our cameras and tripods. For me this was a failure. I got 1 shot with a feint green line and a snatched composition. Then the aurora just died, we stayed for 20 minutes longer, but nothing was happening except the build up of more aurora dousing clouds.
We headed back to the hotel exhausted, but they were happy to have some green on their sensors!
Ice beach storm
There was a storm over night. This was useful as it gave my guests a rest from thinking they could be missing auroras if they slept. This is a common phenomenon on these tours. Thick snow clouds is the same as pulling that thick duvet over yourself at the end of the day. The storm persisted into the morning and I actually delayed our start towards the Ice Beach because the wind meters were still showing storm level and I didn't want to take my customers into a dangerous sand storm. They were forecast to drop with the rising sun and as soon as I saw a drop in wind speed, we headed to the beach.
The winds were still strong at the beach, but I showed my guests how to protect their eyes with sunglasses and scarfs and we headed down to the sand-blasted glacier ice that was littering the beach.
There was something special going on. I have seen this man times directly following a storm. The sky takes on alien qualities. I guess it is filled with black sand particles that respond resplendently to the rising Arctic sun. As this cloud of black sand particles is deeper than the clouds, it maintains those deep reds for longer. I was able to get around and take these shots between helping and instructing my guests (we were there over 2 hours).
Read more about the making of this image.
Here i am playing with f/22 to get a sun star at the moment the sun breaks the horizon.