South Coast and Jökulsarlon
This was a photo trip with 3 lovely Japanese people. They had come a long way – to see auroras mostly, but also for the ice caves and the glacier landscapes.
The stunning splendour of Jökulsárlón, with its lovely blue lagoon encircled by ice-capped mountains and glaciers, has earned it the moniker "frozen paradise." The region is the excellent location for photographers and nature enthusiasts alike because it is home to icebergs of all different forms and sizes. For instance, from the edge of the lagoon, one can see the magnificent Öræfi volcano, which is a sight not to be missed.
This tour log describes a 3 day Jökulsarlon tour which started their week long visit. It was an attempt to squeeze about 3 bucket list items in this tiny window of 3 days (2 of which are mostly driving).
Sponsored
Pro-photographer Sessions
Seljalandsfoss Waterfall
The first day had a slow start with fog on Hellisheiði and ice on the road for most of the journey. We arrived at Seljalandsfoss waterfall which is a fantastic place for some introductory waterfall photography.
This large waterfall is well known for being the one you can walk behind. Seljalandsfoss has a significant photographic advantage thanks to this feature. 360-degree waterfall viewing offers countless compositional options.
I always encourage people to try a shutter speed of around 1/15 second; this shutter speed should involve a monopod or tripod. This shutter speed is said to resemble the human eye. Even if customers ignore my suggestions, it gets photographers thinking about shutter speeds. This is a chance to see what my guests can do and a chance to help out with those who are not used to tripods.
Often the path behind the falls is closed in mid-Winter, but this was a very mild Winter and the temperatures were above freezing. Even if you can get behind the falls in Winter, it is important to keep yourself dry because being wet in freezing temperatures can be dangerous. My group went behind the waterfall fully prepared with waterproof clothing and camera protection.
Seljalandsfoss Waterfall works well in almost any weather, as long as you are prepared with waterproofing.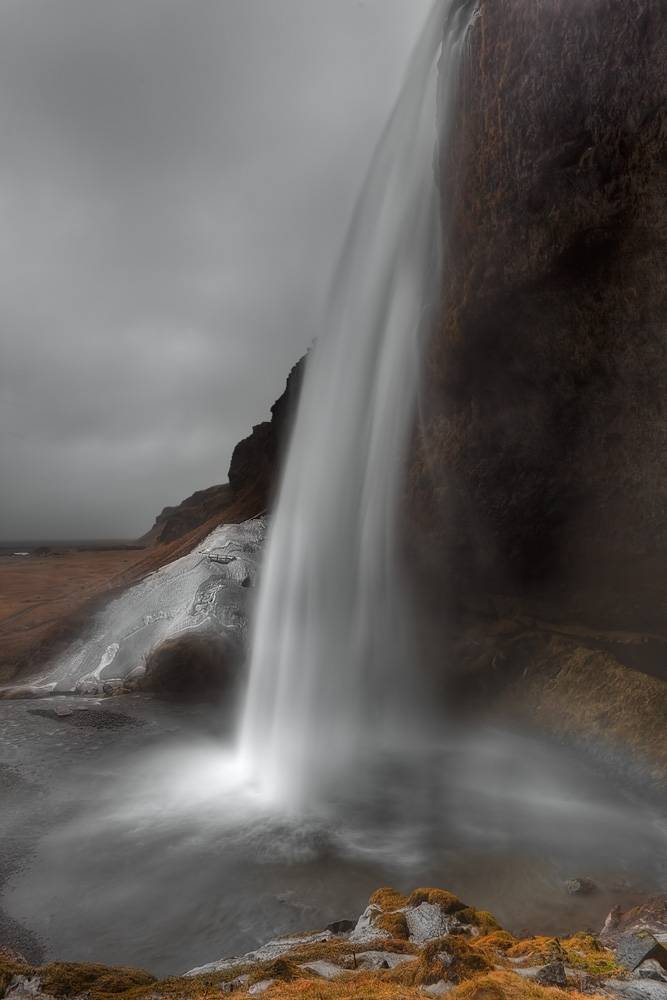 South Coast to Hali
We made other stops at Skogafoss Waterfall and the Black sand at Vik for the non-starter sunset. Then we headed onward in the second half of our day towards Jökulsarlon. Onward towards Hali Country Hotel, with one thing on our minds… Aurora Borealis.
We reached the hotel just before 7 pm and went straight to the restaurant to refuel and recover. Aurora forecasts were low and the weather looked like partial cloud. They had a fish meal and I had meatballs.
Northern Lights
Later, the sky cleared significantly, so I suggested that we go out to some local spots to the east of the hotel. As we approached a small lake, I could see a faint aurora over the glacier and mountains to the north. We stopped and set up our cameras and tripods.
My guests were excited, but for me this was a complete failure. I got one shot with a feint green line and a snatched composition. Then the aurora just died, we stayed for 20 minutes longer, but nothing was happening except the build up of more aurora blocking clouds.
We headed back to the hotel exhausted, but they were happy to have some green on their sensors!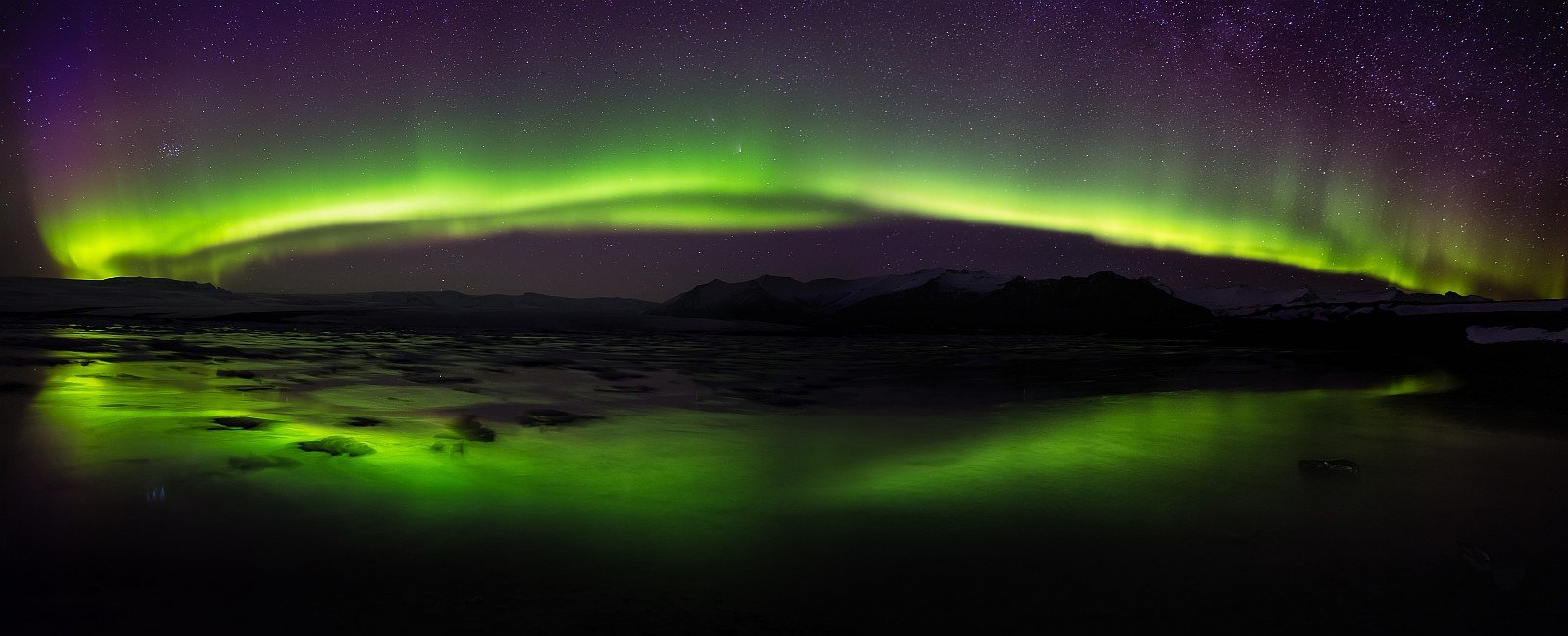 Weekend Break?
Over a long weekend you could have a luxurious stay in Reykjavik exploring the local area and hunting Northern Lights. For a 2 or three day trip, I recommend exploring the South Coast with a hotel at Hali.
Overnight Storm
There was a storm over night. This was useful as it gave my guests a rest from thinking they could be missing the aurora if they slept. This is a common phenomenon on these south Iceland tours. Thick snow clouds are the same as pulling that thick duvet over yourself at the end of the day.
The storm persisted into the morning, and I actually delayed our start towards the Ice Beach because the wind metres were still showing storm levels. I didn't want to take my customers into a dangerous sandstorm. The winds were forecast to drop with the rising sun, and as soon as I saw a drop in wind speed, we headed to the beach.
Diamond Beach
The winds were still strong at the beach, but I showed my guests how to protect their eyes with sunglasses and scarfs and we headed down to the sand-blasted glacier ice that was littering the beach.
There was something special going on. I have seen this many times directly after a wind storm. The sky takes on alien qualities. I guess it is filled with volcanic ash and black sand particles that respond resplendently to the rising Arctic sun.
As this cloud of black sand particles is denser and lower than the real clouds, it maintains those deep reds for longer. I was able to get around and take these shots between helping and instructing my guests. This was a glorious morning with no shortage of colour and drama. We were there, taking photos on the Diamond Beach for over two hours.
Read more about the making of this image.
For this nature photo, I am playing with f/22 to get a sun star at the moment the sun breaks the horizon.
Glacier Lagoons
We had a short break for some Icelandic lamb soup before exploring the glacier lagoons for the rest of the day. Although the sky to the north was very overcast, there was enough ice and drama at the glacier lagoons. One of many great things about staying at the Hali Country Hotels is that hey are the closest hotel to the glacier lagoons.
Jökulsárlón Glacial Lagoon
The Jökulsárlón Glacial Lagoon is a must see location. These natural beauties provide a window into the vast force of Mother Nature, from the tranquil serenity of the lagoon to the mesmerising ice formations on the shore.
With portions that are deeper than 200 metres, the East Iceland glacial lagoon is currently Iceland's deepest lake. Thousands of tonnes of ice that have broken off Breiamerkurjökull, an outflow glacier of Vatnjökull Glacier, are stored in the enormous lake. Only in this particular area of Iceland does ice actually reach the open ocean from the glacier.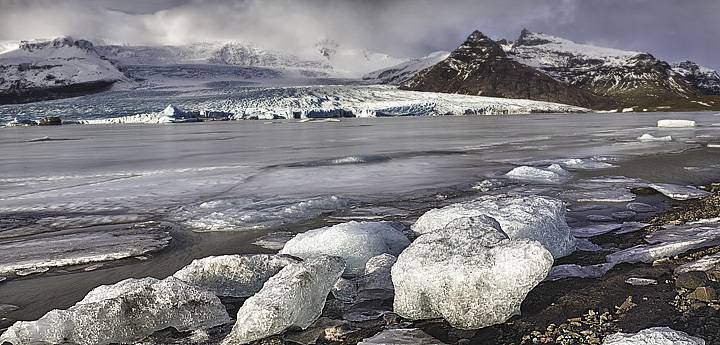 Fjallsárlón Glacier Lagoon
One of the world's most stunningly gorgeous vistas is the Fjallsárlón Glacier Lagoon. The East Icelandic landscape is adorned by a glacier that moves slowly and is well-known for calving icebergs. It is a memorable experience with its enormous glaciers and high ice walls.
Sponsored
Hotels Near Jökulsárlón
Use the sponsored links below to find and book hotels close to the Jökulsárlón and Fjallsárlón Glacier Lagoons My strong recommendation is Hotel Hali.
Hotel Map