Winter Wonderland
Iceland is sometimes known as "the land of waterfalls". There are so many that nobody knows how many there are exactly. In the winter, some waterfalls can freeze, but the larger waterfalls keep flowing.
Sightseeing travellers can be treated to fantastic ice features at these waterfalls.  Although we encourage you to visit and capture the natural beauty of these natural marvels, it is important to respect the dangers of these locations, such as extremely slippery surfaces or falling icicles.
Often, the current of a waterfall's river can be surprising and deep.  Just being prepared with waterproofs, good hiking boots, and light crampons can make your trip much more successful.
Goðafoss
Goðafoss waterfall is the jewel in North Iceland's crown. Known as the waterfall of the gods, Godafoss is easily one of the most attractive waterfalls in Iceland. Access to Goðafoss waterfall is normally easy as it is close to the main highway (route #1).  Winter driving can be challenging in North Iceland because there are many mountain passes that can be closed very quickly in bad weather.
We used to visit Goðafoss waterfall on our multi-day photo tours, but it is also possible as a day tour from Akureyri or Myvatn.
Dettifoss Waterfall
Dettifoss is the most powerful waterfall in Europe, and just feeling the surrounding rocks in a constant state of vibration confirms this fact. In winter, the danger is amplified as you approach the edge. Getting to the remote Dettifoss is not easy and sometimes impossible. This photo of Dettifoss Waterfall in winter was taken after a 45 minute ride in a SuperJeep.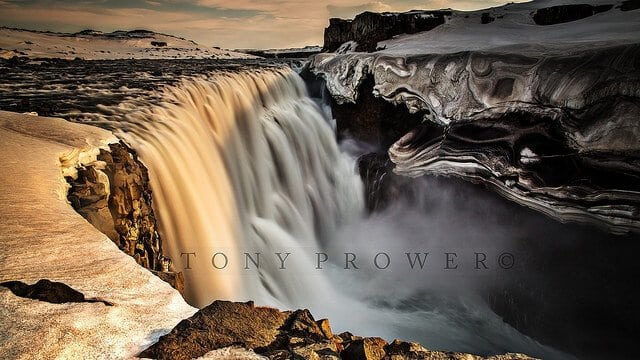 Skutafoss Winter
Skutafoss is hidden away in a secret valley. This scene is captured from inside a cave. It well known to locals but difficult to find if you are driving yourself because it is not sign posted or visible from the road.
We often photographed this waterfall during our Winter workshops.
Öxarárfoss
Öxarárfoss waterfall falls between the tectonic plates at Thingvellir National Park.  It only takes an hour to drive from Reykjavik, so the waterfall can be visited on a whim.  In the deep mid-winter, Öxarárfoss can freeze. Sometimes only small parts of the waterfall are flowing.
Access to Öxarárfoss waterfall is normally possible in the winter. The path is often slippery but is level and safe with light crampons. There is a good view from the wooden viewing platforms and basic seating if you want to sit and just feel nature.
This waterfall used to be included on our Golden Circle tour.  Regular sightseeing tours don't normally include Öxarárfoss because of the hike from the car park and lack of facilities.  If you are driving yourself, then find the smaller car park on the lower Plateau.  Last time I was there, you had to pay for parking in any of the car parks.  Don't try to avoid this because they will send a fine to your rental company.  If you have a private car, however, I have been informed that you can ignore the fine in your bank account because they have no legal right to reclaim the fine.  Probably because it is an illegal charge (just like tourist VAT).
Winter Gullfoss
Access can be difficult at Gullfoss in the winter. Often the path is too slippery, so an advisory notice tries to prevent photographers from getting too close. There are good views from the safe viewing platforms and hot drinks at the cafe to warm visitors up after their waterfall adventure.
The Gullfoss waterfall is a main feature on Golden Circle tour.
Seljalandsfoss
Seljalandsfoss is the waterfall that offers the rare sightseeing treat of going behind the falls. Access is sometimes closed if it is too slippery. Anti-slip foot wear is essential if you are brave enough to access the frozen path.
This amazing waterfall is featured on most South Coast photo tours.
Skogafoss
Skogafoss waterfall is close to the South Ring Road between Seljalandsfoss and Vik. The waterfall is a sheer curtain of water that comes from the rivers on the Fimmvörðuháls walking route, which goes between Eyjafjallajökull and Mýrdalsjökull glaciers. From Skogafoss, it is possible to connect with some of these glacier tours on Mýrdalsjökull glacier.
This amazing waterfall is featured on most South Shore tours.
Kirkjufellsfoss
Kirkjufellsfoss waterfall can look impressive with fresh snow on Kirkjufell mountain and ice on the river.  Around a two-hour drive from Reykjavik, Kirkjufellsfoss waterfall is a nice location to consider on a day tour.  Be warned that in mid-winter (Dec-Jan), there is not enough daylight to explore the whole Snaefellsnes Peninsula.
Hraunfossar
Hraunfossar waterfall is in the west of Iceland.  The waterfall runs from under a lava field, which makes it quite unique.  The waterfall has easy access throughout the year.  Daylight is as short as three hours in mid-winter.  The snow on the lava makes the photos interesting, although it seems to reduce contrast.