North and West 7 day Photo Tour
This was a camping trip in mid-August. Night Temperatures are just about comfortable for camping with a good sleeping bag. The clear advantages are the flexibility. Sure enough, as the tour got underway, it started raining. The forecast was for more rain and even a mini-storm in the South over the first couple of days.
So we headed North with the forecast of drizzle and sunshine and little wind. The first day was just a couple of hours after meeting at the airport and driving the #1 road Northwards. We stopped at Hviserkur in the drizzle and apart from some reminiscing and discussion of composition, the stop wasn't very productive.
We took a short cut to a wonderful campsite, only to find it closed (due to noise). Instead we headed Northwards and found a country boarding school with a campsite. They offered us sleeping bag accommodation (just a bed) in a classroom which we gladly accepted as an alternative to camping in the rain. Also they had a bar, so we grabbed a beer before bed.
---
The next day we arrived early at Godafoss Waterfall. It was not raining, but it was very overcast and there was a lot of spray from the heavy falls. We checked out some compositions and then headed of to Aldeyarfoss which is a neighbouring waterfall. It took about an hour to drive from Godafoss. We just followed the river. After a short hike down a hill, we were upon the waterfall.
There was a wonderful idea of a shot that I had seen down at the level of the river. I invested a lot of time getting down to the spot only to find (at the last minute) that the falls were obscured by a huge rock. I waded out into the river a few feet, but still couldn't get my angle. Wet, exhausted and no shots. I climbed back up to the tourist zone and snapped this with a little bit of a long exposure and some magic cloth. I used the rocks to form a shape for the pool.
We returned to Godafoss and continued to Stora-Laugar to shower and eat before returning to Godafoss that evening. We pitched tents at the wonderfully welcoming Fosshotel garden.
Evening at Goðafoss
As the light started to fade we made our way along the East bank, hopeful of some light and colour. It was all fairly un-appealing as we checked out some of the high compositions. Undeterred I went down to the river bank to the famous Goda-rock. I just went through the motions of setting up a shot, but to my delight this little cloud manifested right about the falls. I played around with the balance of the cloud and rock. Job Done!
Changing Plans
The next day we heard that there were storm conditions at Landmannalaugar. We couldn't really agree on a plan, but we all agreed to keep the tents erect at Godafoss waterfall. We would return from wherever and have another photography session at the falls with different light… hopefully.
After a day visiting Selfoss (near Dettifoss) twice and some new remote locations, we did return to some Goða Light at Goðafoss.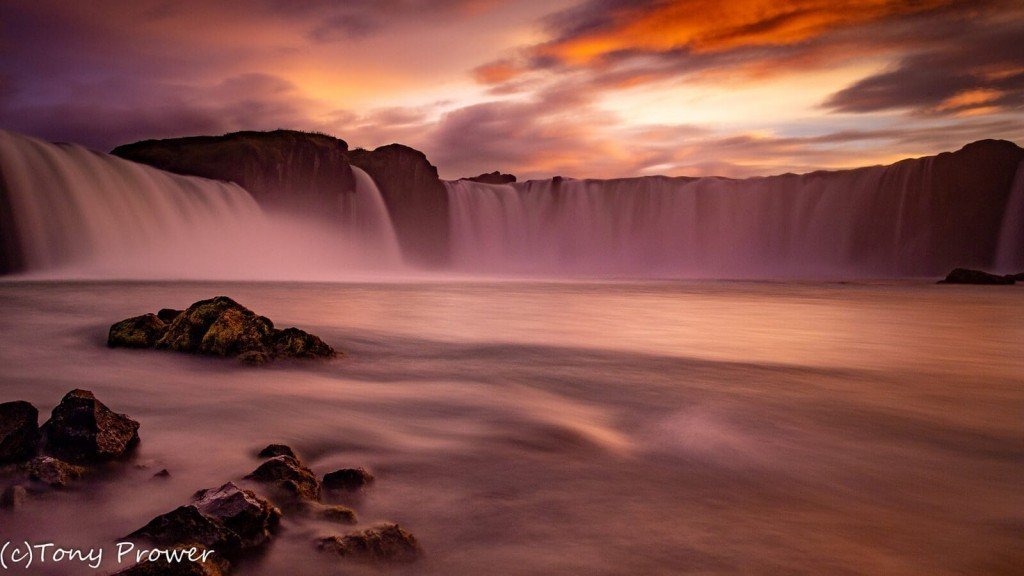 Go West

The next question after checking the weather was "Highlands" or Westfjords". The forecast for Landmannalaugar suggested that we could be driving through heavy rain to spend two rainy days in the mountains. The Westfjords showed a mixture of weather which is perfect for the Wesfjords. So we headed West – all day!
We were keen to drive steady and gain the kilometers, only stopping for gas and eating. But once we were into the Westfjords, we decided that stopping regularly was a good idea. Our legs and backs were in serious need of movement as the fingers and toes of Iceland's Westfjords started to reveal themselves.
Even out in the Westfjords, if you stop and erect a tripod, bunches of tourists will also stop. In some ways it was comical, but in other ways annoying. Fact: Iceland has many boring parts and lots of boring weather.
Many tourist find themselves wondering why they are here.
Finally we made a stop with a clear view down Isafjardardjup and some sun threatening to come through the clouds. Following the light, I snapped this pleasant vertical.
Dinner in Isafjordur
Godfoss to Isafjordur is no mean feat. Our driver, Hörður from VIP Tours was feeling the strain of the driving and camping, so I fixed sleeping bag accommodation in Isafjordur so we could all get a good night sleep. We did shoot Bolungarvik before bed.
Ísafjörður Hotels
These sponsored links feature hotels and guesthouses in Ísafjörður.
Breakfast in Isafjordur
We had a bakery breakfast on the pavement. I kept chairs while my companions bought their breakfast, when I went in there was a massive queue. While I toyed with my patience, I overhead a German saying… "after tired comes silly". I must have had a very tiring childhood, I thought. But actually I don't agree with the quote and I am not so sure on the German Authority on "Silliness". If the saying was… "after good rest comes efficiency", I would have gone for that. Another person responded to the German quote with… "Buddha goes to a hot-dog stand and says – make me one with everything". How silly!!
Then we went up to the view point over Bolungarvik, which effectively put us on top of the mountains.
---

The rest of the day we spent searching for compositions across the Arnarfjordur to the king and queen seats. The conditions were uninspiring and the tides were all wrong for the shots we wanted. The single track really tested the vehicle. We returned to the spot later that evening, but found the rain to be hopeless and decided to push a little closer to home for the last day.
Dynjandi Falls
We got about 20km closer to Reykjavik because the conditions started to change as we reached Dynjandi waterfall. We had a beautiful evening shooting into the fjord from the waterfall. We were about 2 thirds of the way up to Dynjandi and I just spent about an hour there switching between my Zeiss 50mm and my Canon 135mm. This was shot with the 135mm.
I sensed rain and headed down to the campsite, but something was telling me to go further to the shore of the fjord. I was rewarded with this shot.1) Colombian Cigar and a Scotch whiskey at the campsite picnic table in the rain.2) Lying in tent listening to the rain and the thunderous roar of the falls.
Snæfellsness Penninsula
We headed to Snæfellsness for the final full day of the tour. It was obvious that the difficulty getting into the well placed car park at Kirkjufellsfoss Waterfall spelled trouble. There were hoards of people constantly coming and going. The layout plan is to have all the visitors walk through the photographer's shots to get to the waterfall. So on one side of the waterfall stood a bunch of tripod guys waiting patiently, while on the other side, bright yellow rain jacket and Selfie pose with iphone. Then a bus stops the traffic because it can't get into either car park but the passengers are yelling stop.
I decided to escape the mayhem and hike up to a different spot where the waterfalls are not so impressive, but at least I could work on my photography in peace. I was really happy to have such nice light so I tried a few shot from this point.
This vertical photo was my favourite of the day. The hill was covered with wild blue berries. I skipped evening meal for this shoot, but was satisfied after the berries.
This horizontal landscape photo shows how Grundarfjordur bay works its way around the base of Kirkjufell.
We tried to book a guesthouse near Mount Kirjufell on the fly, but everywhere was fully booked on this mid-summer night. Luckily there is a peaceful campsite in Grunarfjordur, so we pitched our tents and had one final night in the Icelandic nature.
Read more about the making of these photo…
Sponsored
Kirkjufell Hotels
Use the sponsored links below to book a hotel close to Kirkjufellsfoss. My recommendation is for Kirkjufell Guesthouse and Apartments. They are close to a decent restaurant which has great views of Kirkjufell mountain.
Another great guesthouse with amazing views of Mt. Kirkjufell is the Sudur-Bár Guesthouse, which is a 10 minute drive out of Grundafjordur. They also have a small campsite, although the one in the town is good.
Homeward Bound
After a reasonable night in the tents, we were all keen to start the drive back to Reykjavik. We did this at a leisurely pace. Once I was back home, my guest continued his journey to Keflavik airport ready for his flight home.
Although the camping took its toll and the rain changed our plans, this tour was adventurous and rewarding.