Adventurers, nature-lovers, and those simply looking for a unique way to explore the awe-inspiring beauty of Iceland: get ready to set sail! With Iceland Whale Watching Tours, you can dive into the captivating world of whales and dolphins, from the comfort and safety of a boat. Take in the breathtaking beauty of the North Atlantic and spot diverse marine wildlife species as you journey along the coastline.
Whether you're looking for a family-friendly experience or a romantic excursion, there is something for everyone on these thrilling trips. Iceland Whale Watching Tours offer a variety of excursions, departing from Reykjavik, Dalvik, Husavik, and Akureyri. Learn from experienced guides as you search for Humpback, Minke, Blue, and Sei whales, as well as Northern Bottlenose and White-beaked Dolphins. You might spot some puffins as well!
All tours are equipped with the latest technology, giving you the best chance of spotting something rare and spectacular. Plus, there are opportunities to take photos and videos of your incredible encounters with the majestic creatures. So if you're looking for a once in a lifetime experience, grab your camera and set sail!
With these Whale Watching Tours, you can marvel at the wonders of nature while exploring Iceland's stunning coastline. From the breathtaking view of snow-capped mountains to the vibrant colors of the sea, it's an adventure you'll never forget. Get ready for an unforgettable journey and book an Iceland Whale Watching Tour today!
Whale Watching From Reykjavík
Reykjavík, Iceland is the perfect place for travelers of all ages to experience an unforgettable whale watching adventure. With its unique proximity to the Arctic, stunning views, and abundant wildlife, it is a top destination for those looking to explore the sea. There are a variety of whale watching tours available to choose from, with experienced guides leading the way so you can observe the majestic creatures in their natural habitat. From orcas and humpback whales to minke and fin whales, you'll be sure to catch a glimpse of them during your Iceland whale watching tours. Sit back and enjoy the beautiful scenery as you get up close to these gentle giants. With this unique opportunity to observe and learn about these creatures, it's no surprise that whale watching in Reykjavík is a popular activity.
Whales of Iceland Exhibition
Don't worry if the weather conditions are not perfect for a whale watching tour, the Whales of Iceland Exhibition, in the center of Reykjavik, wont let you down.
Take your time looking around the Whales of Iceland Exhibition. You can use the interactive stations to watch videos and learn about the various species as you go through 23 man-made, life-size replicas of the different whale species in Iceland. This convenient family activity is situated in the heart of Reykjavik. Get your tickets in advance.
Learn about Iceland's diverse whale species
Interactive, enjoyable activity for families
Perfect for new or returning guests
Whale Watching in North Iceland
North Iceland offers a unique opportunity to observe the country's diverse wildlife, especially whales. Iceland whale watching tours are an unforgettable experience, offering a journey through the majestic waters off the coast of the island. The main loations for boat tours is Akureyri (the capital of the north) and Husavik.
The region is home to numerous species of whales, including humpback, minke, fin, and sperm, as well as seabirds and dolphins. Tours are available all year round and are led by expert guides who will help you discover the amazing marine life of the North Atlantic. These tours are the perfect way to explore the majestic coast of Iceland and experience the beauty of its nature up close. Join an Iceland whale watching tour and set sail for an unforgettable experience!
Whale Watching Season?
Whale watching season in Iceland is from April to October, with peak season being in June and July. April to October is great for spotting the majestic humpback whales, minke whales, harbour porpoises, and even white-beaked dolphins. April is also the best time to see pilot whales, and if you're lucky, orca. Throughout the season, whale watchers can take in the stunning views of the Icelandic landscape as they search the seas for wild marine life. With Iceland whale watching tours, you can explore the best spots for cetacean spotting, get up close and personal with these incredible creatures, and make memories that will last a lifetime.
Which whales can be seen in Iceland?
Humpback Whales
Humpback whales are a common sight in Icelandic waters. With their large flukes, curious personalities and melodic singing, humpback whales are an awe-inspiring experience you'll never forget. I used to watch them from the beach on the south coast.
On a whale watching tour, you could get up close and personal with these magnificent creatures – seeing them from the deck of your boat or even jumping in the water to swim alongside them – and getting the chance to make unforgettable memories.
Minke Whales
Iceland, with its deep waters and wide variety of marine life, is home to many Minke whales. Minke whales are among the most commonly seen species. From April to September, visitors to Iceland can experience the thrill of spotting these graceful creatures around the coast. Even during the winter months, Minke whales can be found in the waters off the southern coast of the country.
Orcas – Killer Whales
Orcas, also known as killer whales, have been spotted off the coast of Iceland in recent years. For nature lovers, whale watching tours to view these majestic creatures are a must. Iceland is known for its spectacularly rugged scenery, making it the perfect backdrop for these fantastic wildlife experiences.
Orcas are often spotted in Grundarfjordur bay near Kirkjufell Mountain on the Snaefellsnes Peninsula.
White-Beaked Dolphins
White-beaked dolphins are a common sight in Iceland's waters, so while on an Iceland whale watching tour, be sure to look out for them. These playful dolphins are seen in large pods, and they love to put on a show for people on boats. With their characteristic white beaks, black coloring, and white patches around their eyes, they are easily recognizable. White-beaked dolphins are quite active in the waters around Iceland and often come right up to boats and even swim alongside them.
Harbour porpoises
Harbour porpoises in Iceland are some of the smallest cetaceans in the region, and a favorite among whale watching tours. These friendly sea mammals are found in large numbers throughout the waters of the North Atlantic, and are easily spotted from boats or shorelines. While they may be small in size, they can be observed for hours, jumping and leaping from the water's surface, offering a thrilling and unforgettable experience to those who take a whale watching tour.
Tips for photographing whales at sea
Photographing wild whales in their natural habitat is an exhilarating experience. To ensure you take the best photos of these beautiful creatures, it's important to be prepared and have the right equipment. Using a long telephoto lens to capture the whales from a distance will help to get clear shots with less movement.
Have a wider angle lens as well, just in case the whales come up to the boat. Get as low in the boat as possible, being on the higher decks makes it difficult to include scenery in the background.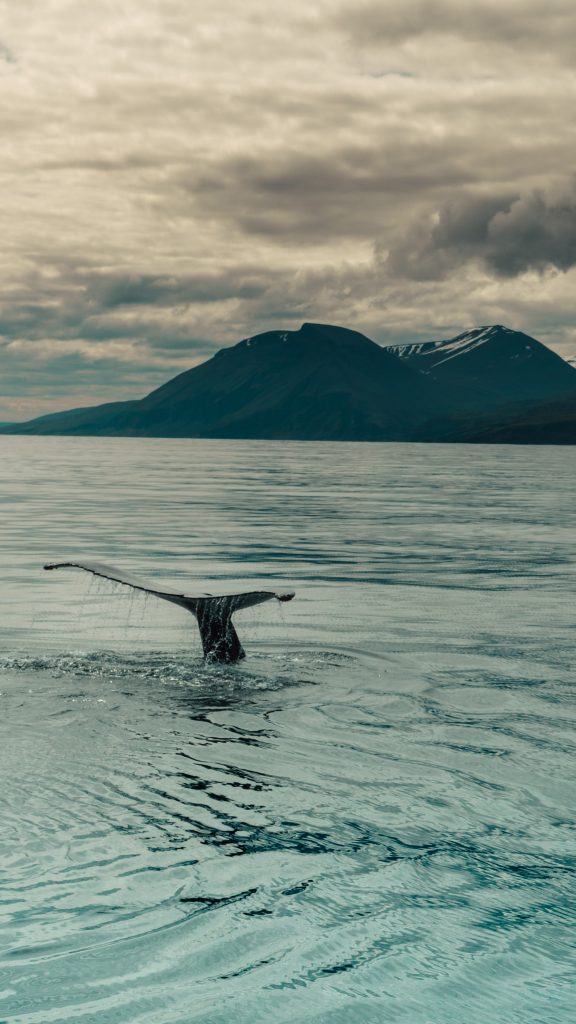 Calmer conditions make spotting the whales and photography easier. The whales are more likely to appear if the sea isn't rough and your chances of suffering sea-sickness is reduced.
For the clearest pictures, choose a shutter speed that matches the movement of the whale. A fast shutter speed will freeze the action while a slower shutter speed will give you more motion blur. In order to capture the whales underwater, a waterproof housing that allows full control of camera settings is recommended.
When photographing whales at sea, make sure you pay close attention to the surrounding environment, as well as the safety of the whales, always. You can capture unforgettable moments of these majestic creatures in their natural environment on a good boat tour.
What do you wear whale watching?
Some of the bigger boats have indoor areas where you can escape bad weather. However, it is always wise on any Iceland tour to have some wet weather gear and sturdy footwear. Dress in layers, so you can remove a layer if you get too hot. Temperatures can be cooler at sea in the summer, so bring a hat and gloves, just in case you get cold.
Conclusion
Iceland is renowned for whale watching, and it's easy to see why. From orcas to sperm whales, the country offers a wide range of options to explore and experience. For those looking for the ultimate adventure, Iceland whale watching tours offer an unforgettable experience. Onboard a tour vessel, visitors will have the chance to observe these majestic creatures in their natural habitat.
From the sight of a breaching orca to the sound of a breaching humpback whale, whale watching in Iceland is a once-in-a-lifetime experience. With expert onboard guides, Iceland whale watching tours are perfect for both beginners and experienced adventurers. With cold waters and a variety of species, there's something for everyone. So, book your Iceland whale watching tour today and set sail for an unforgettable experience.
Featured Photo by Andre Estevez on Pexels.com