Iceland is the perfect destination for a winter getaway. From skiing and snowmobiling to the Blue Lagoon and the Northern Lights, there's something for everyone. With its breathtaking landscapes, unique culture, and wintery adventures, Iceland is a perfect place to spend a winter holiday.
I remember my first Winter tour in South East Iceland because it was initially a camping trip. This was early September 2006. I had already experienced a full Winter in Iceland the previous year, but didn't have a car until now. I set up a lightweight tent at the Svinafell campsite in the days when they had a little swimming pool named after a famous Noble Viking inhabitant of the farm – Flosalaug.
Snow Clad Camping
After a restful night's sleep in the quite of South East Iceland, I awoke in relative darkness. According to my clock, it should be light outside, but my tent was in a kind of dusk light. Tent zipper = the sound that lets you know you are camping.
When I poked my head out of the tent, I was surprised to discover an inch of snow covering my entire tent. I wasn't expecting snow so early and wasn't prepared, but I was filled with joy because I had just bought the Canon 17-40mm f/4L and now I had a snow covered landscape to photograph.
Sponsored
Airport to Reykjavik and back
Climate change
There are two things that have changed since my early days of exploring and photographing Iceland. One is Winter tourism. The South East quarter of Iceland has seen incredible growth in business every year since 2010. The other is climate change. I saw blizzards in May, and snow in September in those early days, but now it is common to see positive temperatures (Celsius) in November and December.
Glaciers seem to be shrinking to the size they were in the days of Flosi. Both these factors can influence your plans to visit Iceland. The increased tourism made hotels difficult to book last minute. Despite new buildings and hotels expansion in the area, it is still possible to miss out. Even mid-Winter it was essential to have your accommodation pre-booked in the pre-pandemic days.
The way climate change affects your trip is that now you have to visit between Mid-November and Mid-February to improve your chances of photographing some Arctic scenery. Even then, a Winter scene can't be guaranteed.
Mountain Pass
Another thing to be aware about since the rise of Winter tourism is road closures. Many inexperienced drivers come to Iceland, rent a car and then immediately get into trouble when road conditions change.
One place where road conditions change more often is up on the heiði. 'Heiði' refers to a mountain pass accessible on horseback. In modern times, a heiði has a road that can reach altitudes of 600m. During Winter (and sometimes close to Summer) the rain at sea level can become snow up on the heiði. Fog is also common on these roads.
Sponsored
2024 Calendars on Amazon
Order online!
Hellisheiði
Back in the early days of my Iceland adventures, the heiði road out of Reykjavik (Hellisheiði) would be closed, maybe once per year and would only be driven by locals in good jeeps. Since the rise in inexperienced drivers venturing out in dangerous conditions, the road ends up getting closed many times per week. The increasing number of Winter accidents drives up the price of car hire and motor insurance.
Winter Benefits
Despite the challenges of driving safely in a full blizzard, negotiating with slippery roads and the reduced hours of daylight, Iceland has many benefits for adventurous travel photographers.
Amazing Light
The sun is only up for about 3.5 hours on the shortest day in late December. Folk in the North of Iceland have even less if any sunlight.
This might put off Winter tourists, because they feel they are getting less hours per dollar. I see it as the best value for each dollar. The value is the superb quality of the available light. If you have an intelligent itinerary which arranges all the boring parts in the dark and all the exciting parts in the daylight, you have a recipe for a very fruitful trip.
Some good examples are the Geysir in Haukurdalur and the Diamond Ice Beach near Jokulsarlon. Visitors to Geysir can enjoy a low, soft sun behind their Geysir photos. Visitors to the Ice Beach can enjoy a Sunrise that rolls into a Sunset giving a colourful 4 hour session on good days.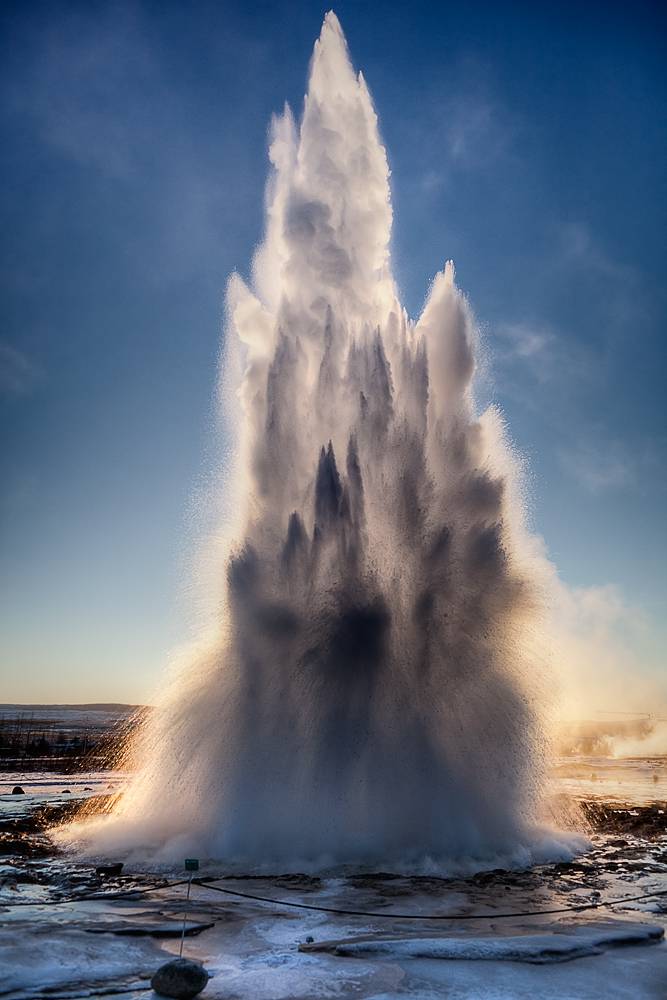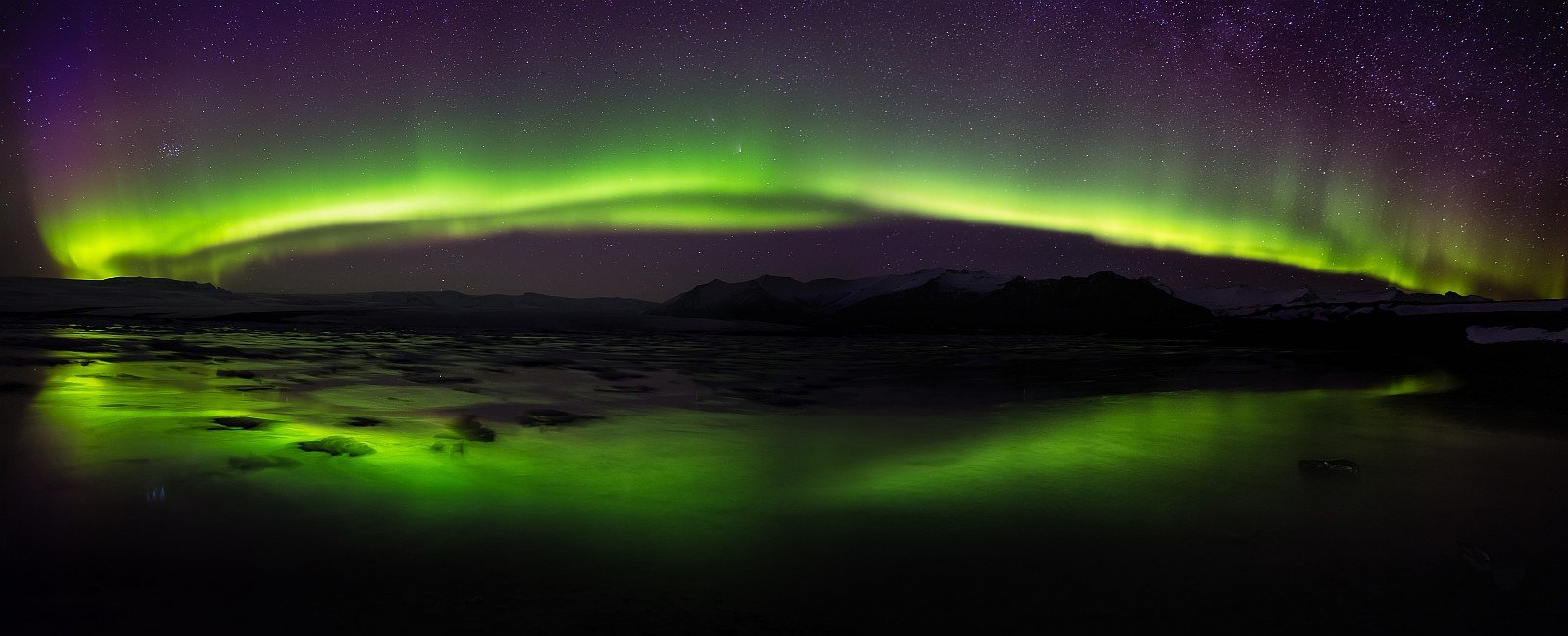 Weekend Break?
Over a long weekend you could have a luxurious stay in Reykjavik exploring the local area and hunting Northern Lights. For a 2 or three day trip, I recommend exploring the South Coast with a hotel at Hali.
Green spirits
Having so much Nighttime has it's benefits also. Especially when the skies can be filled with the emerald light show of the Northern Lights. The number one requirement is to have a dark sky, so get away from city lights and avoid full moon phases. The darker the sky, the better chance of capturing colours.
On a 5 day workshop there is a really high chance of seeing the Northern lights in a great photo location.
Ice Caves
During the frozen months, the REAL ice caves become safe to access. These caves are forged by rivers under the huge glaciers. After a week of sub-zero temperatures, the rivers recede and allow visitors to admire the beautifully scalloped ceilings.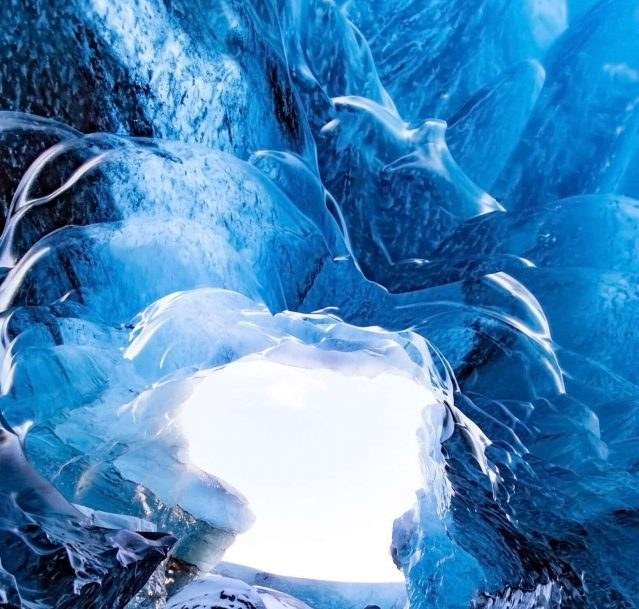 Safety First
Only ever explore ice caves with a qualified guide. Ice caves require safety equipment such as crampons, helmets and ice axes.
Conclusion
In conclusion, Iceland is an amazing place to explore during the winter months. Not only is the country full of fascinating natural beauty, but it also has an array of activities that can be enjoyed by everyone. From skiing and snowshoeing to snowmobiling and ice climbing, there is something for everyone to enjoy in this land of ice and snow. With its spectacular landscapes and geothermal activity, Iceland is the perfect place to experience winter in all its glory. So, what are you waiting for? Gather your friends and family and embark on an unforgettable journey to Iceland!