This tour took us to the North of Iceland to catch the powerful Dettifoss before the big thaw. We made our way to the North stopping at Hvítserkur and Borgarvirki in the North West.
We then pushed on to Akureyri in time for an evening meal before hitting the sunset at Goðafoss. We were in for a treat because the sun was setting in the West between the mountains of the valley. I raced to one of my favourite spots to grab this shot while the sun was still yellow.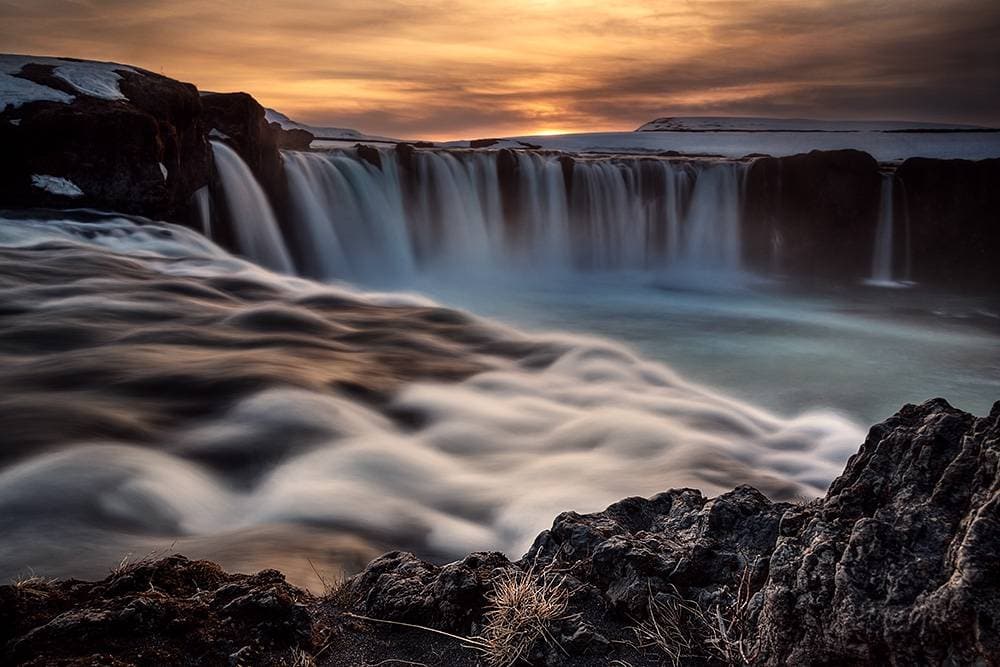 We spent day 2 exploring the Mývatn lake region including a hike on the snow covered craters of Krafla volcano. We arranged for a super jeep to take us across the tundras to the East side of Dettifoss that evening. This was probably the last chance to drive over the thawing snow before the road opens again in June. Iceak picked us up in a Patrol with 42″ tyres.
We have to almost slide down a sow bank to get to the waterfall. We managed to get right to the edge and feel the power. I took my 50mm lens and walked a few hundred meters to get this shot from one of the view points.Dettifoss waterfall
Extreme Iceland
Walking through the very deep snow at Detifoss waterfall was extremely hard work. I took the lead because I am heavy with strong legs and big boots. I would have been easier t follow me along the trail. There are parts along the Western edge of Dettifoss that just have a sheer dop into the canyon to certain death. These are terrifying in the Summer, but in these cy conditions of North Iceland in April, I was keeping very well clear of the edge.
Sponsored
Private Northern Lights Tours
Multi-day tours
These are multi-day photo tours that include Dettifoss and Godafoss waterfalls. If conditions are good these Ieland photo locations can offer amazing landscape photography.