8 day camping tour late July
This tour included many locations over 8 days. As this was mid-Summer, we took our photographs during the night hours. I found it best between 20.00 and 06.00. We were sleeping between 06.00 and 14.00 (give or take and hour or two). We had 2 days of poor weather and this made it difficult to justify staying up all night for photography. We had a few early nights and a few late nights.
Sponsored
Thinking of a self drive?
Route and locations
We headed straight to the Snæfellsness peninsular to focus on the coast line and get round to church mountain in time for sunset. The plan here was that if the sunset didn't yield good pictures, the sunset (3 hours later) might. The sunset was satisfactory, so we drove some kilometers to Buðardalur. A fairly remote town, Buðardalur boasts a service station and a small campsite. We managed to sleep until the afternoon.
The next day we had a long drive to North Iceland, but we broke the journey at the Hvitserkur Rock. The light was boring, but still a nice experience. We kept going only to stop for a nice, Icelandic meal in Blönduos. We stopped before Akureyri for some light Landscape work in the valley.
My guest was very keen to get to Goðafoss, so we arrived around 01.00 (the darkest hour). After relaxing for a couple of hours, we went down to shoot the sunrise on the photographer's side of the river. The clouds were colourful from about 02.00, the sun was up around 03.30 and we had direct light on the falls at 04.00. We had a magical window of about 10 minutes.
Last light on Godafoss
This was a shot I composed carefully and waited until the sun was on the clouds.
The next shot was more my style as I grabbed it on my way upstream. As pleased as I was with it, I knew that it was game over for me – I knew I wold not improve upon this shot…
7 restaurants, 7 campsites and 7 swimming pools
Due to an extremely amicable customer, we did this camping trip with 2 rules. We find a swimming pool and a quality restaurant for our main meal. Finding a swimming pool is never difficult in Iceland. It is difficult to find a town without a heated outdoor pool. Now I know it isn't difficult to find a town with a quality restaurant… that is if you are ok with lamb or fish. Chicken or Vegetarian gets difficult to find in some parts of Iceland.
So we grabbed a Quiznos on the first evening – not exactly what I mean by good restaurants, but beggars couldn't be choosers at that time of night. As we we running through the night and camping from 06.00-14.00, packing up camp and finding a swimming pool made us eat our first meal around 16.00, this was most traveller's evening meal, but for us it was breakfast.
Restaurants on Location
As it was our only proper meal of the day, we made sure it was a good one with quality lamb or fish. Our first good Icelandic restaurant was Potturinn in Blonduos. Visit the restaurant if you are in Blonduos for great food or check out their website. www.pot.is Makes you wonder if they sell more than just good food?
We also had a really nice meal in Höfn.
KaffiHorn – Hafnarbraut 42, Höfn
+354 478 2600
Good food at reasonable cost. Not to mention the 5 star facilities at the nearby swimming pool – easily the best of all our travels.
---
This shot is from the middle of the Landmannalaugar park. We were here at midnight, but decided to return at 03.00 to catch the morning sun.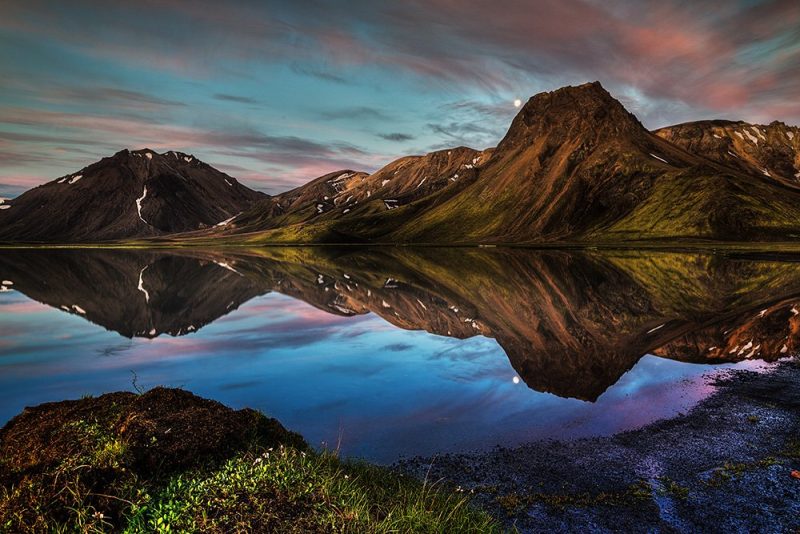 ---
David's images

This beautiful picture was taken from behind Seljalandsfoss on the final day and it was to be the final shot of the long 8 day tour. David stood in exactly the right spot to take advantage of this late evening light. This was about 40 minutes before sunset.
Taking this shot took some patience because it was a battle against the spray. I had to wipe my lens and shoot as quickly as possible. I was soaked by the time it was done, but was worth it.
Fumarole Fire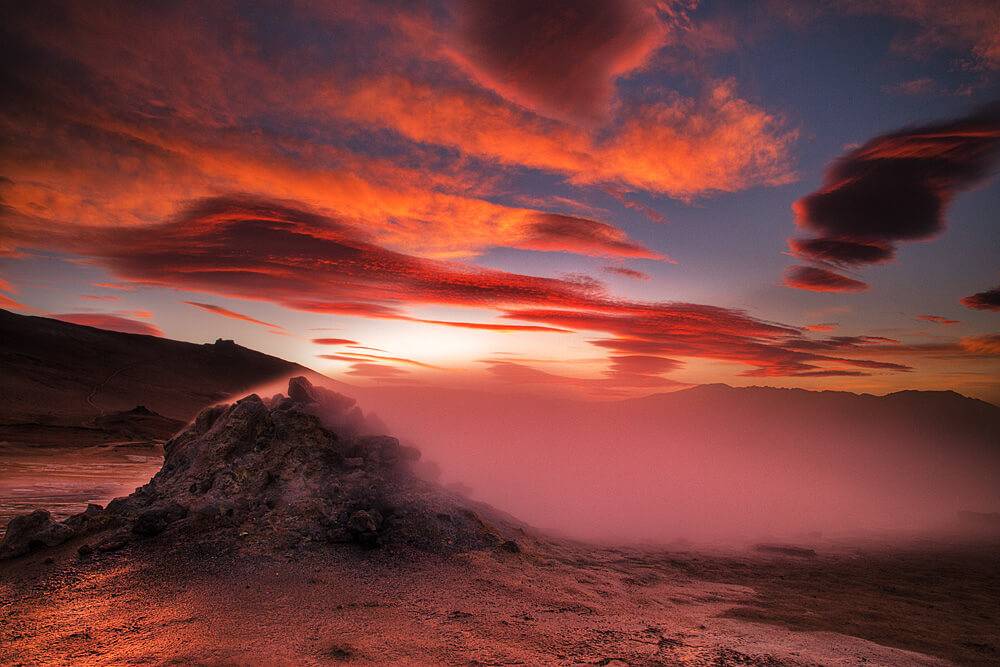 This shot was taken at the amazing geothermal field at Námaskarð, North Iceland. The sky was something else. Huge lenticular clouds filled the sky and turned red with the setting sun. This was not only the most beautiful sky I had ever seen at this location, but it lasted for around an hour. This is the beauty of shooting during the nights at this time of the year.
Words from my Guest
"Vapor rises from the top of a fumarole in the Hverarond Geothermal Area near Lake Myvatn. The colors in the sky and clouds at sunset were amazing and lasted for hours. This is one of my favorite shots from the trip and was the first time I tried Tony Prower's magic cloth technique. Took me five tries to get a balanced exposure. The result was much nicer than what I was able to get using an ND grad filter".
"Iceland is being torn in two by the spreading of the Mid-Atlantic Ridge. The Hverarond geothermal area, located close to Lake Myvatn, sits right on the ridge where cracks in the ground are actively widening and new ones appear every few months. Many of those cracks contain boiling mud pots, hot springs, fumaroles and solfataras. The smell of sulfur gas in the air is almost palpable and thick deposits of gypsum and sulfur cover the ground".
Many thanks to David, for excellent company on this long tour.