Photograph the Midnight sun from behind a mighty waterfall then get up close to the puffins as you look down onto Iceland's biggest icon on the South coast. You will understand why trolls are never seen in Summer (but the hidden people might become visible). Landscapes as diverse as massive sea cliffs, flood plains, glacier valleys and black sand beaches… all in one trip. Iceland's South Coast may cause your memory cards to fill up quickly and drain your camera batteries.
Private Photo Tour
This Private South Coast photo tour is run by Kaspars, a very talented photographer who has lived in Iceland for many years. I always wanted Kaspars to join the Iceland Aurora team. Each photo tour is private and focused on spending a day with an experienced nature photographer in South Iceland. This guided tour is for up to 3 passengers. It is suitable for both photographers and non-photographers alike, with a respect for nature and understanding Iceland's cultural history.
For photographers, I will provide nature photography tips and tricks.
Included
Private Transport
Photography Assistance
Up to 3 guests
Cancellation Policy
Cancel in 24 hours for full refund.
You are never far from a black sand beach on the South Coast of Iceland.
South Coast Private Tours
Iceland's South coast is packed with rich features, it is difficult for a visitor to go wrong (unless the weather is terrible). This collection of private one day South Coast tours will ensure time at major sites, such as Skogafoss, Seljalandsfoss and the black sand beach near Vik. The sea cliffs at Dýrholaey and the glacier tongue at Sólheimarjökull are often included n these sightseeing tours. These South coast tours may also touch a few minor parts of Iceland's dramatic South Coast and some lesser known waterfalls.
Spend more time at your favourite locations and enjoy private transport.
South Coast by Minibus
These Iceland day tours are the best value tickets to south Iceland.
South Coast Combos
There are a variety of Nature activities that can be enjoyed in combination with the South Coast Tour.
Location Guide
The South coast day tour is a popular adventure for photographers. Diverse Icelandic landscapes and exciting features make the South Coast Tour a high quality full day tour.
Skogafoss Waterfall
One of the biggest Icelandic waterfalls which you can walk to the top of for spectacular views.
All South Coast Day Tours stop at Skogafoss to give you a change to explore photo possibilities from both the ground level and the upper floor. There are a wide varieties of photos to take on the ground just by following the river towards the falls.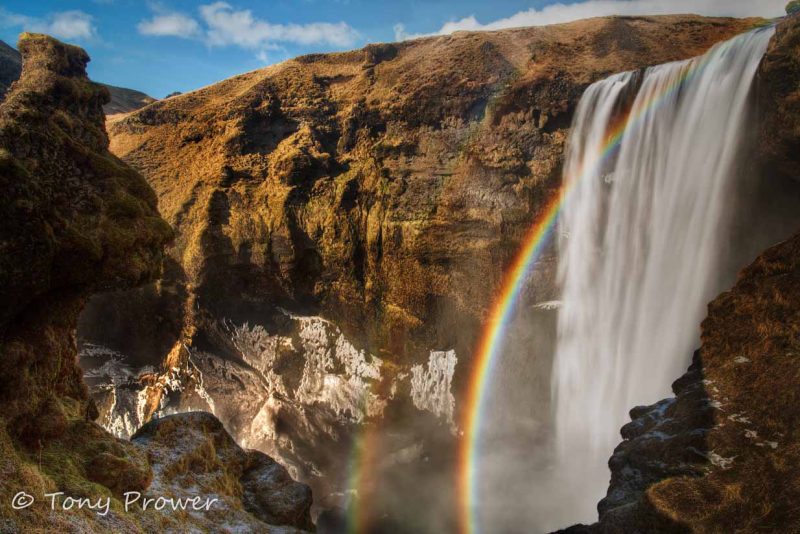 From Skogafoss waterfall your tour might get close to a glacier tongue at Solheimajokull (weather permitting). Then drive the South coast to Vik and perhaps stop for Lunch. From here you can focus on the impressive sea stacks and beautiful black sand beaches.
Vik
The Vik area offers several key areas for exploring and taking photos. The South Iceland beaches have black sand and rock formations. The south coast beaches offer fantastic opportunities to photographers who are there at the right time. Most South Coast day tours from Reykjavik will go as far as Vik.
Seljalandsfoss Waterfall
It is Better to visit this Icelandic waterfall last. Although it is not as big and impressive as Skogafoss waterfall, Seljalandsfoss waterfall is famous because it is possible to walk behind it. For the landscape photographer this means an infinity of possible compositions. Learn how to shoot in very wet conditions. Learn great long exposure photography techniques.