Introduction
As an adventurous traveler looking to explore the world, Iceland likely holds a special place on your bucket list. With its vast glaciers, lava fields, and majestic waterfalls, this stunning Nordic country is a unique place where you can disconnect from the mundane and discover natural wonders of the world like you've never seen before.
Unfortunately, on top of being a captivating destination, Iceland is also known as one of the most expensive countries in the world – a huge turn-off for budget-conscious travelers. You may think that you have to miss out on the Northern Lights, the hot springs, and the captivating Icelandic culture that make this country so famous, but with the right preparation and knowledge, it doesn't have to be the case.
In this Iceland travel guide, we'll provide you with 7 proven strategies on how to save money in Iceland for accommodation, travel and food – so that you can indulge in the Icelandic experience without breaking the bank. Are you ready to learn how to explore Iceland on a budget? Let's get started!
Live in Iceland
Iceland has a minimum wage to (almost) match the high cost of living. One of my jobs for Reykjavik City Council offered a reasonable living wage, but only because there was a bonus for working unsociable hours. During allotted holiday periods, the salary was not enough to live on. I can't decide if that was embarrassing for the City or for me for expecting more. It certainly taught me how to live cheaply in Iceland.
Iceland used to have a very low unemployment rate. Workers were valued, fishermen and energy workers were payed very well. Since recent times, the economy is slumping. The restrictions on travel have affected jobs and consequentially property prices. Tourism was the third largest industry for a while until the threat of the impact of carbon emissions held air travel to ransom.
If you do decide to emigrate to Iceland, as I did in 2004, don't expect to walk into a significant career with salary and benefits. Even if you are well qualified, everyone starts at the bottom while they slowly learn Icelandic.
But, then you get a holiday or a weekend with good weather. Iceland is like a treasure island.
Iceland is a Schengen member state. Check the Government Website to see if you need a visa to visit or live in Iceland.
Research Accommodation Options
Researching accommodation options is a vital part of saving money on an Iceland trip. While there are many competitive booking companies, with some effort and planning, travellers can find unbeatable deals on various accommodation options.
For those looking to save even more money, camping is one of the most affordable options in Iceland. Getting close to the nature and feeling the landscape is better in a tent. There are 24 campsites scattered around the country which provide stunning views and a great base for exploring. It's important to research campsites before your trip as some are very popular and book up fast.
Bringing your own camping gear on your flight could cost extra. Camping equipment can be rented in Reykjavik for a price that is cheaper than a hotel, but this would be a lot more expensive than bringing your own.
For those looking for more luxury, Airbnb's dot the country, although they can be expensive. Hotel alternatives such as guesthouses are a good way to save money while still getting the amenities of a traditional hotel. Hostel accommodation is also useful as a way of staying in a comfortable environment but at budget-friendly prices.
Consider Sharing Accommodations
Reykjavik and Keflavik offer shared accommodation at a reasonable price. A dorm room can be mixed gender or for males or females respectively. Dorm accommodation often includes laundry facilities and free wifi. Pods are also available for a slightly less disturbed sleep. If you want to explore Reykjavik and enjoy the day tours that depart from the city, a few days in a hostel or dorm can make this possible on a budget.
Reykjavik Hostels
These sponsored links will help you save money on your stay in Reykjavik.
KEX Hostel – great looking hostel, 5min walk to centre.
Hostel Village – spread over 3 houses 10min walk to centre.
Bus Hostel – convenient for buses, 20min walk to centre.
Downtown Hostel – good facilities, 1min walk to centre.
Look for Discounts and Deals
Finding discounts and deals can help you save money in such an expensive country. Whether you're looking for cheaper accommodation, transportation, or food, there are many different options available. Here are some strategies to help you save money while visiting this stunning Nordic country:
Discounts on Accommodation
Since hotels and guesthouses can be expensive in Iceland, it's a good idea to search online for discounted accommodation options. Consider staying at a hostel or cottage, which can be significantly cheaper than a hotel. If you're traveling with a large group, you may be able to get discounts on the overall price.
Use Loyalty Programs
Hotel and airline loyalty programs are a great way to save money if you're planning multiple trips to Iceland. Many programs offer discounted airfare, rewards points, and other benefits. Signing up for loyalty programs is a simple way to save money and enjoy your trip.
Take Advantage of Car Rental Deals
Car hire is one of the most expensive parts of traveling in Iceland. However, you can find discounts on car rental by booking in advance through some car rental companies. You could also look for weekly car rental deals if you're planning to stay in Iceland for a longer period. Many companies offer a big discount for a 7 day rental.
Rent a car that is just big enough! Smaller rental cars are cheaper and in the winter there is no real need for a huge jeep. Although a jeep can help you out in deep snow and 4×4 is useful in difficult driving conditions, the roads are generally well maintained and are suitable for regular sized cars.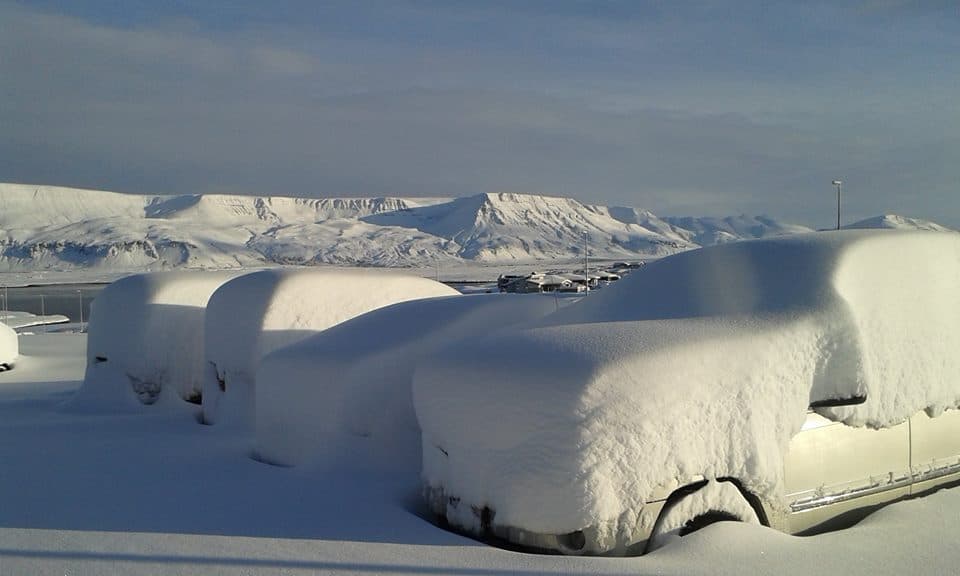 Budget rental cars are well and truly used and you will see lots of wear and tear. Don't expect to rent a pristine car at budget prices. If you are renting a car with dents and scratches, if is a good idea to make a video or photographs before you drive it. If you are fined for speeding or don't pay for parking, your car rental company will charge these fines to your credit card, so it is well worth driving carefully and observing parking and toll fees.
In the winter, it is wise to request 'Nagla Dekk' (Nail Tyres), especially if you are travelling into the countryside. The icy roads are unforgiving. I would also recommend getting the fullest insurance cover, even if it stretches your budget. The fierce Icelandic weather can damage cars.
Hotel booking platforms such as Booking.com regularly offer deals on hotels & car-hire combinations. They also have a loyalty program for frequent travellers.
Use Local Services for Travel
You can save a lot of money by opting for the local bus system in Iceland. The local bus service is called 'Strætó'. Not only is it much cheaper than renting a car, but it also gives you the opportunity to explore the country at your own pace. The buses run throughout the day and are a great way to visit many of the breathtaking sites.
Tickets for traveling outside of Reykjavik can be bought at Modd Bus Station which is quite a way from Reykjavik center. Bus trips to north and east Iceland depart from Modd. Countryside bus tickets are on a different system from the capital area buses.
Icelandic public buses offer return tickets with a discount and have a hop-on-hop-off tickets. A monthly pass can save you money in the capital area on a longer stay. Tickets can be bought on the bus (capital area) but be aware that you need the exact amount the buses wont give you change! Tickets can also be bough online, on on the app, or at the main bus stations.
Hostels Around Iceland
These sponsored links will help you save money as you travel around.
Puffin Hostel – Vik, South Iceland 5min walk to black sand beach
Grundarfjordur Hostel – Snaefellsnes penisular, close to Kirkjufell.
Hofn Hostel – east Iceland, close to Vestrahorn Mountain.
Akureyri Hostel – north Iceland, convenient for tours to Godafoss.
Hitchhiking in Iceland
The general advice for hitchhiking in Iceland is NOT to do it. Being stranded miles from anywhere when the weather turns bad could cause you a lot of harm or worse. Often I would see hitchhikers again and again as I drove the south coast route. They travelled about the same pace as me on a photo tour. Icelanders don't have a favourable opinion of tourists who want something for free.
Shop for Affordable Groceries
If you choose accommodation with cooking facilities, you can save a lot of expenses by self-catering. I believe that tasting local cuisine is a valuable part of travel, but if you have some cooking skills, you might not have to eat out.
Icelandic Supermarkets
Groceries can be quite expensive in Iceland compared to other countries. However, you can save money by looking out for special offers and discounts. There are some supermarkets that provide discounts on specific items from time to time. The expensive supermarkets are called 'Hagkaup' which means 'Bargain'. Convenience stores are expensive for general produce also. The low cost supermarkets are 'Bonus', 'Netto' and 'Kronan'. Here you will find plainly labelled food and fresh produce at affordable prices.
Drinking Water
The tap water in Iceland is very very good. Bottled water is a bit of a tourist trap. The locals don't buy bottled water. I recommend buying a bottle, but keep filling it up from the cold tap.
Alcohol Duty
Alcohol is very expensive because of the government taxes. All wine stores are government run and have strict opening hours, so you can't buy alcohol in the evening (except for select stores in Reykjavik). Supermarkets are only allowed to sell weak beer which is below 2.5%. Take advantage of the Duty free shop on arrival. The duty free is a dominant part of the arrivals baggage claim at Keflavik airport.
Low-Cost Dining Options
Eating out can be one of the most expensive aspects of traveling in Iceland. A typical main course with fresh meat and vegetables can cost as much as $60 USD or more per meal. Consider choosing restaurants that focus on local cuisine and have more affordable prices. Some farms will have restaurant on their land where you can enjoy fresh local food.
Restaurant prices cover service. Tipping is not expected, although it can be suitable for extended service, like a tour guide who assisted you all day.
Gas Stations offer low cost meals of lamb soup, burgers, hot-dogs and fries. At the same time, make sure that the quality of the food is good before ordering. The lamb soup is always recommended as a reasonably priced way to eat out.
Tours and Activities
The best way to reduce the cost of tours is to book the bus tours. You will get to see Iceland albeit with a large group of strangers. These larger bus tours will allow you to have limited durations at the top attractions. Some bus tours offer combinations so you can save money on other activities.
The Blue Lagoon is known affectionately as 'The most expensive swimming pool in Europe' – and you can't even swim there! Use local swimming pools where admission is around $5 USD and you can even rent a towel. There are a dozen of these warm swimming pools in Reykjavik and most towns in the countryside have local swimming pools.
There are plenty of things to do in Reykjavik which can be easily accessed on foot. You could spend a whole day walking around. Or you can join one of Reykjavik's free walking tours. Many museums and galleries offer free admission, such as the Photography Museum near the old harbour.
In the winter, you might want to see the northern lights. If you are staying in downtown Reykjavik, it is possible to walk out to the Grotta lighthouse which can be very good for northern lights. The lighthouse is to the west of the city and takes about 40 minutes. Please don't do this alone unless you ae experienced in self-defence. Find a friend to walk with you. Reykjavik is one of the safest capital cities in Europe, but I have heard stories of muggings in this area.
Conclusion
Iceland doesn't have to be expensive. With a bit of research, taking advantage of discounts and sacrificing a little comfort, you can make Iceland an affordable trip. You don't have to miss out on the splendid nature, if you are happy to hop on the bus or sleep in a tent.
You could combine some of these ideas by renting a camper to explore Iceland. This will combine your travel, cooking and accommodation under a single cost. The camper van will offer better protection against the elements than a tent. Recent laws have changed demanding that all camper vans must stay at official campgrounds.
Almost every shop in central Reykjavik is a tourist trap. On average each visitor to Iceland spends $1000 USD per day, but if you plan carefully and cater for yourself, you could probably manage your whole trip on this amount.