Exploring Iceland can mean many different things, but what most visitors don't think about is discovering the country's summer glacier activities. From hiking to ice climbing and snowmobiling, there are plenty of ways to explore the glaciers and have an unforgettable experience. While winter is generally thought of as the best time to visit Iceland and its stunning glaciers, summertime offers its own unique opportunities, and it's the perfect season to enjoy glacier activities in Iceland.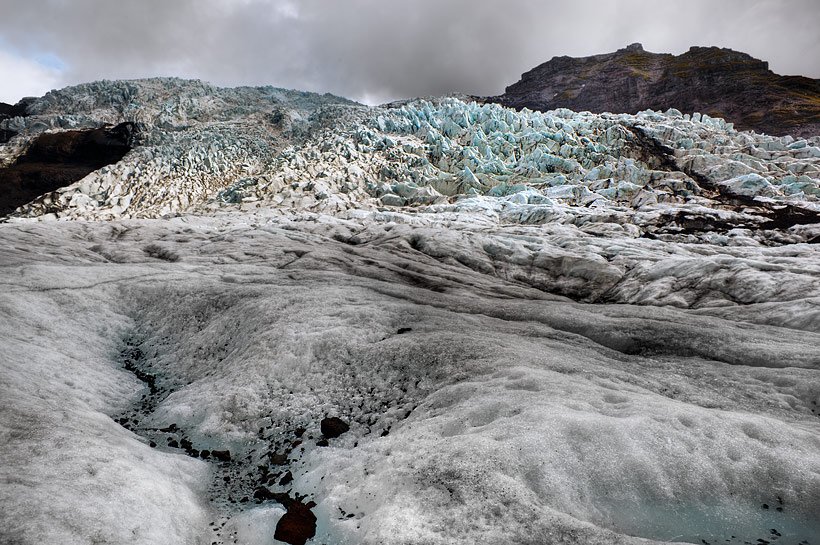 When touring Iceland in the summer, glacier activities like hiking, ice climbing, and snowmobiling can give visitors a taste of the majestic Icelandic glaciers. Hiking provides a great way to explore the glaciers and take in their beauty, as well as get some exercise. The views can give you unique photo opportunities.
Ice climbing allows you to challenge yourself and test your limits in a spectacular environment. And riding a snowmobile gives you the thrill of speed as you race across the glacier. No matter which activity you choose, you're guaranteed to have an unforgettable experience.
In this Iceland Travel Guide, we will explore just a few of the thrilling summer glacier activities that Iceland has to offer. From adrenaline-filled snowmobile trips to the calming beauty of a glacier hike, we'll show you how to make the most of your summer glacier activities in Iceland. So, put on your hiking boots, grab your sunglasses, and join us as we discover Iceland's summer glacier activities.
Sponsored
Check car hire rates for EuropCar Rental at Keflavik Airport, which is the most convenient way to start your Iceland self-drive.
Exploring the Glaciers of Iceland
Explore the beautiful glaciers of Iceland during the summer season and experience the thrill of activities like hiking, climbing, kayaking, and snowmobiling. Enjoy breathtaking views and magnificent vistas as you traverse the glaciers in one of the world's most picturesque settings.
These three largest glaciers offer most of these activities.
Mýrdalsjökull – 3rd largest glacier in Iceland, is less than a 2-hour drive from Reykjavik. Glacier hikes and ice climbing on Sólheimajökull (a tongue of Mýrdalsjökull).
Vatnjökull – largest glacier in Iceland, is more than 4 hours drive from Reykjavik. Glacier hikes and ice climbing on Skaftafellsjökull and Breiðamerkurjökull (both tongues on the southern edge of Vatnjökull glacier).
Langjökull, the second largest glacier in Iceland, is reachable by 4×4. Ice tunnel and snowmobile tours with departures from Gullfoss waterfall or Reykjavik
If you are on an Iceland Self-Drive, it is usual to join the activity at the location. Otherwise, you can combine a glacier activity with a day tour from Reykjavik.
Summer glacier activities in Iceland are the perfect way to enjoy the outdoors and experience the country's remarkable natural beauty. Hiking is a great way to explore the glaciers as you traverse the stunning landscape and take in panoramic views of the surrounding terrain.
Meanwhile, experienced climbers can ascend the icy walls of the glaciers and ascend to breathtaking heights. Those looking for an adrenaline rush can also take a skidoo ride over the glacial terrain and enjoy the exhilaration of speeding across the ice. Whether you're looking for a memorable outdoor experience or an adrenaline-filled adventure, Iceland's summer glacier activities offer plenty of options.
Hiking on the Glaciers
Hiking on the glaciers of Iceland is a truly magical experience. With summer being the perfect season to explore the country's vast glaciers, visitors can experience a variety of activities. Glacier hiking is probably the most popular and suitable for all fitness levels. Whether you're a first-time hiker or a seasoned explorer, the glaciers of Iceland are sure to captivate and excite you.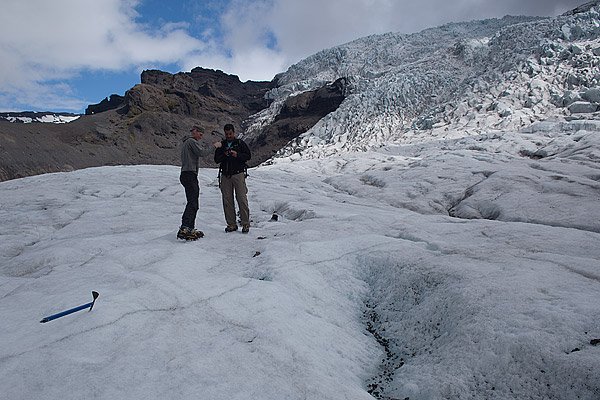 Mýrdalsjökull Glacier
Glacier hikes take place on the dramatic outlet called Sólheimajökull glacier. Sólheimajökull can be seen from the ring road just past Skogafoss waterfall. There is a road or track that takes you closer to the glacier and terminates in a car park. There is a cafe at the Glacier Hike office, which is run by very well-established Iceland tour companies.
Fun Fact: When the car park was built, it nearly touched the glacier! Now there is a 30-minute hike to the edge of Sólheimajökull.
Vatnjökull Glacier
The Vatnjökull glacier is huge. It is the largest glacier in Europe, covering an area of about 8,100 square kilometers (8,100 km2). There are two well-known outlets of Vatnjökull where regular glacier hikes take place.
Skaftafellsjökull is about a 4-hour drive from Reykjavik, and most glacier hikes depart from the Skaftafell Visitor Centre, which is easy to find and just off the ring road as you approach the glacier.
Breiðamerkurjökull is the outlet that feeds the Jökulsárlón Glacier lagoon, which is about a 5-hour drive from Reykjavik. Glacier hikes depart from the Glacier Lagoon car park or from the Hali Country Hotel (15 km further east).
On a Vatnjökull glacier hike, you'll find breathtaking ice forms, towering ridges, and amazing crevasses, making every experience unique. Whether you're looking for a leisurely stroll or an adventure of a lifetime, there's something for everyone on the glaciers of Iceland.
Climbing a Glacier
Climbing a glacier is an incredibly thrilling experience, especially during the summertime in Iceland. Ice climbing is an excellent workout! Most ice-climbing activities require reasonable fitness, so they are not for everyone.
Because suitable ice requires a hike, the ice climbing activities are normally combined with an advanced glacier hiking tour. Ice climbing is available at Sólheimajökull and Skaftafellsjökull.
Glacier climbing is a unique way to connect with nature and the environment in Iceland, and it is sure to be an adventure you won't forget.
Ride a Snowmobile on a Glacier
Riding a snowmobile across the ice is one of the most exciting summer glacier activities in Iceland. The experience of speeding across the frozen landscape is thrilling and adventurous. You will traverse long, winding routes over dramatic terrain, giving you an opportunity to enjoy the breathtaking views of Icelandic nature. Take a break and pause to appreciate the beauty that stretches out beneath you. The best part of driving a snowmobile is the thrill of the ride, so make sure to bring a camera to capture the incredible moments!
A full, current driver's license is required to drive a snowmobile. Passengers can be as young as nine years old, but please check with individual vendors. Also, there is usually an extra charge if you want to drive the snowmobile alone.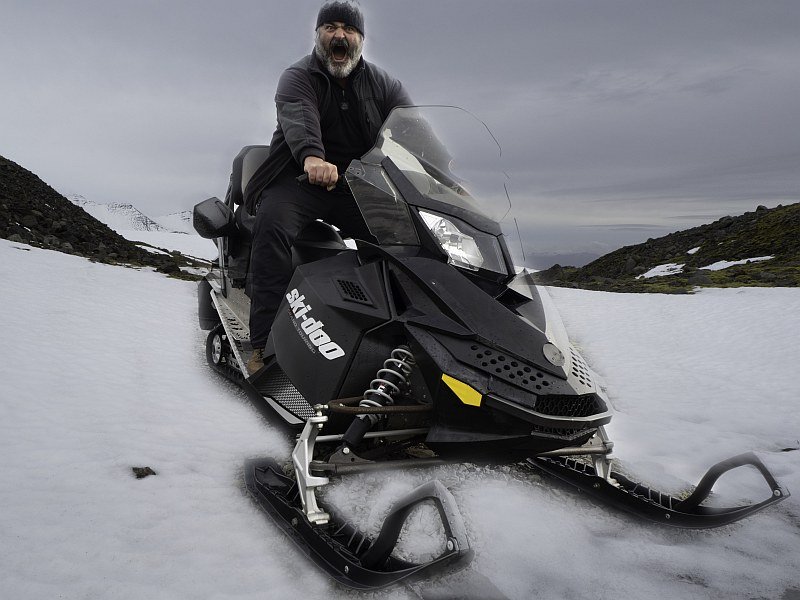 Kayaking on glacier lagoons
Kayaking on glacier lagoons is one of the most popular summer glacier activities in Iceland. Exploring the stunning lagoons that have been formed by the melting glaciers is a truly unique and unforgettable experience. During the kayaking tour, you can admire the impressive shapes and colors of the icebergs and take in the beautiful scenery of the surrounding glacial valleys. You can even paddle to the edge of a glacier and touch the solid ice! From the water, you can spot some of the amazing wildlife that lives in this remote region, such as seals, eagles, and puffins. Kayaking on glacier lagoons is the perfect way to discover Iceland's summer glacier activities.
Fly over a Glacier
There are sightseeing flights that depart from the tiny airport at Skaftafell (in good weather). These flights offer unsurpassed bird's-eye views of the most inaccessible parts of the Vatnjokull glacier.
Staying Safe While Glacier Trekking
Glacier trekking in Iceland during the summer months is a thrilling adventure, but safety is a priority. When planning your trek, be sure to have the right equipment, including a proper pair of hiking boots and footwear that are appropriate for a variety of terrain. If your activity involves crampons, then your hiking boots should have a hard, inflexible sole.
Depending on your destination and planned activity, you may also need to have a helmet, harness, and other protective gear. Essential equipment is always provided by the local guides if you have booked your glacier activity through them.
Booking your activity with experienced, local guides can help ensure you stay safe on your summer glacier trekking adventure.
If you plan to hike the glacier without a guide (not recommended), it is important to have the right supplies such as food, water, a first aid kit, and a map. Be mindful of weather conditions and heed any warnings when it comes to unstable glacial ice.
Conclusion
Capping off a summer adventure in Iceland is best done with summer glacier activities like hiking, climbing, paddling a kayak or riding a snow-mobile. With impressive views, mountaintops, and glaciers, Iceland provides endless opportunities for outdoor exploration and adventure.
With the right guide, expertise, and equipment, it's possible to enjoy a lifetime of glacier experiences in the Icelandic wilderness. Whether you're a beginner or a pro, these glacier activities offer a unique and unforgettable way to experience Iceland's beauty and take some stunning photos.