South coast photo adventures
Black sand beaches
The Southern part of Iceland can be the basis for a great photo adventure.
After exploring the south coast of Iceland, it is easy to understand why it is so popular with photographers. Its towering sea cliffs, volcanic stacks, black sand beaches, and glacial lagoons provide a stunning backdrop for stunning imagery. Not only that, but the region's unique geology and diverse wildlife make it a great destination for nature-lovers, too. If you're looking for a place to take amazing photos, look no further than Iceland's south coast.
The South coast is rich with endless black sand beaches. The Reynisdrangur sea stacks can be seen from the beaches at Vik and Reynisfjara. The black sand continues East to Jökulsarlon where you can photograph glacier icebergs on the black sand. Further East and you should find the Vestrahorn Mountain surrounded by black sand. The surrounding landscape at Stokksnes has an interesting interaction of black sand and grass tussocks.
South Coast Locations:
A South Iceland trip could include Seljalandsfoss Waterfall, Skogafoss Waterfall, Vik and Reynisfjara comfortably in a day tour from Reykjavik. It is even possible to squeeze in a Superjeep ride to the Katla ice cave.
Further East you could include Skaftafell National Park. Jökulsarlon Glacier Lagoon & Ice beach could be achieved on an overnight trip. The Fjaðrárgljúfur River Gorge is a rewarding leg stretch on a long drive.
Höfn and Vesturhorn Mountain would need another day. An extra day would also be useful if you wanted to add activities on the glaciers and lagoons, such a Zodiac rides and Ice Caves.
Planning your trip
The time spent photographing each place will depend on the length of the tour, the time of year and the weather. For excellent landscape photography, it is worth spending a few days in each part of South Iceland to experience it with different weather and different times of the day. If you are planning an Iceland self drive, my travel guide to planning a self-drive might help.
One Day tours
A one day adventure will take you as far as the black sand beaches at Vik and back to Reykjavik comfortably. You will have time to explore the big waterfalls and sea cliffs. There might even be time to visit the glacier and take a hike at Sólheimajökull Glacier. The route is straight forward with plenty of bathroom facilities along the way and at main locations. There are great places to eat if you are prepared to explore a little.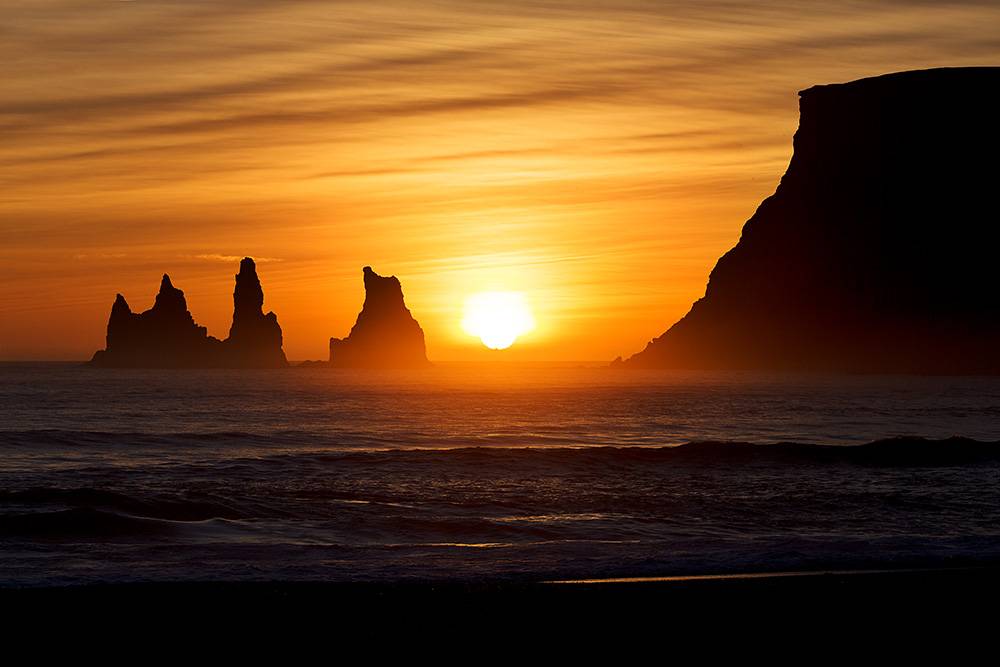 Two days
A 2 day drive along the South coast to Jökulsárlón is a fairly tight schedule. It is about 5 hours driving each day, but you should be able to include about 5 hours of photography within each day also. Because you will be travelling the same route (but in reverse), it is wise to select around half the locations you want to see on day one then visit the remainder on the second day.
Having an over-night stay near the glacier lagoons will give you a chance of Northern lights reflected in the glacier lake. You could also enjoy a sunrise on the Jokulsarlon Ice Beach.
Sponsored
Hotels Near Jökulsárlón
Use the sponsored links below to find and book hotels close to the Jökulsárlón and Fjallsárlón Glacier Lagoons My strong recommendation is Hotel Hali.
Hotel Map
Three days plus
Extra days can lift your photo adventure to a new level. Extra nights near Jokulsarlon, Vik or Skogafoss just gives you more chances of epic Northern lights photography at great locations. The extra chances for good sunsets and sunrises is priceless.
There are many great photo locations that can be added with extra days. The Skaftafell National Park has a dozen hiking routes that can be enjoyed year round. You could take a hike to the Svartifoss waterfall, or find a viewpoint overlooking the glaciers.
There are so many glacier related activities in the Vatnjokull area, such as glacier hikes, ice climbing, ice caves, boat and kayaking tours.
Heading further East to Vestrahorn mountain is also possible on a longer tour. You can enjoy the fantastic mountain/beach combination, then soak in the Swimming pool and enjoy a tasty lobster soup in the local town.
Conclusion
In conclusion, a photo adventure on Iceland's South Coast can provide an incredible array of photographic opportunities. From its towering sea cliffs, volcanic stacks, and black sand beaches, to its raging waterfalls, snow-capped mountains, and vivid green landscapes, the South Coast of Iceland offers photographers a breathtaking variety of natural wonders to capture. With its dramatic seascapes and stunning landscapes, the South Coast provides a unique and inspiring photographic experience.